Holiday Gift Guide 2012: Gifts for Him
Posted at Dec. 14, 2012 at 12:02 PM

Christmas is a scarce week and a half away, and chances are you still have a person or two on the list that you still haven't found a gift for. Jen gave us plenty of gift ideas for her, but if it's your hard-to-please brother-in-law, or maybe it's your own husband or boyfriend that's still on your list, here are a few gift ideas for him that will help you tuck the perfect present under the tree come Christmas morning.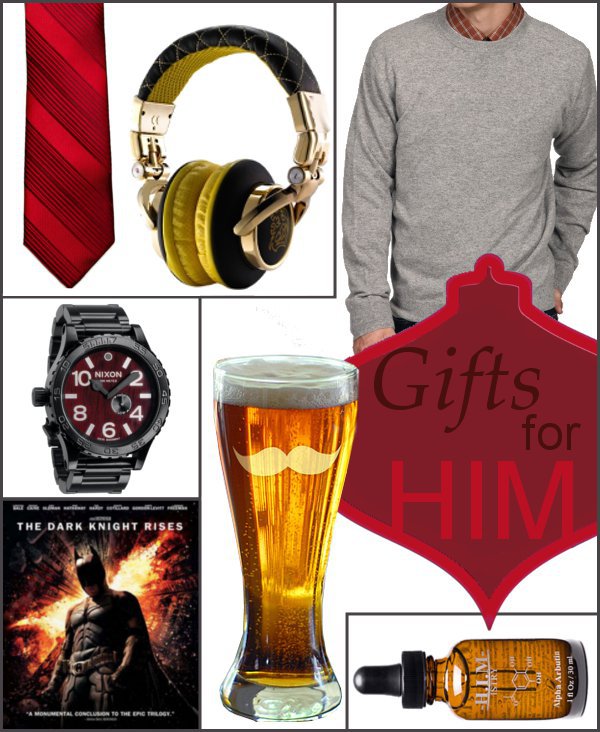 One of the biggest movies of the summer is bound to be one of the hottest gifts this year. Pick up "The Dark Knight Rises" on Blu-Ray. In fact, pick up a few copies. It's bound to be on your husband's, brother's, boyfriend's, or father's lists. If your man doesn't have a Blu-Ray player, don't despair; it's also available on DVD. But why not really surprise him with a Blu-Ray player and his favorite movie under the tree?
What does your man like to do? Is he into sports? If he likes to ski or golf, or maybe even just shoot some hoops after work, some new gear is bound to make his holiday bright. But that doesn't mean you have to spend big to support his favorite hobby. Get him a new pair of headphones so he can listen to his favorite tunes on the slopes or at home, or a quirky set of mustache pint glasses for apres ski or a night at home watching the big game.
If all else fails, go with classic gifts, like a festive silk tie or a nice watch. They may not be the first thing on his wish list, but you really can't go wrong. This stainless steel watch from Nixon is a good blend of classic and contemporary. I really like the black steel design and wood grain face. Everyone can use a little bling, and a handsome pair of cuff links fits the bill. Plus, they're small enough to be an excellent, and unexpected, stocking stuffer!
Speaking of classic gifts, you don't have to knit him a sweater, but a cozy cashmere one is hard to resist. Warm, comfortable, and extremely soft, this crew neck sweater can be dressed up or down, making it a perfectly versatile addition to his wardrobe. And while you're making him look good, there's nothing wrong with a little skin care formulated specifically for men. This three-piece skin care set is designed to prevent razor irritation and breakouts, so it's the perfect gift for men of every age, from your teenage brother to your father-in-law.
It's not too late to find the right gift for that hard-to-shop-for guy in your family. Look for items with the "Get it by Christmas" icon, or peruse these items that you can still have delivered by Christmas at no extra cost.
Who's still left on your list? What men's gifts have you given in the past that have gone over well (or not too well, for that matter)?
Posted by Andrea Sparks