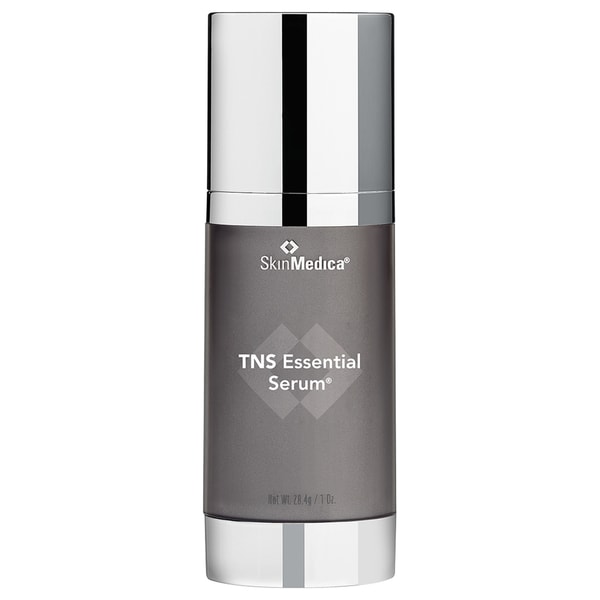 My Dermatologist recommends this as the best anti-aging product, and she is right! This leaves my skin so smooth, keeping wrinkles at bay. I use this under my moisturizer, and my skin has never looked better. I get compliments all the time, people say I'm 35, and I just Smile...I'm nearing 50, so you can imagine how wonderful that makes me feel, but I owe it all to avoiding the sun, and excellent skincare products such as this. You get what you pay for, and paying more for youthful skin is worth it! I'm worth it, and so are you!
...
Details
ITEM#: 17312062
Rejuvenate and enhance your skin's appearance with this one-ounce container of SkinMedica TNS Essential Serum. This serum is designed to renew the youthful appearance of your skin, regardless of your skin type. TNS Essential Serum contains peptides and antioxidants to help heal your face, chest and neck skin while restoring its appearance.


Size: 1 ounce
Quantity: One (1)
Targeted area: Face, neck and chest
Skin/ hair type: Any
Active ingredients: Chamber 1: TNS Recovery Complex: Human Fibroblast Conditioned Media (TNS) A physiologically balanced naturally secreted and stabilized growth factor blend that helps improve the appearance of fine lines wrinkles skin tone and texture. Chamber 2: APS Corrective Complex: Peptides help support skin: Palmitoyl Tripeptide-5, Hydrolyzed Silk (Sericin), Dipalmitoyl Hydroxyproline: Antioxidants that help prevent free radical damage: Ergothioneine (EGT): An antioxidant with free radical scavenging properties, Ubiquinone (Coenzyme Q10): An antioxidant that helps to counteract free radical damage and works synergistically with vitamin E, Camellia Sinensis (Green Tea) Leaf Extract: A natural antioxidant rich in polyphenols, Tetrahexyldecyl Ascorbate: A stable form of ascorbic acid (Vitamin C) a proven antioxidant, Tocopheryl Acetate: A form of vitamin E an antioxidant and free-radical scavenger, Rubus Fruticosus (Blackberry) Leaf Extract: A natural antioxidant rich in polyphenols, Saccharomyces Ferment Lysate Filtrate: A bio-optimized yeast extract that helps prevent free radical damage.
Other ingredients: Human Fibroblast Conditioned Media Water/Aqua/Eau Cetyl Ethylhexanoate Olea Europaea Fruit Unsaponifiables Alpha-Arbutin Isoceteth-20 Arachidyl Alcohol Glycerin Ethoxydiglycol Butyrospermum Parkii Butter Palmitoyl Tripeptide-5 Ergothioneine Dipalmitoyl Hydroxyproline Hydrolyzed Sericin Phospholipids Ubiquinone Rubus Fruticosus Leaf Extract Saccharomyces Ferment Lysate Filtrate Tetrahexyldecyl Ascorbate Aminobutyric Acid Phytosterols Tocopherol Tocotrienols Squalene Oryza Sativa Bran Cera Sodium Hyaluronate Tocopheryl Acetate Camellia Oleifera Leaf Extract Dimethicone Ethylhexyl Palmitate Silica Dimethyl Silylate Polyacrylate-13 Polyisobutene Polysorbate 20 Behenyl Alcohol Arachidyl Glucoside Cetearyl Alcohol Steareth-10 Steareth-20 Butylene Glycol Maltodextrin C12-15 Alkyl Benzoate Xanthan Gum Acrylates/C10-30 Alkyl Acrylate Crosspolymer Aminomethyl Propanol Disodium EDTA Phenoxyethanol Methylparaben Propylparaben Butylparaben Isobutylparaben Ethylparaben Parfum/Fragrance Hydroxycitronellal Linalool Coumarin Alpha-Isomethyl Ionone Geraniol Isoeugenol
We cannot accept returns on this product.
Specs
Features
Color
Grey
Face Cleanser Form
Cream
Product Features
Oil-Free Skin Care
Set Includes
1 Piece
| | |
| --- | --- |
| Dimensions | 7.8 |
| Model Number | 140524 |
| Country of Origin | United States |



Most Recent

The Best Anti-Aging Serum!

My Dermatologist recommends this as the best anti-aging product, and she is right! This leaves my skin so smooth, keeping wrinkles at bay. I use this under my moisturizer, and my skin has never looked better. I get compliments all the time, people say I'm 35, and I just Smile...I'm nearing 50, so you can imagine how wonderful that makes me feel, but I owe it all to avoiding the sun, and excellent skincare products such as this. You get what you pay for, and paying more for youthful skin is worth it! I'm worth it, and so are you!

Read More

This has definitely improved my skin over time.

Read More

I first bought this product through my dermatologist's office and loved the results. I noticed my sun spots on my forehead visibly reduced in a week! I have recommended this product to my friends too. My whole face has a brighter and more even tone, along with reduced wrinkles around my eyes.

Read More

I've being using this product for years and you feel the firming as soon as you apply it

Read More

Best product on the market

This is an amazing product that corrected my face skin after a major weight loss! I will continue to buy it!

Read More
Most Helpful

Perfect serum. Fresh product, expiration date out a year. Dispenser works great and product continues to work. This is approx. my 4th purchase of this item from Overstock. Have not been disappointed. Much, much cheaper than at dermtlgy office.

Read More

I bought this item for the first time from Overstock about two weeks ago. My dermatologist's office sells it for about $281 per bottle. This item is the real deal, with a seal from Allergan *** and stamped with an expiration date of 5/2018. I can already see a difference in the quality of my skin with twice daily use as directed, although I have skipped a few mornings to make the product last longer. My skin is plumper and moister, with a glow to it. Fine lines are reduced, including around my mouth and eyes. My skin feels silky too, even a few hours after application. The renewed skin is more sensitive than regular skin, so you need to use sun protection and/or wear a hat to protect it in sunny climates. I'm looking forward to assessing the results after a full month of use. I should add that I have been disappointed in almost every so-called anti-aging product, and I was expecting to be disappointed in this one. But I'm not. It's not a facelift or botox, but it delivers visible improvement in a short time.

Read More

This product is excellent especially for use after micro needling procedue

Read More

Love it, but not the price.

Even on a discount website this stuff is expensive but it lasts @ 60 days. Guess we gotta pay to stay young haha

Read More

SkinMedica TNS Serum - Not the same amount

I purchased this item elsewhere before purchasing it here. The previous container lasted me for a few months. This one hardly lasted at all. I know the cost was less although I don't understand why there was less of the product. Same product; same size. Ugh!

Read More
Q:

"Are anymore going to come back in stock?"

Q:

"If this product is not counterfeit, why is it discounted so much?"

A:

I'm wondering the same...this is my first time buying it. I'm going to buy from a doctor the next time and compare. According to SkinMedia, the ones on sold on overstock are fake :(

A:

This seems to be authentic. Consistency and smell is the same. I don't know how Overstock sells for so much less. I've purchased multiple times with no problems. Expiration date has always been a year or more out.

A:

I bought. First one at plastic surgeon office and looked for a lower alternative. They told me at the office when I told them I was buying on overstock, watch out it will be out of date. Well Iam on number 3. All have been factory wrapped with exp date in 2018 and it's the same stuff. I am on three of the skin medica products and have to keep the cost down . Believe me I was sceptical too.

A:

I had the same thoughts & suspicions so decided to do a comparison. I purchased the $280 from my Dermatologist & the one from O. I did the same with the HA5. They're exactly the same. Of course your Dermatologist is going to tell you the products on Overstock are fake. How does it benefit him/her to have you buy products cheaper somewhere else?

A:

I believe it's authentic. Expiration date is 2018. Just purchased my 3rd from Overstock.

A:

I have been buying it online for 2 years and see no difference. I think is just the doctors mark up because she always has special sales on it.

Read more Read less

Q:

"What is the expiration Date?"

Q:

"For those of you who use HA5 and the TNS Essential Serum.... Which one do you apply first? My aesthetician says TNS first, dermatologist says HA5 first. I've always heard thinnest to thickest... they feel similar consistency to me. Wondering what others think? I stumbled on this pricing above when I was searching this very question on Google. What the what? I payed more today at my Derm's office for the HA5. I'll be giving Overstock a try!"

A:

My aesthetician says TNS first, serums next. My aesthetician was the first to introduce me to TNS Essential Serum. She applied first after micro-needling. I have followed and continue to follow her advice about product order. I receive compliments on my skin, so something's working! Good luck..

A:

I was told to use the TNS Essential Serum first.

A:

TNS - first, then HA5 before moisturizer.

A:

My dermatologist told me ALWAYS TNS essential serum first (of course after washing and using toner)

A:

I'm not a professional but I love Skin Medica products and worked in dermatology for four years and am very knowledgable on all things skin medica. My advice is to apply the TNS Essential Serum first, it has the human growth factor and the essential anti aging ingredients in it that should penetrate the skin first. I always wait a couple of mins after applying one product before I apply another, because you want it to absorb and start working before you go and add another layer of product. And then apply your HA5 which is actually considered a moisturizer. Also I've heard that if you wet your finger tips with some water and then apply the HA5 it actually takes better effect on your skin. Hyaluronic Acid loves water which this product has five different forms of. I've tried the water trick and it does actually work and makes your skin feel even more amazing. I would not use the water trick when applying the HA5 after the TNS because I feel personally like it's just washing away the product (TNS). But feel free to try the water trick at night when you go to bed and just using the HA5, I'm telling you, you will feel a noticeable difference. Hope this helps. =)

Read more Read less

Q:

"i just ordered Skin Medica TNS Essential Serum. it says you can not return this item. is it returnable if it came opened or expired? is the product Authentic?"

A:

I have ordered multiple times and product has been fresh and unopened. I believe it is authentic. Never had problems u mention so can't respond to overstock's return policy there. But I've found their service to b excellent on other items.

A:

HI John, did you try to return it when you thought you didn't get the real stuff. Although OS is cheaper than department stores, it's too expensive for fake. This is my first time buying from OS and I hope I am getting the real deal as OS claim they sell only authentic products

A:

I've been happy with the SkinMedica Serum and think it is authentic.

Read more Read less

Q:

"Will this product arrive sealed, unopened, and unexpired? Noticed at the end of the description, it said no returns."

A:

Mine did. And I've ordered several times.

A:

I have ordered several times as well. All arrived in sealed box. In good unexpired condition.

A:

I called Overstock before I ordered. I was told that it could be returned if I was not satisfied with it once received. It did arrived wrapped, boxed, sealed and untouched with and unexpired. You can call O directly too to assure that your questions are answered to your liking.

A:

MIne was sealed and seems authentic. I have ordered numerous times.

A:

I have ordered this serum three or four times, and each time it was sealed, unopened, and unexpired. The same is true for other SkinMedica products I have ordered from Overstock.com.

Read more Read less

Q:

"How do I know how hold are the three SkinMedica products I want to buy?"

A:

There is an expiration date on the bottle. These are the real deal. A great buy.

A:

Expiration date is on bottom of box. Just got my order and the date was 11/18.

A:

Excellent product, great deal and Yes mine too came unopened with the expiration date.

Read more Read less

Q:

"can this be put on the skin covering you eyes?"

A:

It says to use for face, neck, decolletage. I don't apply it to eye area, brow or orbital area. I use eye cream for that.

A:

No, you shouldn't use it on your eyelids, there's a especial cream for that.

A:

You can use it sparingly on eyelid and under neath eyss, I have had so adverse reaction in doing so. The product does not work like or replace eye cream. You should use your moisturizer and sunblock over this serum.

A:

Yes. This serum is incredible and the only one I have ever used that actually works.

A:

I put one pump on my hand, smooth between both hands and then apply to my face and neck - including the skin under the eyebrows. I don't know that I would recommend actually applying any "real" amount to that area and I only do it at night

A:

No, please don't do that, this is too strong for the eye area. You need to buy the eye cream that SkinMiedica makes for the delicate area around the eyes. or if it's too expensive buy a cheaper brand for the eye area. A very good cheaper brand is Boots #7 intensive eye cream. All of their products are good and less expensive. That's not to say that this isn't a good product but buy what is best for your budget. If you are not over 60 these other good brands will help also.

Read more Read less

Q:

"Is this authentic and is date new or expired? Do you guarantee the product for the date & the brand? thanks"

A:

I can't answer for seller. But I have ordered this product many times and have not been disappointed.

A:

Authentic and product was fresh and current. Highly recommend

A:

The first one I bought was from the dermatologist and cost twice as much. It is exactly the same product I bought from the doctor for half the price. I couldn't afford this if I didn't buy it on Overstock. Honestly I've never checked any cream or serums for the dates. It's a good idea. If there is one it must be on the box, because it isn't on the container itself. I found one box of another item I had, the ceramide cream. The date is 07/05/18.

Read more Read less

Q:

"Is this product coming direct from Skin Medica? I want to be sure it is not a counterfeit product. Please advise"

A:

No it doesn't. They cut the official seal off the box. Inside the box is a numerical code on a label that I believe proves it authentic. The product seems the same to me. This same code was not on some moisturizer I purchased though, and the color seemed different because I ordered two (the other was the right color, had the label, and came from a different shipper). I would order again.

Q:

"Has the authenticity of this product been vetted (aka not counterfeit)? Thank you!"

A:

I contacted Skin Medica and this site is not an official carrier of their products.

Q:

"What is experation date on this product before I purchase"

A:

I purchased two. One was 12/17 & the other was 3/18

A:

The prices are very attractive, but you run the risk of product being old. The original SkinMedica products have dates on them. I had horrible problems when I bought an unauthorized SkinMedica product from another site.

Read more Read less

Q:

"What is the expiration date on this product?"

A:

Hello tc107, thank you for your inquiry. Unfortunately, the information you have requested is currently unavailable. You will receive an email notification once an answer is posted. Have a great day.

Q:

"Why did you choose this product?"

A:

Found out about this product through a blogger

A:

This is a product line that I use and you have the best prices. I am hoping it is of a good quality and that the pump works correctly. I will order more of this product line from you if I can trust it will be the same quality as buying from the dermatologist.

A:

It is effective! Firms, smoothes and brightens my skiin.

A:

Have used this product for the last seven months and can see a difference in fine lines/wrinkles. Highly recommend!

A:

The many great reviews and need to change my skincare routine.

A:

A gal on youtube says it's great (we'll see) .. glad I found this product at a slightly more reasonable price :-)

A:

recommended in many sources

A:

Because of how well it works… I have noticed a great deal of difference in my skin… LOVE IT!!!

A:

Recommended by my dermatologist.

A:

Excellent results w/ this product 😊

A:

It leaves my skin soft and younger looking.

A:

Hear many good things about this product

A:

Recommended by dermatoligist

A:

Recommended by a dermatologist

A:

Recommended by Dermatology's office. Works great! Best price here.

A:

This is a very expensive but very effective serum for smoothing wrinkles and evening skin tone. I have paid retail and still been impressed. Overstock sold it for $150 lower than retail, too great a deal to pass up!

A:

I have used it for 5 years Great produce Great price

Read more Read less
Shopping Tips & Inspiration
Overstock Coupons - Savings You Can See

Why pay full price and why search everywhere for discounts? Here's everything you need to know about saving with Overstock coupons.

Top 5 Benefits of Antioxidants in Skin Care

Top 5 Benefits of Antioxidants in Skin Care from Overstock.com. Our guides provide customers with information about top 5 benefits of antioxidants in skin care.
Shipping & Returns
Contact Information
Shipping:
Usually leaves our warehouse in 1-2 business days. *
Shipping Information:
Our standard shipping method is ground shipping. We also offer expedited shipping for most items. Your final shipping cost and estimated delivery timeframe will be available at checkout.
Standard shipping details
Expedited shipping details
Standard Return Policy:
Items must be returned in new or unused condition and contain all original materials included with the shipment. More Details
FINAL SALE EXCLUSION: Items marked as FINAL SALE are not returnable unless the problem you experience is the result of our error.
For your protection, all orders are screened for security purposes. If your order is selected for review, our Loss Prevention Team may contact you by phone or email. There may be a two business day delay to process your order.
** Most Oversize orders are delivered within 1-4 weeks. Some orders may take 6 weeks to be delivered.