Happy Halloween
Posted at Oct. 31, 2012 at 1:13 PM

Welcome to Halloween! It's a day of celebration and superstition, where roaming ghosts, goblins, and ghouls are commonplace and the calories don't count. Whether you're attending a party or trick-or-treating with the kids, we hope you've got your costume and your walking shoes ready. Not quite prepared? We've compiled some delicious cocktails for a spooky soiree and funny last-minute costume ideas. Also, check out our Halloween infographic for some freaky facts to share with your friends and co-workers today.
Here at Overstock.com, we've been looking forward to Halloween for months. We love the spooky holiday so much that we've found a way to incorporate a bit of the macabre into your everyday style.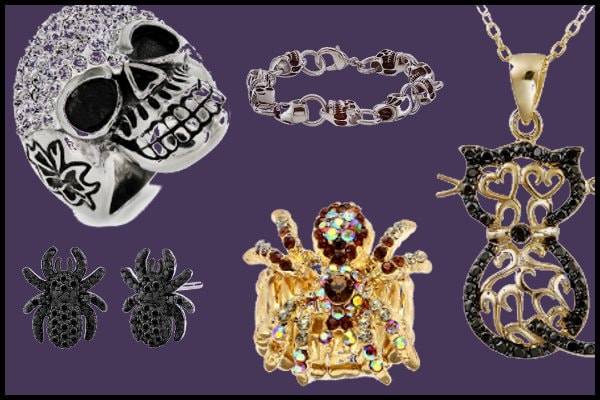 Once reserved for the rebellious, skull prints and accents have made it mainstream; and they're certainly not just for Halloween. This oversized skull ring will make every handshake a bit more ominous. Crafted of stainless steel and sparkling cubic zirconia, this ring will make an edgy statement without overpowering your look. Looking for a more subtle touch of spooky style? Try this sterling silver skull bracelet. Peeking out from beneath a shirt cuff, it's just the right amount of edge and totally work-appropriate.
Got a serious case of arachnophobia? You're not alone. I'm definitely not a fan of the little eight-legged monsters, but this colorful goldplated crystal spider ring might be the perfect accessory to help me face my fear. These cute black diamond spider stud earrings ooze of spooky sophistication.
Are you worried about crossing the path of a black cat today? Pitch-dark felines have long been surrounded by superstition and tales of witchcraft, but not all view the cat in such ominous terms. In Britain and Japan, for example, black cats are considered a good luck charm; I'd certainly view this filigreed black diamond encrusted cat necklace as a lucky charm in my wardrobe.
Are you ready to show your dark side with jewelry? How do you plan to spend Halloween night?
Posted by Jen Gustavson