Glamping: the Perfect Way to Vacation at Home
Posted at Jul. 9, 2013 at 3:05 PM

Summer is the best time of year to enjoy the great outdoors. And while camping is one of my favorite summer activities, there are times where it can get a bit too rugged for my taste. (I'm looking at you, outhouses and mosquitos!)
Fortunately, "glamping", or glamorous camping, is all the rage. Think of it as a traditional camping trip made way fancier. After all, there's no reason you should sacrifice comfort or convenience to enjoy a night under the stars. Moroccan-inspired decor is also a huge trend; its rich jewel tones, architectural patterns, luxurious textiles, and soft lighting is a beautiful contrast to the great outdoors. Why not combine the two for the ultimate "glamping" experience?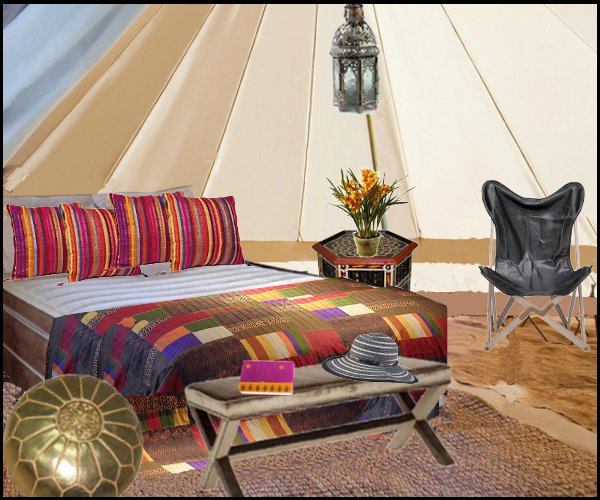 A simple tent is a good place to start -- it's what's inside that counts. Forget sleeping in a claustrophobic sleeping bag on the cold, hard ground; instead, glam it up with an air mattress topped with Egyptian cotton sheets and a Marrakesh-print comforter (named for the capital city of Morocco). A jute rug or two can help keep the dirt at bay, and a few decorative pillows will make it feel like home. Then, armed with a stylish sun hat, ease into a folding leather butterfly chair with a good book or a journal and let the day float away. Or, rest your foot on a golden Moroccan ottoman, also called a pouf, for a luxurious nap in your exotic outdoor oasis. An authentic Moroccan side table and a rich velvet X-bench at the foot of the bed would really up the glam factor, and both transition easily to your Marrakesh-inspired interior decor when you move things indoors. When nightfall hits, add a flickering glow to the tent with a no-flame tea light set in this copper lantern; you'll feel miles away -- even in your own backyard.
Would you ever try a "glamping" outing, or are you a camping purist? What do you think of the Moroccan decor trend?
Posted by Jen Gustavson