Girls Get Busy: It's Geek Pride Day
Posted at May. 25, 2012 at 12:55 PM

Twenty years ago, the word "geek" was an insult. Now, if you are a geek, it just means that you're a super-fan -- often of something that isn't widely known. For all of us who are devoted to our favorite underground band, cult movie or TV show, independent comic book series, or imported cartoon character, we have a whole day in our honor: Geek Pride Day.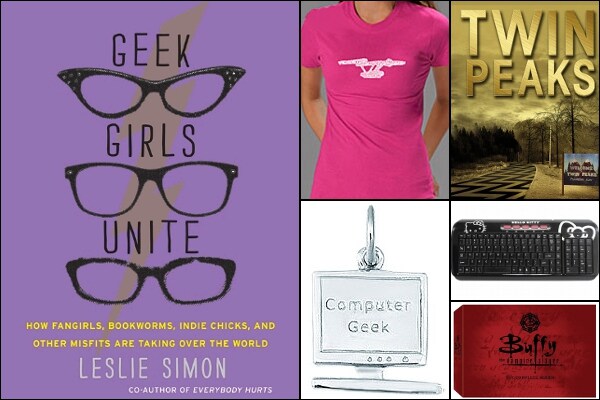 So why is today the day that all us geeks take pride in our commitment to subculture? May 25th is the anniversary of the release of the first "Star Wars" movie (that's Episode IV, as any good sci-fi geek can tell you). It's also Towel Day, which quirky literature super-fans know is the day to carry a towel in commemoration of the passing of Hitchhiker's Guide to the Galaxy author Douglas Adams. And as if that weren't enough, fantasy fiction fans are also wearing lilacs to celebrate Glorious Twenty-fifth of May, a holiday in Terry Pratchett's "Discworld" books. With all of these events happening on the same day, it's only fitting that we celebrate all things geeky.
Personally, I think the kind of geeky stuff that guys are into gets plenty of press, and I'm more interested in how girls get their geek on. So is Leslie Simon, the author Geek Girls Unite. If you're not sure if today is about you or not, take her Geek Girls Quiz and find out. Since I scored high on the geek spectrum (no surprise, considering I went to John Waters' favorite restaurant in Baltimore in hopes of seeing the cult filmmaker, I have been to a Star Trek convention -- where I met William Shatner -- and I watched Twin Peaks when it originally aired), I feel well qualified to recommend a few geek girl treasures.
Technical aptitude isn't a prerequisite for geeks, but it can't hurt. It also can't hurt if some of your computer equipment is decorated with a Japanese cartoon character, like this Hello Kitty wireless keyboard. If you want to let the world know you're a techie girl when you're AFK (away from keyboard), show your pride on a sterling silver "computer geek" charm.
Some of my favorite geek girls in the world are fans of all things Joss Whedon, so I think a marathon viewing of the Buffy the Vampire Slayer series on DVD is a good way to spend a girl-centric Geek Pride Day, although I don't think you could get through all seven seasons in one day. (That might be a dare to prove your true geekiness.) You could also spend the day reading Bossypants, which was written by Tina Fey, whom Joel Stein declared the Goddess of the Geeks back in 2004.
Since I'm taking pride in my geekier side today, I'm going to spend the evening entering all my graphic novels into my Good Reads account. How are you going to spend Geek Pride Day?
Posted by Stephanie Petersen