Get a Great Gatsby Look
Posted at May. 10, 2013 at 11:47 AM

Baz Luhrmann's "The Great Gatsby" movie opens today, and the fashion world is abuzz with the look and style of the film. Luhrmann decked out his sets and actors in gorgeous art deco looks, and everyone is jumping to get in this "new" vibrant fashion. And when it comes to art deco jewelry, it's easy to get the Gatsby style for yourself.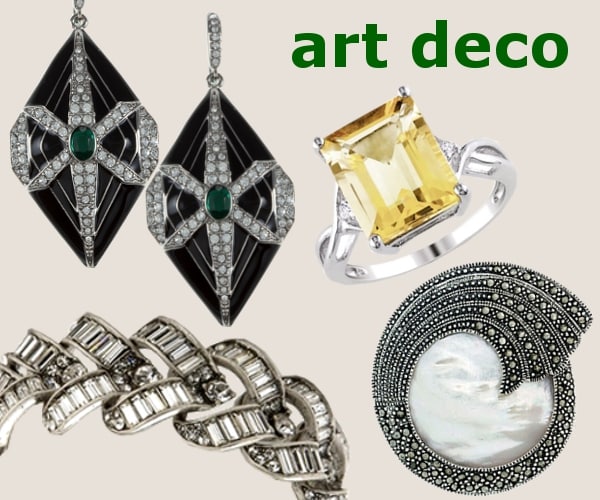 The Art Deco period is known for sharp geometric patterns combined with classic motifs. This look is all about being bold and vibrant with a playful attitude. While diamonds and platinum really owned the scene, colorful gems came into their own in this period. So don't be afraid to don splashes of flamboyant color in your jewelry pieces. One of the great things about art deco jewelry is that it is big and bold but still retains a classic look. You can feel good about piling on the jewelry (just take a look at Daisy's sparkling fashion in the movie) because it's all about the flamboyant style of "too much."
I'm in love with these earrings and this hinge bracelet. Pair the set with a little black dress and there will be no question that you just stepped out of the Roaring '20s. For a more feminine look, check out this seahorse and shell set: necklace, earrings, and bracelet. Wear them piece by piece or together for a complete look.
If you just want to wear a hint of the 1920s, you can't go wrong with this mother-of-pearl pin. I love these vintage-style earrings and this baguette crystal bracelet; they would look great with any outfit. And I think this Miadora ring is the perfect blend of art deco attitude and modern style.
How do you feel about art deco jewelry? Are you looking forward to seeing the style in all its glory in "The Great Gatsby"?
Posted by Emily Harrison