Garnets: Seeing Red in January
Posted at Jan. 24, 2012 at 2:14 PM

Fiery red garnet is the perfect gemstone to brighten winter months. Its brilliant color reflects light on even the greyest days, adding a cheery pop of color to any outfit. (It may be obvious at this point that I like the color red.) Garnet, of course, is January's birthstone, an exception to the cool-toned stones that dominate the winter months. But you don't have to be a winter baby to appreciate this gem's allure.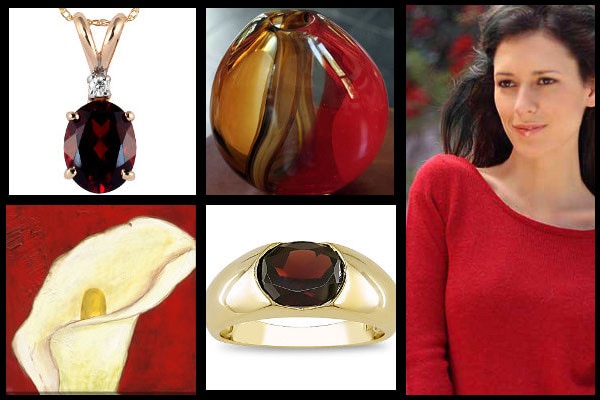 It's not unusual for a piece of birthstone jewelry to be the first significant piece a woman receives, often in the form of a pretty necklace or pair of stud earrings. Plenty of garnet jewelry exists for grownups, too; I like these dangling silver earrings from Indonesia for casual wear and this yellow gold ring for a dressier modern look. This diamond-enhanced garnet pendant is a lovely gift for a birthday or Valentine's Day.
In folklore, the garnet represents prosperity, good health and protection for travelers. If you like to carry good luck charms, try wearing garnets on your next trip. You can cover accessorizing and protection all at once with some pretty jewelry. Meanwhile, you can energize your home decor with the vibrant color showcased in the stones. An oversized piece of art, such as the "Calla Lily on Deep Red l" by Laura Gunn, enlivens any room. If you prefer eye-catching color on a smaller scale, consider this Murano glass vase; the crimson and amber glass reflects a warm glow.
If you don't have enough red yet, or you just want to stay warm until spring, pull on this Alpaca wool sweater from Peru and go find a fireplace; a book from our top 100 in books selection will help pass the time.
What colors do you seek out for comfort? Do you wear your birthstone or have you latched onto another month?
Posted by Shawna Edwards