Frankenstein Friday
Posted at Oct. 25, 2013 at 11:16 AM

Halloween is less than a week away! Do you have your costume ready? As fate would have it, today just so happens to be Frankenstein Friday, right in time to get you in the spirit for next week's festivities. What is Frankenstein Friday? It falls on the last Friday of October and is simply a day to celebrate everyone's favorite crazy scientist and his famous creature.
Mary Shelley started writing her popular novel when she was just 19 years old. It was published two years later in 1818. If you've never read this bone-chilling tale, there's no better way to celebrate Frankenstein Friday than to pick up a copy. If you're looking for something a little less time consuming, try one of the many movie adaptations out there, including the classic 1931 film starring Boris Karloff, who gave us our modern interpretation of the stitched-up monster sporting bolts in his neck.
We want to give Frankenstein's monster some love, too, with these looks inspired by the big guy himself. Check out these very Halloween, totally Frankenstein fashions for your home and wardrobe: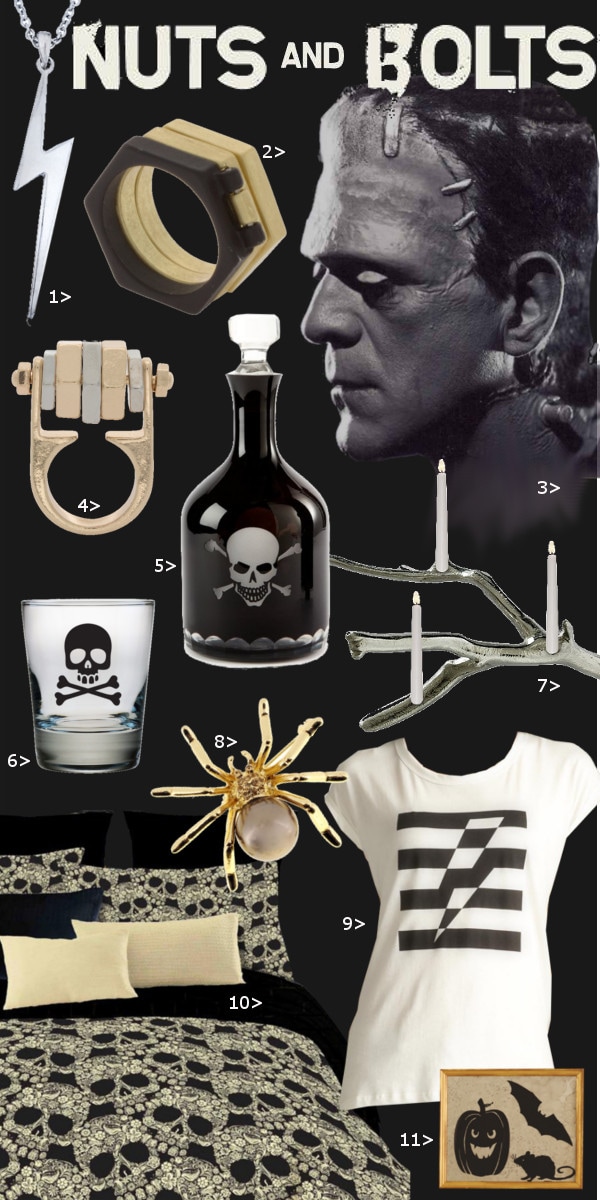 Frankenstein Fashion:
3. Monsters and Mythical Creatures: Frankenstein book
4. Nuts and bolts spinning kinetic ring
5. Skull and crossbones decanter
6. Skull and crossbones shot glass set
11. Martha Stewart Halloween mirror clings
Whatever you do to celebrate Halloween and Frankenstein Friday, we hope you have a monstrously good time. Do you have a favorite Halloween monster? Or maybe a horror movie villain that's always scared you? Let us know, and maybe he or she will end up in our next creature feature!
Posted by Andrea Sparks