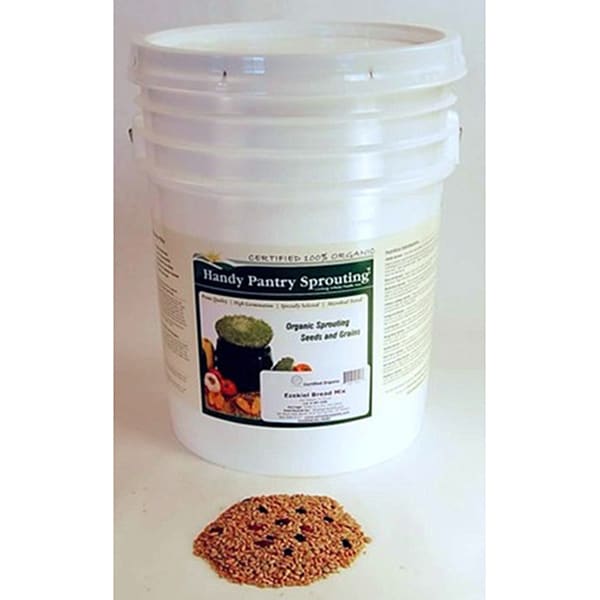 I grow almost all my own food, except for grains. I am a vegan and eat only organic. I have been buying the XXXXXXX brand bread for decades but have always been unsatisfied with it. It is always dry and I don't like the whole seeds in it. So I thought I'd give this product a try and I am very glad I did. To put it mildly there is no comparison between this product and the XXXXXXXX brand bread. This is not a product you sprout, but grind in your flour mill. The bread, although dense, was fluffy - about the consistency of banana bread. And much more flavorful than store bought. I found it absolutely delicious. Although the product does not come with directions you can go directly to their site and download them or Email Kaitlin - I've had correspondence with her and the customer service is prompt by email and thorough.
...
Details
ITEM#: 12389093
These healthy organic whole grains will allow you to make many loaves of delicious and nutritious Biblical bread. The 35-pound bucket comes with a lid for easy storage and a handle so that it can be carried from place to another when needed.
Whole grains mix features enough grains to make 22 hearty loaves of Biblical bread
Organic grains mix is sold as a 35-pound bucket
Grains mix features the perfect blend of hard white wheat, hulled barley, spelt, millet, green lentils, black beans, red beans
Biblical Bread is a hearty, heavy, whole multi-grain bread with a delicious flavor
It is excellent with butter, honey, preserves or toasted
Higher in protein and more crumbly than most breads
Created by Living Whole Foods
Due to the perishable nature of food items, returns are not accepted by state law.