Fitness Challenge 2013
Posted at Jan. 30, 2013 at 2:35 PM

At the beginning of January, I asked some experts to give us all some help getting started with our New Year's Resolutions. And now, after a month, it's time to check in and see how we're doing. Along the way, Emily gave us a few more ideas to start getting organized, and Shawna put together some tips on making lunches healthier. My resolution was to start working out regularly. Was this your resolution, too?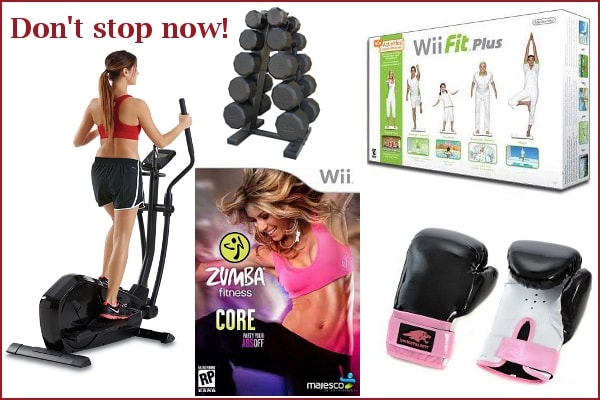 Carla Birnberg from MizFitonline.com told us that the best way to get fit was simply to get started. "You can always change your routine, and you can always switch to a different type of workout. Make today the day you START," she advised us. Have you had trouble just starting? Have you already quit? (Most people quit by the second week of January.) Here are a few ways to get past that last hurdle and just get started (or restarted) on your fitness goals.
1. Be fickle. Early this month, I had some lower back issues that I went to a physical therapist for, and he told me that another one of his clients with similar issues skipped the exercises he prescribed and just did a fitness plan she bought from an infomercial. "It worked just as well because she stuck with it," he told me, echoing what Carla had said. "It doesn't matter what you do, as long as you do it." So don't worry that you're just jumping on the latest trend, as long as you do something. That means you can try Zumba, and when you're over it, you can try boxing or Pilates or whatever sounds fun today.
2. Get Pinterested. If you're on Pinterest regularly, you've probably seen the jokes about how we'd all be a lot fitter if we actually did the exercises that we pinned. So, be sure to use the health and fitness boards on Pinterest as inspiration or to research a new routine, but don't use them as a distraction from working out. I found the link to this article with fitness ideas for every month of the year while I was pinning, and I found it very helpful; but staring at all the images of women with hard abs isn't going to help my baby weight melt off.
3. Bring it home. If, like me, getting yourself to the gym is harder than doing 50 tricep dips, then it's time to find something you can do at home. I like working out at night, so it's easiest for me to wait until my son is asleep, then get in a half-hour of Wii Fit Plus; I especially like putting together a routine that starts with cardio (usually the hula hooping) and ends with a bit of yoga to help calm me down before bed.
4. Get your money's worth. If you love the machines at the gym but haven't exactly put your membership to good use, then it's time to cancel and use that money toward a home gym machine. If you were paying $25 a month, one year's membership was costing you $300. If you put that toward a machine, you'd have something pretty sweet, like the XTERRA FS1.5 Dual Action elliptical machine. Or you could get a set of free weights that rivals the one you paid monthly dues not to use, but now, it would be right in your house, so you have no excuse not to use it.
As for me, I haven't met every one of my specific goals, but if I stick with my general resolution of regular workouts, I have no doubt I'll get into a bikini by June. There's one with black-and-white stripes that's calling my name.
How are your resolutions coming along? Have you stuck with them or is it time to restart?
Posted by Stephanie Petersen