Feeling Pretty on National Beautician's Day
Posted at Jun. 26, 2013 at 3:47 PM

June 26th is National Beautician's Day, an unofficial holiday celebrating the people responsible for helping us look our best. I'm particularly close to my hairstylist, seeing as I married him 13 years ago, so I love that there's a day to show him gratitude for keeping me as blonde and youthful-looking as I want to be.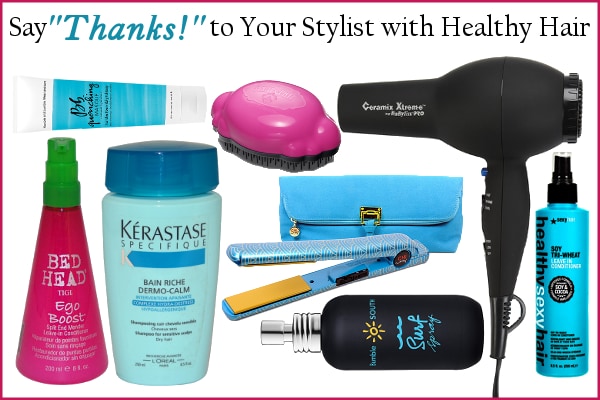 It's not an easy job. He keeps covering my greys, and those pesky greys just keep growing back. I also have very specific ideas about the length of my bangs, and that takes regular upkeep. And I'm not even one his most demanding clients, so I'm amazed at his patience. Not to mention that his job is a lot more physical than you might imagine. Standing all day, holding a hair dryer and a brush, quickly flinging a frighteningly sharp pair of scissors around, inhaling chemicals, and crouching down to make sure he gets the ends of a long haircut perfectly: It's all a lot of work.
Not everyone is married-for-more-than-a-decade close to their hairstylists, but I hope you also have someone you trust with your tresses as well as your troubles. So what's a good way to say thank you to the beauty operator who takes on the Sisyphean battle with your regrowth? Of course, a nice tip is always welcome, and any of the hairstylists I've ever met would appreciate a gift card. But if you really want to make your hairstylist's job easy, keep your hair in tip-top condition.
Healthy hair is easier to color, easier to trim, and easier to make fabulous. And since "fabulous" is the main goal when getting your hair done, you may as well start at home, long before your appointment.
Don't overdo the heat: Blow-drying and heat-styling can be really hard on your hair, especially the ends. Try to have at least one day a week where you let your hair air-dry. Mist towel-dried hair with a saltwater spray like Bumble and Bumble Surf Spray to get a casual, textured style. When you do want to use heat, opt for high-quality tools, like the Babyliss PRO Ceramic hair dryer and the CHI Air Classic flat iron.
Keep it hydrated: Use a conditioner that's rich enough for what your hair needs without weighing it down. If you have thick, curly hair, use something rich and creamy, like the Healthy Sexy Hair Soy Tri-Wheat leave-in conditioner. If you have color-treated hair or you live in a dry climate, do a hair masque once a week or use a masque as your regular conditioner; I've used Bumble's Quenching Masque on my lightened hair, and I love how smooth it makes it. The TIGI Bed Head Ego Boost split end mender is a great lightweight leave-in conditioner for long, fine hair.
Be gentle: If your hair gets tangled easily, try the Knot Genie detangling brush, a miracle tool for people with curly hair. It's especially good for parents of little girls who hate having their thick hair brushed out. Have a sensitive scalp? Your shampoo touches your scalp more than any other hair product, so try something like the sensitive scalp shampoo by Kerastase. Limit how often you wear your hair in a ponytail holder. And if you can, try to embrace your natural texture; nothing does more damage to hair than fighting what nature gave you.
Do you have a hairstylist you want to thank today? Any tricks for keeping your hair healthy?
Posted by Stephanie Petersen