February's Birthstone: Amethyst
Posted at Feb. 19, 2013 at 3:12 PM

Are you ready to flee February? Late winter makes us impatient for warm, sunny days and pretty spring fashions. But February does have its own charms -- noticeably longer days, lacy valentines, drowsy groundhogs, and a beautiful birthstone.
Amethyst is a wonderful birthstone for late winter. Its rich violet color is part of nature's cool color palette, yet it also reminds us of the first flowers of spring. In fashion, amethyst is a sophisticated alternative to the prevalent red and pink of the season. And, of course, it is a nice gift for anyone with a February birthday or anyone who loves purple. So before we say goodbye to February and winter, let's take a moment to appreciate amethyst jewelry.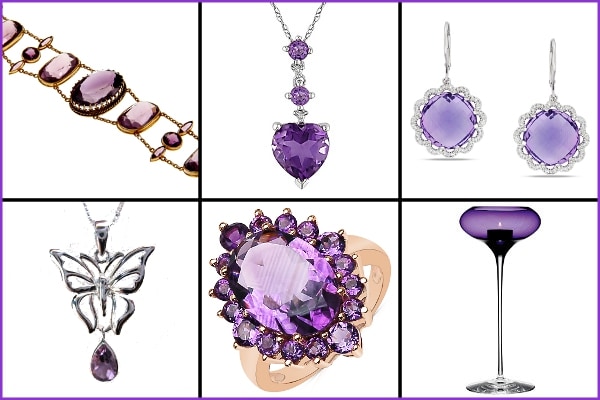 Many young girls receive their first birthstone jewelry in the form of a ring or pendant with a heart-shaped gem. Get a grown-up version of the look with this pretty amethyst heart necklace. Gemstone necklaces with butterfly or dragonfly designs are good choices for tweens and teens, and simple stud earrings are easy for both girls and women to wear.
This season, you can accessorize with amethysts while following style trends. Start with a pair of dangling earrings. The gems hang just below the ear to create a subtle hint of glamour. If you want a little more pizzazz, pick up one of the new oversized cocktail rings. This amethyst ring combines the look with rose gold, a fashion must-have for 2013. Vintage-style jewelry is on-trend for spring, especially ornate designs. Estate jewelry, such as this stunning amethyst and gold bracelet, can be a statement piece to be worn for years.
If you're purchasing jewelry as a birthday present, you'll want to celebrate a little. Set the mood for a candlelit evening with an elegant votive in clear and purple glass to reflect February's favorite color.
Are you celebrating a February birthday? How do you like to wear amethysts?
Posted by Shawna Edwards