Favorite Thanksgiving Recipes
Posted at Nov. 19, 2012 at 2:47 PM

Thanksgiving is a day full of family, friends, and expressions of gratitude. But let's be honest; it's really all about the food -- I'm already thankful for the huge feast I'll sit down to on Thursday. I hope you all plan to show your gratitude by going back for seconds (or thirds, or fifths). You'll need the energy to navigate all of the great Black Friday sales over the weekend.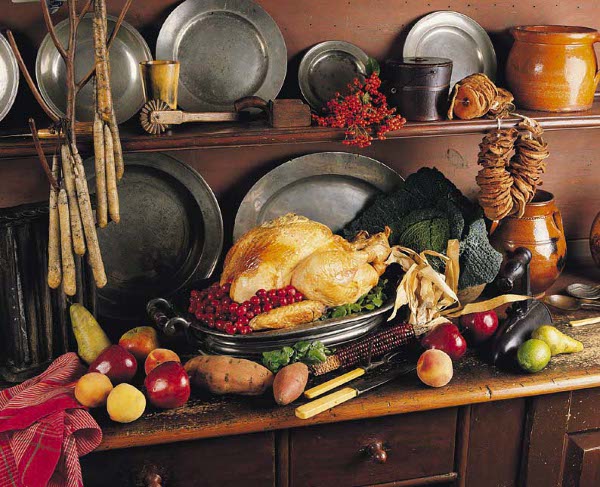 Of course, if you find yourself in a food coma, you can shop our amazing Black Friday deals while you nosh on some delicious leftovers in the comfort of your own home. With FREE SHIPPING on every order, no matter how big or small, through December 17, there is no reason to sleep on the sidewalk or fight throngs of people to get a great deal.
So, stock the fridge, throw on those pants with the elastic waistband, and get ready to eat! We've compiled some of our favorite Turkey Day recipes to tingle your taste buds. A new cookbook, like this beautifully illustrated collection of winter-inspired recipes from Stonewall Kitchen, may also inspire a season full of delicious holiday meals.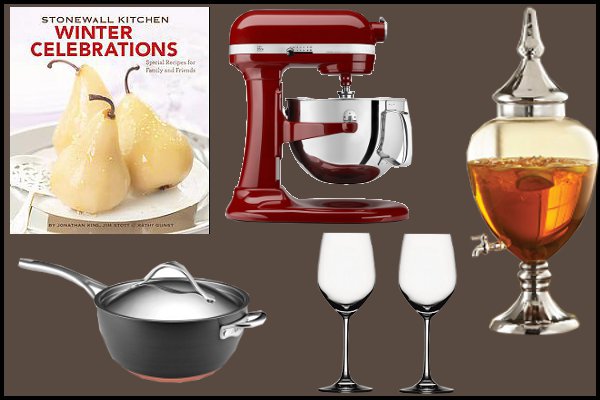 Orange-Cranberry Sauce
A spicy citrus alternative to the stuff that comes out of a can (also awesome).
1 bag of cranberries
2 oranges, zested and juiced
1 cup sugar, or more as needed
1/2 teaspoon ground cinnamon
1/2 teaspoon ground cardamom
In a small saucepan, combine cranberries, orange zest and juice, sugar, cinnamon and cardamom. Bring to a boil, reduce heat to simmering, and cook until cranberries are tender. The cranberries will pop as they cook and the sauce will begin to thicken. Taste and add more sugar if necessary. Cool. Serve at room temperature.
Mashed Roasted Sweet Potatoes
This recipe is easy to prepare and an elegant alternative to the sticky marshmallow-topped variety.
Four to six medium sweet potatoes
Unsalted butter
Kosher salt or sea salt
Your own blend of spices and flavorings (ex: rosemary, thyme, ginger, cloves, nutmeg, orange zest, honey)
Preheat the oven to 400 degrees. Gather four to six medium sweet potatoes (about 1/2 potato per person as part of a large meal). Scrub clean and leave the skins on. Prick each one several times with a fork. Wrap each sweet potato in foil and place directly on the oven rack or place them unwrapped on a foil-lined baking sheet in the oven. Bake them for 40-50 minutes, until they are tender. When the potatoes are cool enough to handle, remove the skins. With a hand-held masher or stand mixer, mash the potatoes with unsalted butter and then season with kosher salt or sea salt. They are good plain, but you can experiment with flavorings.
Green Jell-O Salad
A Utah favorite!
2 1/4 cups water
1 small box of lime gelatin
1 small box of lemon gelatin
1 cup salad dressing (like Miracle Whip)
1 pound small curd cottage cheese
1 can crushed pineapple
Whipped cream (optional)
Sliced almonds (optional)
Dissolve both packages of gelatin in two cups boiling water. Add salad dressing and stir well. Stir in cottage cheese and pineapple. Pour into a 9-inch square pan. Top with whipped cream and sliced almonds. Refrigerate until set.
Red Wine Sangria (from Aggie's Kitchen)
A holiday necessity!
1 bottle red wine of your choice
1/3 cup spiced simple syrup (recipe below)
Juice from 1 orange
1/4 cup rum or brandy
1/3 cup orange liquor (triple sec, Cointreau, Grand Marnier)
Sliced oranges, chopped apples, chopped pears, frozen blackberries for serving (pick your favorites)
In a large pitcher combine all ingredients. Let refrigerate for at least 4 hours, or overnight for best flavor. Pour sangria into a glass beverage dispenser and serve in elegant wine glasses to show off the delicious colors.
Spiced Simple Syrup
Perfect in Sangria and other cocktails.
2 cups water
1 cup sugar
2-3 cinnamon sticks
Sliced orange peel
1-inch piece of peeled fresh ginger
1 teaspoon whole cloves
1/2 teaspoon whole peppercorns
In a saucepan, combine water, sugar, cinnamon sticks, orange peel, ginger, cloves, and peppercorns and bring to a boil. Continue to simmer while stirring and dissolving sugar. Boil until reduced a bit and slightly syrupy, about 15 minutes. Let simple syrup cool, strain, and store in a glass jar in refrigerator.
Already have your menu planned? Tell us about some of your favorite Thanksgiving recipes.
Posted by Jen Gustavson