Father's Day Gift Ideas
Posted at Jun. 10, 2013 at 4:57 PM

It's coming up fast! This Sunday is Father's Day. Do you already have a gift for Dad? Or are you stumped what to get the man who already has everything? Luckily, there's still time to find the right gift (just look for items with our "get it by Father's Day" icon), and plenty of tools to help you out, like our gift center. We've also picked out some of our favorite products to wrap up this Father's Day.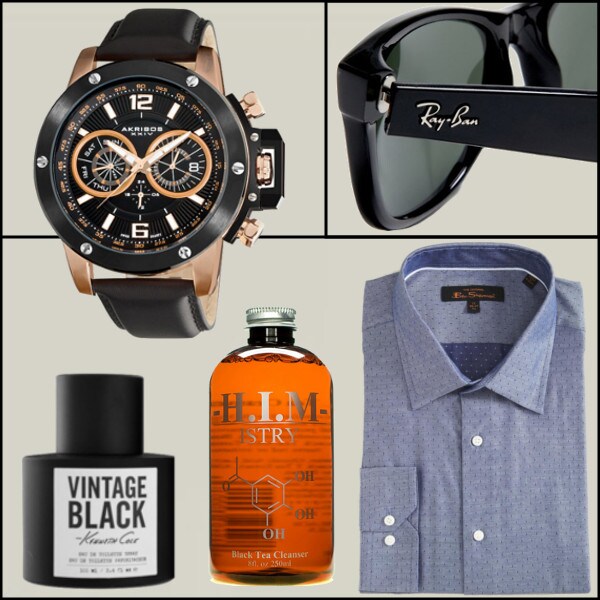 First up are those fashionable dads who don't mind getting a necktie every year. A nice button-down shirt he can dress up or down is a great gift he's sure to wear more than once or twice. This pin dot slim-fit shirt is a subtle, modern twist on the wardrobe basic. Wrap it up with a pair of Ray Ban wayfarers -- a classic that never goes out of style.
If there's one well-defined accessory he'll love, it's a quality watch. This black and rose-gold watch from Akribos is actually made of stainless steel and is waterproof up to 330 feet. Not only does it look great, but it's full of plenty of high-tech features and it'll last him for years and years.
How about some gifts made just for him? Men like to be pampered, too! This Himistry facial cleanser is specifically for men, softens and soothes skin, and offers anti-ageing benefits as well, so it's great for shaving. Pair it with his favorite cologne, or pick up a new scent, like Vintage Black from Kenneth Cole, which pairs deep notes of oak and sandalwood with fresher top notes of citrus and tequila.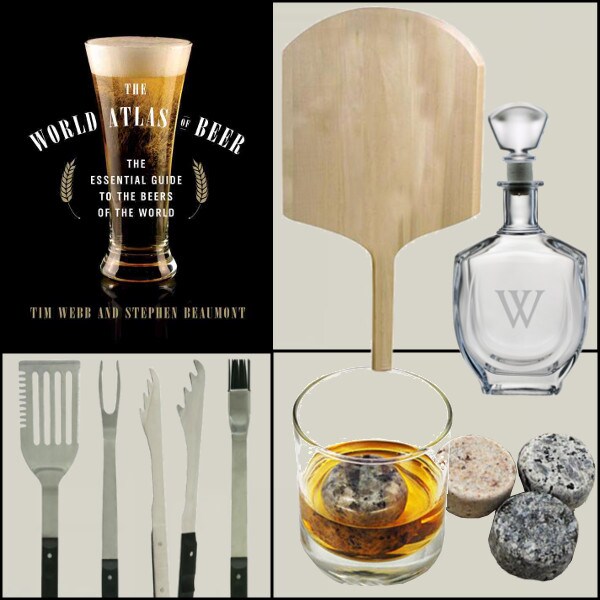 Why not opt for a gift that appeals to his palate? The World Atlas of Beer is full of information and interesting facts about beers from around the world. It's sure to be a good read and may help him discover a new brew or two. This monogrammed decanter is the perfect, personalized gift for his liquor cabinet, and a set of granite chiller stones will keep his drink cold without watering it down.
They say the way to his heart is through his stomach. It may be a cliche saying, but we have plenty of foodie gifts he'll approve of. A backyard wood-fired pizza oven lets him make delicious homemade pizzas just the way he likes them (it doubles as a smoker, too). Get him started with a wood pizza peel he can use in any oven.
If your dad's the ultimate grill-master, a new set of barbecue utensils will help him take his steaks and burgers to a new level. This gourmet grilling basket may just be the perfect gift for dads who love to barbecue. It includes cedar grill planks, beef and burger rubs, pistachios, and two bottles of Dad's root beer to share!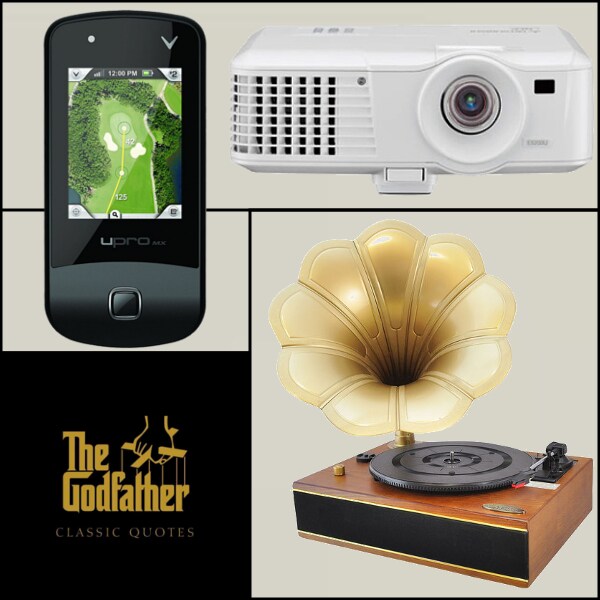 For the dad who loves gadgets and entertainment, our electronics department is packed with plenty of gifts he'll love, like tablets, TVs, and cameras. There are even some vintage-looking turntables that'll get him to dust off his old vinyls. Most of them even have recording technology so he can transfer his favorites and listen to them on MP3.
This golf GPS may just be the best gift ever for the man who loves both getting new gadgets and hitting the green every once in a while. An aerial view of the course, yardage to the hole, and a digital scorecard are just the basics.
If your dad is a movie buff, make his viewing experience that much better with a projector. It's great for watching theater-quality movies at home, or you can set it up outside for family movie night all summer long! If you're looking for a simpler gift, grab something that reminds him of his favorite movie, like this book of quotes from "The Godfather" or a Han Solo bottle opener.
We have something for every kind of dad. Check out our Father's Day Guides for more gift ideas, too. What are you planning on getting your dad? If you're a dad yourself, what's the best Father's Day gift you've ever received?
Posted by Andrea Sparks