Fall Fashion Must-Haves
Posted at Oct. 8, 2012 at 2:57 PM

Words can only barely express how much I love fall. Brisk mornings, crunchy leaves, scents of pumpkin spice, and, best of all, Halloween: It's a time I look forward to year-round. Even more exciting, though, is the moment I get to box up my summer clothes and pull out the autumn wardrobe of cozy sweaters, ribbed scarves, and leather boots; there's nothing quite like fall fashion! If you're like me, you'll use any excuse to snag a few updates for your fall wardrobe. Here, I've compiled some of the top trends of the season, with a few suggestions on how to make them work year-after-year.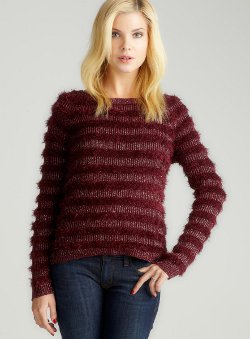 Fall Fashion Must-Haves:
1. Leather accents: Thrown on over a classic T-shirt and pair of jeans, a leather jacket can effortlessly turn a casual outfit into a study on style. But leather isn't just for jackets anymore. Pair some smooth leather pants with soft cashmere or a waffle-knit sweater for a great mix of texture. Leather accents are also a huge trend for fall. Leather sleeves, appliques, and tuxedo stripes on pants are all an easy, and less expensive, way to incorporate a bit of leather into your wardrobe. These moto-inspired pants from Walter Nicole are a good introduction to the trend. There are also many faux leather styles available to satisfy every budget and conscience.
2. Oxblood: The word may sound menacing, but the rich burgundy color called "oxblood" is everywhere this season -- and it's also versatile enough to mix with many of your fall staples. A deep red sweater could be paired with everything from jeans to sleek black pencil skirts, while a rich burgundy pair of jeans, like these from Romeo & Juliet Couture, would make a fashion-forward statement with a slouchy grey tee and black blazer. If you're daring, go monochromatic and dress in oxblood from top to bottom; it's a sophisticated color that can look as classic as black.
3. Chunky knits: No woman should be without a neutral, chunky knit sweater in her wardrobe this fall. It's the perfect transitional piece; throw it on over a T-shirt to take the edge off chilly mornings or layer it over warmer pieces when the temperature dips. A chunky knit doesn't have to be bulky, however. It's easy to find options with curved hems and fitted sleeves to make the look more feminine. With a draped hem and ribbed cuffs, this grey open-knit sweater from Walter Wendy fits the bill.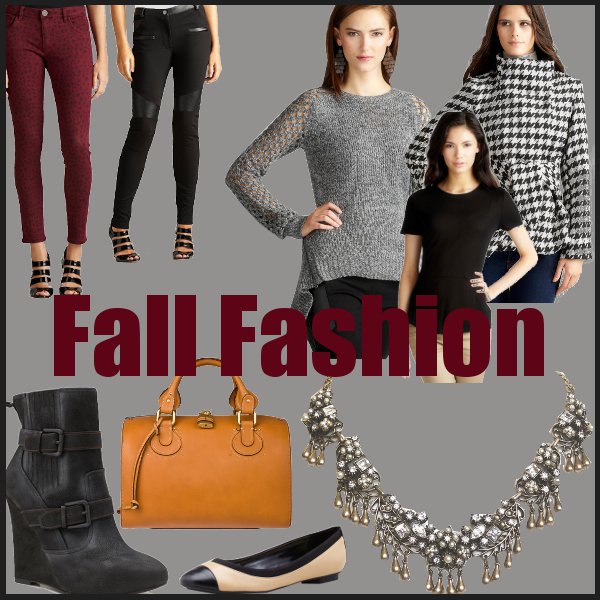 4. Cap toe flats: This season, the supremely feminine ballet flat has been stylishly updated with cap toes. You can't go wrong with a black flat tipped in beige or ivory, but you can also have some more fun with the trend. Go menswear-inspired with a tweed flat and a solid black toe, or go bold with a printed flat capped in neon or silver. This classic leather pair from Ellen Tracy would be the perfect stylish addition to to your workday or weekend errands.
5. Peplum hems: The subtle skirted effect of a peplum hem lends an air of sophistication to any ensemble. It also offers easy, instant shape that is flattering on almost every body type. A cap-sleeve peplum blouse works with everything from pencil skirts and board meetings to cocktail hour and skinny jeans. Choose a top in a classic color, like this black matte jersey top from Maggie Ward, for an elegant, no-risk way to test the trend.
6. Houndstooth: Step aside, leopard print -- houndstooth is making a comeback. Both classic and modern, houndstooth dominated the runways and street-style snapshots of New York Fashion Week. Luckily, it's an easy trend to incorporate into your fall wardrobe. The print looks great on cold-weather staples, like this fully-lined funnel neck jacket from For Cynthia. You can also find the print in bright, prismatic colors and larger prints; try either on a silk button-down blouse, also a huge trend for fall.
7. Black ankle boots: A classic black ankle boot is an absolute wardrobe essential this season. Chic and versatile, they look equally stylish with dresses and skirts or cuffed jeans or trousers. Opt for a flat silhouette if your days are full of walking. A wedge can also be a comfortable option. Otherwise, aim higher! A heel above two inches will make any ensemble look incredibly streamlined and chic. With edgy buckles and a high heel anchored by a comfortable wedge, this pair from Joie has it all.
8. Collar necklaces: Want to dress up a simple dress or T-shirt and jeans ensemble? Try a collar necklace, this season's biggest jewelry trend. These glitzy pieces come in every shape and style, from sleek goldtone Peter Pan-style necklaces to a beaded tuxedo collar. A mix of bronze, silver, and glistening stones, this handmade collar necklace is versatile enough to light up any ensemble. Either way, it's a major style statement.
9. Top-handle satchel: Of course, style can extend beyond clothing and jewelry. This season, the latest handbag styles are all about minimalist shapes with bold details and bright color. In a fall-appropriate mustard hue, this Chloe satchel is the perfect mix of elegant and fashion-forward.
Posted by Jen Gustavson