Fall Bedding: Let's Get Cozy
Posted at Oct. 26, 2012 at 2:40 PM

Layering on flannel shirts, knit scarves, and wool hats is one of the best parts of fall, but the fall fashion fun doesn't have to end at your wardrobe. Now that the nights are getting chillier (and it's been downright cold at my house the last few nights), it's time to get your bed ready for the season. And what style lover hasn't wanted to take fall fashion to bed?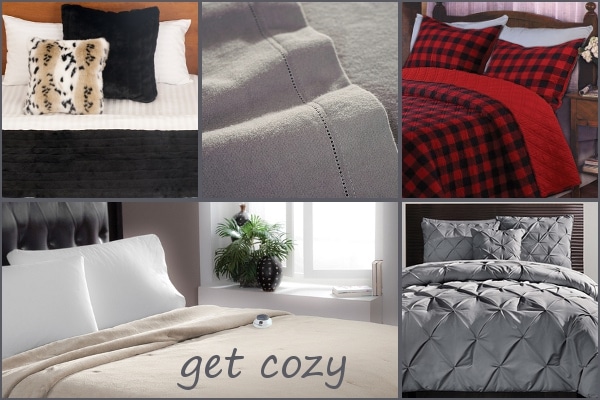 Start by stripping your bed of all the linens and assessing your mattress. If it's in good shape, give it a good cleaning: Sprinkle baking soda over the mattress, let it sit for about an hour, and vacuum it up. If the mattress is starting to sag, then it may be time for a new one; check out our guide on determining whether or not you need to replace your mattress if you're not sure.
Now let's add a foundation layer. A mattress makeover kit with featherbed and topper will give you a softer sleeping surface, and it will protect your mattress, too. If you prefer memory foam over down, try one of our top sellers: the Serta 4-inch memory foam mattress topper.
Now that you have the basics in place, you can choose a style. I love matching the grey weather with a bit more of the same color, and these ultra-soft, heavyweight German flannel sheets in grey are just the right hue to rival the clouds on a rainy day. Add the matching flannel pillowcases and you have the perfect background for this red buffalo check quilt set. You just can't go wrong with plaid in the fall.
Another look that is hot in homes right now is monochromatic decor. One of our bestselling comforter sets comes in a clean, one-color design, and it's the texture that makes it so beautiful. You could also try combining warmth and texture by layering the Serta electric blanket in topaz over these Egyptian cotton 600 thread count sheets in taupe (the sheets of choice for blogger Stacie at SimplyStacie.net), and topping it all off with a snow leopard throw pillow set and a faux fur blanket.
But wait! Don't stop with your own bed. Make sure everyone in the house has a good set of cozy sheets; the October 2012 issue of Parents magazine recommended a set of floral microfiber sheets for a girl's room, and I think boys would love microfiber sheets with stripes. Be sure to give everyone a throw blanket they can pull up over the bed when it's extra cold. Trend-loving teens would love this green chevron throw blanket, and I know my toddler would like to snuggle up with this soft velour crib blanket.
I've already added a throw blanket to the foot of my bed, and I'm getting out my electric blanket tonight. How do you like to add layers to your bed in the fall?
Posted by Stephanie Petersen