Equinox Style: Black and White
Posted at Sep. 20, 2013 at 1:46 PM

The autumnal equinox is this weekend. In fact, it falls squarely on this Sunday. On the equinox, the day and the night are exactly the same length and we're in a perfect balance of light and darkness.
To celebrate this time of balance before we creep into all those long winter nights, we've put together a few looks to help you show off your light or dark side.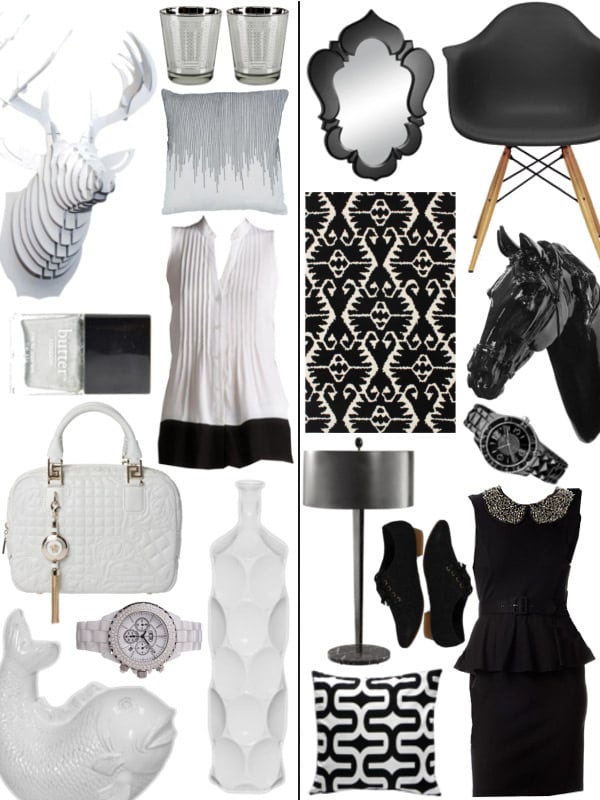 Black and white is always a classic, and it's easy to incorporate either -- or both -- into your home and wardrobe. So whether you're all about bright, clean white or you love the deep mystery of black, there's plenty to go around.
White Style:
Mod, geometric deer head
Patterned silver highball set
Rain drip lines throw pillow
Black and white pintucked blouse
Butter London nail polish in Diamond Geezer
Quilted leather Versace Vantias satchel
Geometric ceramic vase
Sparkling white ceramic watch
White ceramic fish
Black Style:
Black Vishnu Mirror
Mid-century Eames-style chair set
Black and white tribal wool rug
Lacquered ceramic horse head
Akribos ceramic pyramid watch
Black marble table lamp
Black and white geometric throw pillow
Black sparkle oxfords
Beaded collar peplum dress
Do you lean toward the bright, summery side or do you revel in the dark, wintery looks? Of course, you can always have a little of both. After all, that's what the equinox is all about.
Posted by Andrea Sparks