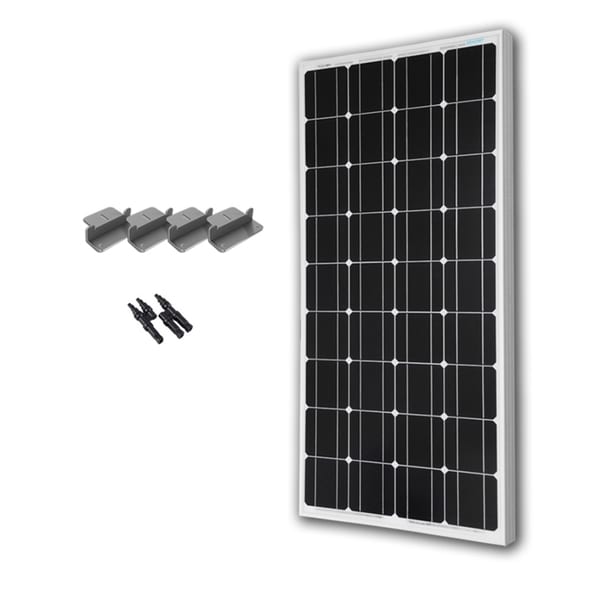 Renogy 100 Watts 12 Volts Monocrystalline Solar Expansion Kit
Out of Stock: This item is currently unavailable.
Description
Details:
OVERVIEW
The 100W Renogy Solar Expansion Kit is designed for use with an already existing solar power system. This kit is perfect for adding and mounting one additional solar panel. The Renogy 100 Watt 12 Volt Monocrystalline or Polycrystalline Solar Expansion Kit includes one 100 Watt Monocrystalline or Polycrystalline Solar Panel, one set of Z-Brackets, and one pair of branch connectors. Adding an additional solar panel to an existing system can help charge the battery bank faster while also making full use of the charge controller.

SPECIFICATIONS
Renogy 100W Monocrystalline Solar Panel
Maximum Power: 100W
Maximum System Voltage:600V DC (UL)
Open-Circuit Voltage (Voc): 22.5V
Short-Circuit Current (Isc): 5.75A
Optimum Operating Voltage (Vmp): 18.9V
Optimum Operating Current (Imp): 5.29A
Weight: 16.5lbs
Dimensions: 47.0 X 21.3 X 1.4 inches
Renogy MC4 Branch Connectors
Withstanding Voltage: 1000V DC(TUV), 600V(UL)
Protection Degree: IP67, mated
Wiring Size Range: 10, 12, 14 AWG
Temperature: -40°F to +195°F
Mounting Z Brackets (Set)
Eight Long Cap Bolts and Four Short Bolts
Four Spring Washers and Four Washers
Four Z Shape Solar Panel Brackets
Four Nuts
Renogy Adaptor Kit (Set)
Length: 10ft/ 20ft
AWG: 10
Rating Voltage: 600/1000V
Temperature: -40°F to +185°F
Country of Origin: Thailand
Specifications
Assembled Dimensions
45 inches high x 20 inches wide x 3 inches thick
Warranty
25 year Manufacturer