Renogy 100-Watt Solar Panel Starter Bundle Kit
Similar Items in Solar Power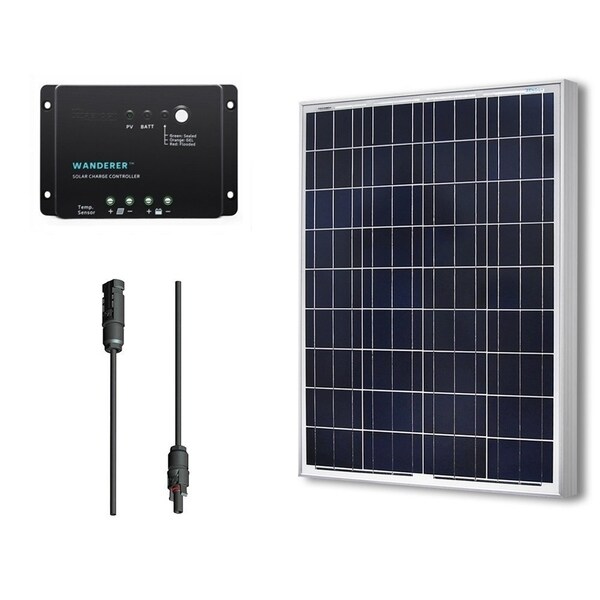 Pricing and Options
Renogy 100-Watt Solar Panel Starter Bundle Kit
Product Information
Details
OVERVIEW
If you are tired of always having to hook up your camper or RV to a power grid, then Renogy has some solutions for you. The Renogy 100-watt kit is stocked with the items you need to make a solar installation on the rooftop of your RV, camper, or boat.

KEY FEATURES
High modules conversion efficiency
Excellent performance in low light environments
Fully self powered off-grid systems
Suitable for commercial and power station property
12V battery use
SPECIFICATIONS
Renogy 100W 12V Polycrystalline Solar Panel
Output Cables: 4.0 mm2 (0.006 in2), 800mm (31.5 in)
Connectors: MC4 Connectors
Maximum Power: 100W
Maximum System Voltage: 600V DC (UL)
Optimum Operating Voltage (Vmp): 18.9V
Open-Circuit Voltage (Voc): 22.5V
Optimum Operating Current (Imp): 5.29A
Short-Circuit Current (Isc): 5.75A
Dimensions: 47 X 21.3 X 1.4 In
Weight: 16.5lbs
The Renogy Wanderer 30A Negative PWM Charge Controller
Nominal Voltage: 12 VDC
Rated Charge Current: 30A
Max. PV Input Voltage: 25 VDC
Self-Consumption: <10mA
High Voltage Disconnect: 16V
Over-Voltage Reconnect: 15V
Low Voltage Disconnect: 11.1V
Low Voltage Reconnect: 12.6V
Under Voltage Warning: 12V
Under Voltage Recover: 12.2V
Boost Voltage: Sealed: 14.4V; Flooded: 14.6V; Gel: 14.2V
Equalization Voltage: Sealed:14.6V; Flooded: 14.8V; Gel: NO
Charging Limit Voltage: 15V
Float Voltage: 13.8V
Equalize Duration: 120 min
Boost Duration: 120 min
Temperature Compensation: -3mV/-degreeC/2V
Working Temperature: -20-degreeF - 113-degreeF
Storage Temperature: -31-degreeF - 176-degreeF
Max Gauge Size:Up to 4AWG
Weight: 0.65 lbs.
Dimensions: 6.45 x 4.31 x 1.76 inches
Enclosure: IP20
Notice:
For safety, do not exceed 80% of charge controller current rating. This rating should be based on total short-circuit current of the solar panels.
Renogy 9in 12AWG Adaptor Kit - Connecting Solar Panels to Charge Controllers
Length: 9In
AWG: 12
Rating Voltage: 600/1000V
Temperature: -40 F ~ 194 F
Normal Cross Sectional Area of the Conductor (mm2): 4.0
Diameter of Wires in Conductor (mm): 3.02+/-0.08
Min. Wall Thickness of Insulation (mm): 0.78
Min. Wall Thickness of Sheath (mm): 0.97
Number of Wires in Conductor: 56
IP 65 Protection
Renogy Solar Panel MC4 Branch Connectors (Pair)
Withstanding Voltage: 1000V DC (TUV), 600V(UL)
Contact Registance: 1MProtection Class: Class II
TemperatureL -40F to +194F
Protection Degree: IP67, Mated
Unmating Force: 147.51Ft.lb
Insulation Material: PC/PA
Contact Material: Copper, Silver Plated
Flame Class: UL94-V0 or UL94-5VA
AWG: 10
Length: 8ft
Country of Origin: Thailand
Specifications
Warranty
5 year Limited Manufacturer
Model Number
KIT-BUNDLE100P