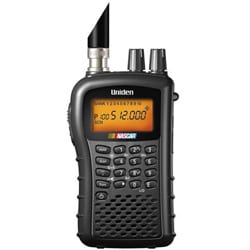 Uniden Bc72xlt NASCAR 100-channel Compact Scanner
Out of Stock: This item is currently unavailable.
Description
Details:
100-channel compact hand-held scanner
Audio accessory is great for NASCAR
Uniden BC72XLT electronic scanner is designed to be compact for added flexibility and portability
100 Channels / 10 banks
Compact Design
Close Call- RF Capture Technology
Instantly tunes to signals from nearby transmitters
Frequency Coverage
Includes the most interesting 'action' bands where you can hear police, ambulance, fire, amateur radio, public utilities, weather, and more
25-54,108-174,406-512
10 programmable search ranges
Helps you find unlisted frequencies in use in your area
Six pre-programmed Service Searches
Frequencies are Preset in Separate Police, Fire/Emergency, Aircraft, Ham, Marine (by channel) and Weather Banks to make it easy to locate specific types of calls.
Backlit display
Makes It Easier to Read Display in Low Light Conditions
Requires two (2) AA batteries (not included)
Provides flexibility in choice of batteries: Alkaline for long life, rechargable for economy (batteries can be charged while in the scanner)
Priority scan
Frequently scans the channels you have designated as priority channels
Delay
Helps prevent missed replies during 2-way conversations
Sport scanner
Public safety scanner
Country of Origin: United States
Specifications
Dimensions
4 in. x 4 in. x 5 in.