Similar Items in Cell Phone Accessories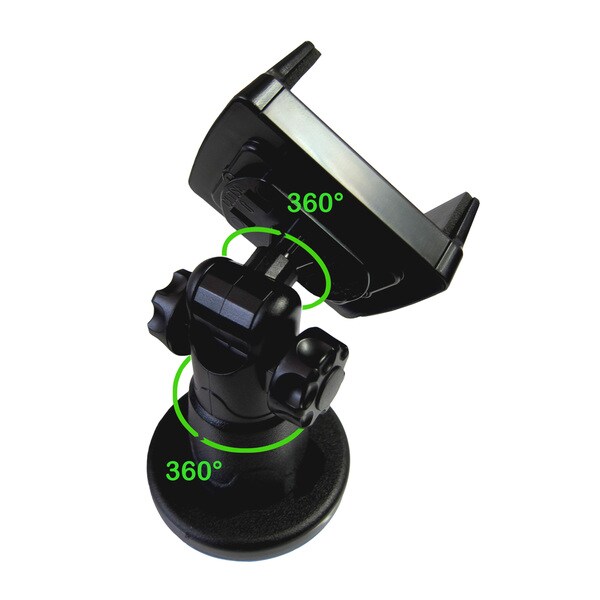 SmartCradle Black Synthetic Universal Windshield and Dashboard Car Mount Holder Bracket for Smartphones and GPS
Sale ends in: 

10 hr 

58 min
Out of Stock: This item is currently unavailable.
Description
Details:
Mount the SmartCradle universal holder bracket on your car's windshield or dashboard and glance at your smartphone or GPS without taking your hands off the wheel. The mounting device locks to hold your device securely in place, even if it is protected in an OtterBox or another case. Two rotating mechanisms allow for a wide range of motion, while the unit's self-adhesive base stays fastened regardless of temperature and humidity changes.
Supports a range of devices, including smartphones from Apple, Samsung, Google Nexus, HTC, and LG
Self-adhesive base is unaffected by temperature or humidity
Mounts on the windshield or dashboard and removes without leaving residue
Rotates a full 360 degrees to ensure your device is always visible
Measures 2.8 inches x 3.7 inches x 3.9 inches
Lockable holding system keeps your device secure
Available in sleek black
Supported devices include: iPhone 6S Plus, Ascend II, Ascend Plus, Ascend Y, Desire 510, Desire 612, Desire Eye, Droid 2, Droid 3, Droid Bionic, Droid Razr, Droid X, Evo 4G, G Flex 2, G2 D800, G2 D801, G2 LS980, G2 Mini, G2 VS980, G3 Stylus, G4, Galaxy A7, Galaxy Nexus, Galaxy Note, Galaxy Note 4, Galaxy Note Edge, Galaxy Note II, Galaxy Note III, Galaxy S, Galaxy S 4G, Galaxy S2, Galaxy S2 4G, Galaxy S3, Galaxy S4, Galaxy S4 Active, Galaxy S4 Mini, Galaxy S5, Galaxy S6, Galaxy S6 Edge, Grand S, Impulse 4G, LG Nexus 5, Lumia 1020, Lumia 1320, Lumia 520, Lumia 521, Lumia 735, Lumia 820, Lumia 920, Lumia 928, Lumia 929, M886 Mercury, MB855, Majesty Z796C-Source N9511, Max, Moto E, Moto G, Moto X, Nexus 5, Nexus 7, Nexus S 4G, One M7, One M8, One M9, One Max, One S, One Touch Evolve 2, One Touch Fierce 2, One X, Optimus F3, Optimus F6, Optimus F7, Optimus L70, Optimus L9 P769, Optimus G Pro 2, Pinnacle II, Universal, Xperia Z1S, Z10, Xperia Z2, iPhone 3GS, iPhone 4, iPhone 4G, iPhone 4GS, iPhone 4S, iPhone 5, iPhone 5C, iPhone 6S, iPhone 6+, iPhone 6, iPhone 5S, Optimus L90
Additional adhesive pad enables mounting to nonsmooth surfaces
Special self-adhesive technology does not employ suction pressure
Weighs 0.25 pound
Country of Origin: South Korea
Specifications
Dimensions
2.8" x 3.7" x 3.9"
Supported Device
Ascend II, Ascend Plus, Ascend Y, Desire 510, Desire 612, Desire Eye, Droid 2, Droid 3, Droid Bionic, Droid Razr, Droid X, Evo 4G, G Flex 2, G2 D800, G2 D801, G2 LS980, G2 Mini, G2 VS980, G3 Stylus, G4, Galaxy A7, Galaxy Nexus, Galaxy Note, Galaxy Note 4, Galaxy Note Edge, Galaxy Note II, Galaxy Note III, Galaxy S, Galaxy S 4G, Galaxy S2, Galaxy S2 4G, Galaxy S3, Galaxy S4, Galaxy S4 Active, Galaxy S4 Mini, Galaxy S5, Galaxy S6, Galaxy S6 Edge, Grand S, Impulse 4G, LG Nexus 5, Lumia 1020, Lumia 1320, Lumia 520, Lumia 521, Lumia 735, Lumia 820, Lumia 920, Lumia 928, Lumia 929, M886 Mercury, MB855, Majesty Z796C-Source N9511, Max, Moto E, Moto G, Moto X, Nexus 5, Nexus 7, Nexus S 4G, One M7, One M8, One M9, One Max, One S, One Touch Evolve 2, One Touch Fierce 2, One X, Optimus F3, Optimus F6, Optimus F7, Optimus G Pro 2, Optimus L70, Optimus L9 P769, Optimus L90, Pinnacle II, Universal, Xperia Z1S, Xperia Z2, Z10, iPhone 3GS, iPhone 4, iPhone 4G, iPhone 4GS, iPhone 4S, iPhone 5, iPhone 5C, iPhone 5S, iPhone 6, iPhone 6 Plus, iPhone 6S, iPhone 6S Plus
Warranty
1 year Limited Manufacturer