Eat, Drink, and Be Scary
Posted at Oct. 18, 2012 at 4:51 PM

Who says Halloween is just for kids? Maybe you're too old to go trick-or-treating, but that doesn't mean you can't enjoy the spooky holiday. After all, you're never too old to dress up and have a scary good time. Halloween parties just for grown-ups are becoming more and more popular, whether you're hosting a fangtastic vampire dinner party or a blood-curdling murder mystery. Whatever theme you're going for, here are a few looks and ideas to steal for your own spooky soiree.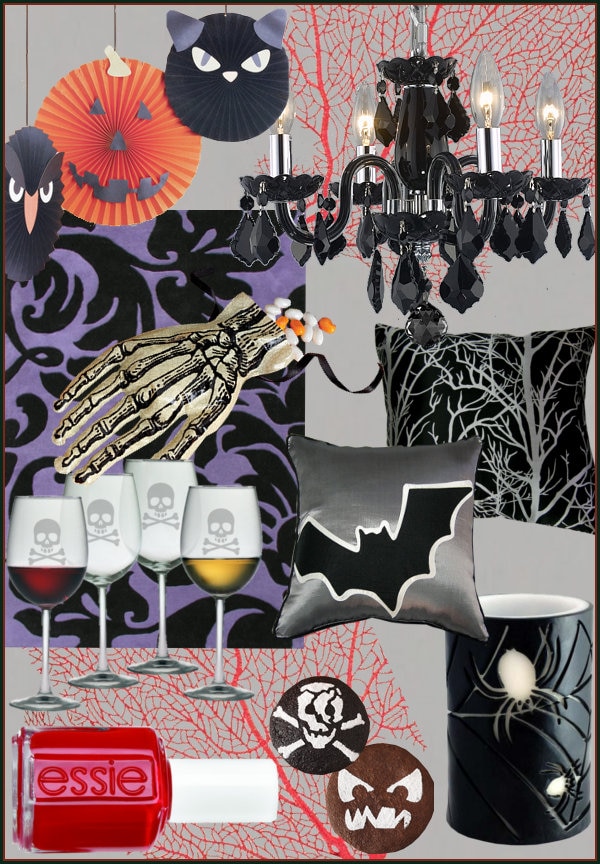 Black and orange are the traditional colors of Halloween, but for a grown-up party, I prefer a slightly different, but still fearsome color palette of black and silver, with touches of deep purple and blood red. First, I'd set the mood with a dramatic, black chandelier and turn the lights down low. Of course, spooky music doesn't hurt, and this Scariest Halloween Horror Movie Songs CD is perfect for sending chills up your guests' spines. Candlelight is always eerie, and these black spider flameless candles cast creepy, crawly silhouettes in the darkness.
As far as decor goes, it's easy to turn your home into a dusty old haunted house with white sheets draped over the furniture and false cobwebs set in the corners. Or, you can go for glamorous and ghoulish with a set of spooky throw pillows, like this blood-sucking bat pillow or this silver and black haunted woods pillow.
Of course, you'll want to feed your guests. Serve one of these blood-curdling concoctions, or just serve blood-red wine in a set of wine glasses that will make your guests wonder if it's really poison inside. As far as food goes, leave it to Martha Stewart, frequently referred to as the Queen of Halloween, to turn ordinary cupcakes into fearsome bites with simple stencils. Send guests home with skeleton hand goodie bags for one final scare.
You don't want to neglect the outside of your house either. Jack-o-lanterns on the doorstep will create a haunted atmosphere. But if you're looking for something a little more permanent, two or three of these wrought-iron pumpkin candle holders will do the trick. I really like Your Carolina's idea in their How to Have a Modern Halloween segment: Keep the candle holders around and decorate them with squash and leaves for Halloween. Speaking of people who are talking about our Halloween products, the St. Louis Dispatch suggests this bewitching weathervane to add a little outdoor ambiance to your frightful night.
Finally, the evening wouldn't be complete without costumes. Halloween is your chance to show off your darker side, whether you go as a ghastly ghost or a glam vampire. Check out our costume selection, or build your own look with tips from our costume guide.
How do you celebrate Halloween as an adult? What would you serve at your own petrifying party?
Posted by Andrea Sparks