Dog Days of Summer
Posted at Jul. 31, 2012 at 2:59 PM

Here, at the end of July, we're well into the dog days of summer. Typically the hottest days of the year, the dog days fall squarely at the end of July, beginning of August. But just because the sun is high and the thermostat is rising doesn't mean you can't stay cool and comfortable. Here are a few tips for surviving the hottest days of the year.
First things first, you're going to need to keep cool. Sure, the air conditioner will keep the temps down inside, but what's the fun of summer if you're stuck indoors all the time? A few fans on your patio can make a blistering day bearable, and a big patio umbrella can provide some much-needed shade.
You know what I like doing to keep cool? Eat popsicles. I love making my own, too. They're usually tastier and healthier than store-bought ones. This popsicle recipe book is full of ideas I want to try, like mojito, Thai iced coffee, and sour plum. It's also full of tips and tricks to help you make popsicles that look as good as they taste. No more sideways sticks and clumped-up fruit!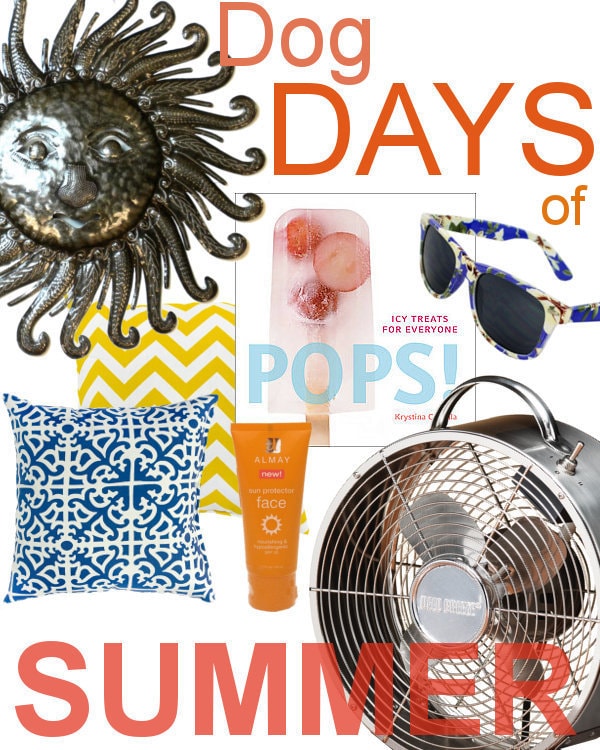 So why are they called the dog days anyway? During July and August, Sirius (also known as the Dog Star because of its location within the constellation Canis Major and its ancient depiction as Orion's dog) is in extremely close proximity to the sun. The ancient Romans and Greeks believed that the raging Sirius was responsible for the extreme heat and that dogs would literally be driven to madness by the star during the heat of late summer. Add to that the fact that the translation of the Latin name means "scorcher" and you've got one hot, mean dog on your hands.
Maybe we don't blame the heat on the Dog Star anymore, but one thing is for certain: The sun is high and hot during the dog days, and that means some extra protection is required. As much as I love a summery glow, a daily sunblock can fight off sunburn, wrinkles, and other sun damage. UV rays can do a number on your eyes too, so make sure you always wear sunglasses with 100-percent UV protection. Not that you need much of an excuse to rock these adorable floral wayfarers all summer long.
Of course, the dog days aren't all bad. The hottest days are the perfect chance to heat up your home decor. These yellow and blue throw pillows are bright, summery, and an easy way to liven up a room. You can even use them outdoors because they're made with weather-proof covers. Speaking of the weather outside, why hide from the sun when you can celebrate summer? This gorgeous metal sun was made in Haiti from an old oil drum. Hang it anywhere you need a little extra sunshine.
How do you get through the dog days of summer? Do you take advantage of the hot weather, or do you prefer an air conditioner indoors?
Posted by Andrea Sparks