Decorate with Outdoor Rugs
Posted at Jul. 17, 2013 at 3:01 PM

Home is one of the best places to celebrate summer, especially when you've worked hard to make your outdoor spaces beautiful. Relaxing with friends on the deck or patio is so much a part of summer now that the trend toward creating "outdoor rooms" is no longer just a trend; it's a natural extension of home decor. And with so much variety available in patio furnishings now, you can easily decorate to suit your taste. Outdoor rugs add style to any setting, and it just so happens that now is a great time to buy them.
Today through July 18, as part of our Summer Home Sale, Overstock.com is offering up to an extra 20 percent off the price of select area rugs*. And since we have thousands of rugs onsite, the right one for your outdoor oasis is just a few clicks away.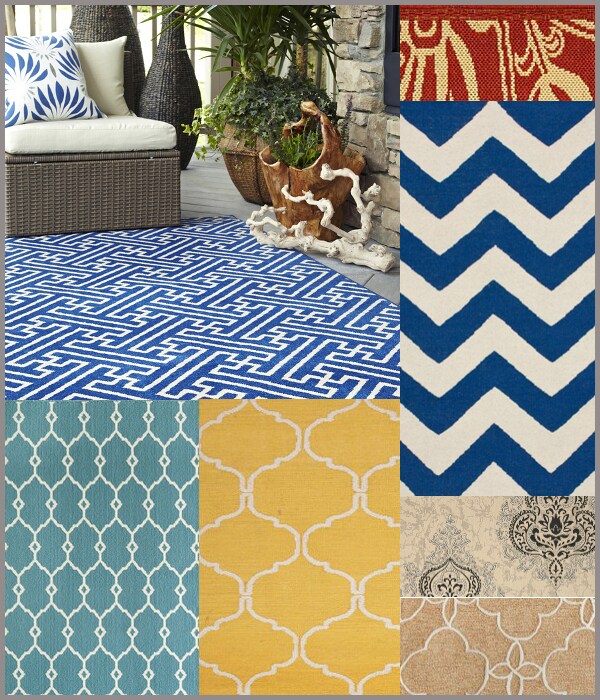 Outdoor rugs protect tender feet from temperature fluctuations (okay, rugs protect feet from blazingly hot wood planks and stone tiles), and they also serve the same functions as indoor rugs: They help define a space and pull together the decorating scheme. Here are a few ideas for decorating with outdoor area rugs.
Use rugs as room dividers on a large patio or in backyards with several seating areas. They can define both the dining area and the outdoor living room. These areas tend to have large furniture, complete with thick cushions, throw pillows, and coffee tables, so don't be afraid to choose rugs with bold patterns to match. Chevron stripes are everywhere in design right now, and this blue chevron outdoor rug has the right look to anchor a large furniture grouping. Or look for rugs with the popular trellis pattern, which is still geometric but has softer lines.
Bright colors are everywhere during summer, so naturally, a lot of outdoor rugs reflect these saturated hues. Sky blues and sunny yellows are popular choices for a pool deck. Blues and greens complement backyards with lots of lush vegetation. If you live in a desert region, try matching the surrounding landscape with this red-and-cream design, or choose a turquoise rug for contrast. Of course, bold colors and patterns aren't limited to large spaces. An eye-catching area rug will make a small space, such as a balcony or porch, seem larger; plus, it's an easy way to enliven the decor.
Sometimes you want a lighter touch in decorating, even outside. A neutral shade, like beige or grey, blends well with a garden patio full of whites, pinks, and violets. If you like the current black-and-white trend, take it to your outdoor space. Choose a beige-and-black rug with a traditional pattern as your base (beige will be easier to keep clean than white). Then set out black cast-iron bistro sets for a cafe look or white wicker furniture for a resort look. Complete the theme with black-and-white cushions, and get some color from potted plants and flowers.
You can even take your outdoor rugs beyond the deck. For example, lightweight natural-fiber rugs make durable picnic blankets. And people who prefer camping with a dose of luxury like to layer rugs in their tents. (You'll find more glamour camping tips in Jen's "glamping" post.)
Are you planning to take advantage of our Summer Home Sale and save on an outdoor rug? Is there one you've been eyeing?
*Extra 20% off Select Area Rugs offer applies to items in the "Sales & Promotions > Sale > Sale > 20% Off Select Items" subcategory. This offer applies to U.S. orders only. Offer ends July 19, 2013 @ 1:59 AM ET.
Posted by Shawna Edwards