December Traditions
Posted at Dec. 1, 2011 at 2:22 PM

The cold days and long, dark nights of December make many of us crave the familiarity of traditions. Everyone has a way they like to celebrate the variety of winter holidays, but even if there weren't any holidays in December, I think we would still create traditions. Something about consistency just helps us get through the long, icy winter.
But while your traditions may seem comfortable to you, they may seem surprising to someone else. I asked some of my co-workers here about their December traditions and found that, while we may spend the hours of 9 to 5 doing similar things, when it comes to our holiday traditions, we are all unique.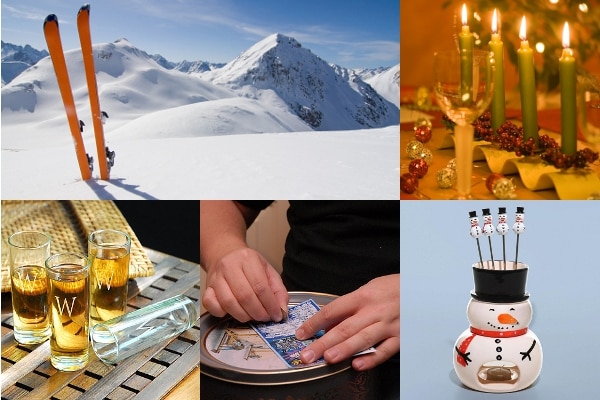 Like woodland creatures preparing for hibernation, many people have food at the center of their traditions. For me, the third Sunday in December is the night of the biggest party of the year, which includes a huge dinner (and lots of champagne) at my favorite French restaurant in town. And while Jessica is eating fondue every year on Christmas Eve, Kevin and his family are going out to dinner, watching a movie and then toasting the night with a shot of vodka.
Family is often at the center of traditions, and the shared culture adds special meaning to the holiday celebrations. Jaime's family gets together at his grandparent's house on Christmas Eve for a dinner, and they attend midnight Mass together. "Then we go back to my grandparents' house, and my grandfather and uncle open birthday cards, as their birthdays are both on Christmas day," he said.
Andrea's German family also has traditions that carry on the customs of generations before. She told me, "We start with Advent, and on each of the four Sundays before Christmas, we light one candle on our advent wreath until all four candles are lit for Christmas. We read Christmas stories and sing Christmas carols together while we drink peppermint tea and eat German cookies and chocolate."
But not everyone's family traditions come from such time-honored practices. Ryan confessed that "each year on my mom's side, someone buys about 100 scratch lotto tickets on December 24th, and when the kids have gone to sleep, we divvy them up, stay up to put out presents and try to strike it rich. My grandma loves this." Joseph's wife also likes the lighter side of traditions: She hides joke gifts in the stockings after everyone goes to bed. "We all end up with something like a dirty sock or can of beans in our Christmas stockings," he said. "It's not my favorite tradition, but she sure enjoys it."
After family, community is significant to traditions. Joe said, "Since I've moved to Utah, I've started a new tradition of skiing on Christmas Day with friends who are also living away from their families -- or who are trying to avoid the holiday stress." For Shawna, getting together with friends is also important. She said, "At my book club's December dinner, everyone must bring a book from their shelf, wrapped as a present, for a gift exchange." She also brings up the importance of giving back at this time of year. "I belong to a community of knitters who knit hats and scarves throughout the year to give to a shelter in December," she told me.
Do you have any traditions that you look forward to every December?
Posted by Stephanie Petersen