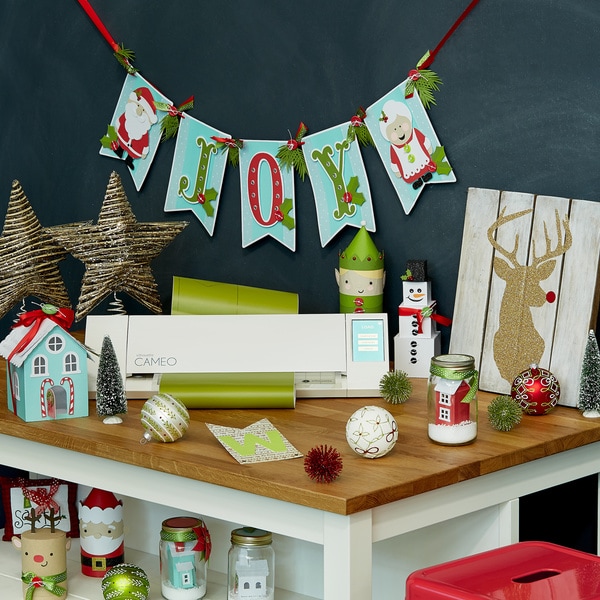 Love the cameo just wish I had more time to use it
...
Silhouette Cameo 2 Die Cutting Machine Bundle + $25 Gift Card
by Silhouette
Details
ITEM#: 16687667
Cut to your creative side with this Silhouette Cameo 2 die cutting machine. Compatible with both Macs and PCs, this machine cuts through a wide range of materials and includes 100 preloaded designs. Download additional designs from the Silhouette store with free one-month access and a bonus $25 Silhouette Store Gift Card. The Silhouette Studio software allows you to import your personal creative designs and create new masterpieces. Choose between the vinyl starter kit or heat transfer kit to meet your needs, and enjoy creating beautiful custom holiday or everyday projects.


Basic Vinyl Starter Kit: The vinyl starter kit allows you to create intricate designs and text for wall art, labels and other projects. Includes Cameo 2 Die Cutting Machine, plus four (4) sheets of premium vinyl (black, white, dark pink, leaf green), ten (10) feet of premium transfer paper, silhouette hook, silhouette scraper, download card for ten (10) heat transfer designs, idea booklet, instruction guide, instructional DVD Sheet dimensions: 9 inches high x 24 inches wide.

Heat Transfer Starter Kit: The heat transfer kit allows you to create custom apparel and home decor using your Cameo 2 and the included heat transfer craft materials. Includes Cameo 2 Die Cutting Machine, Set of (5) flocked heat transfer material sheets (yellow, white, hot pink, black and teal), Silhouette hook, instructional DVD, idea booklet, smooth heat transfer material and 10 exclusive shapes designed specifically for heat transfer projects.


Clickhere to view additional information about this item


Details:

Includes cutting blade, vinyl trimmer and 12-inch x 12-inch mat
Cuts paper, cardstock, vinyl, fabric, heat transfer paper and more
Import your own artwork using Silhouette Studio Designer Edition software
Includes your choice of vinyl starter kit or heated transfer kit
Includes 25 dollar gift card for downloads on Silhouette's collection of 70,000 shapes and one month free access to Silhouette download store with 25 additional shapes
One Silhouette spatula tool
100 pre-loaded designs
Dimensions: 7 inches high x 21 inches wide x 5 inches deep
Sheet dimensions: 9 inches high x 24 inches wide
Specs
Features

Material
Metal, Plastic
Type
Cutter, Electronic
Compatibility
Mac, PC
Color
Blue, Grey, Multi, Off-White, Red, White
Condition
New
Product Features
USB Port
Set Includes
1 Piece
| | |
| --- | --- |
| Dimensions | 7 inches high x 21 inches wide x 5 inches deep |
| Warranty | 1 year Manufacturer |
| Model Number | CAMEO2-OVRSTK-VINYL ; CAMEO2-OVRSTK-HEAT |
| Country of Origin | China |

Most Recent

Love the Cameo 2. Easy to use and complete with all the software you need to make tshirts, home decor, Drinkwater, etc. highly recommend!

Read More

Cameo 😍😍

Absolutely love it !!!!!! We use vinyl on a lot of stuff !!! Makes for a quick gift !! and versital ! Very User friendly and affordable for anyone looking for a fun machine!

Read More

I have had this for 1-2 years and I still love all the features. After watching a couple of You Tube tutorials initially, I found the Cameo to be very user friendly.

Read More

Works Perfectly for my Online Business!

This worked perfectly for my online business. This thing is a workhorse and extremely dependable.

Read More
Most Helpful

Amazing

Everything works as advertised. Lot of fun, I ended up buying the upgrade to the software. I've used Adobe Illustrator for years so I can make about any design I want and easily convert it to cut on the cartridges at $** a piece would cost a fortune. Designs for this are cheap enough that its not worth me taking the time to recreating it. But if I can't find what I want I can easily create it my self. There are some very talented people out there making designs. Its not often I make my own.

Read More

Fun Stuff!!

If you are a big-time crafter, this is the way to go! I didn't know how much the Cameo was even capable of until I started watching some videos online. You can do vinyl, fabric, cardstock, etching stencils, etc. with this machine. With the holidays coming up, this is the perfect device to have at home to make tons of homemade items! I'm very happy with it!

Read More

We love it!

I purchased this for my dance team to make gift items (team gifts, locker room items, gift tags, etc). We were speding so much money for other people to make things we realized we could do ourselves with the Silhouette Cameo. We absolutely LOVE it and keep finding new and creative ways to use it.

Read More

Amazing!!

Everything was perfect! Loved the starter vinyl kit! Perfect choice for beginners. I couldn't be happier with this product. Well worth the money!!

Read More

Shilouette Cameo

The product is wonderful. I love that you can use it with or without a computer.

Read More
Q:

"Does this come with the mat as well?"

A:

Yes it did. It was a great purchase and a really great item for creative people.

A:

Yes it comes with a 12x12 mat

Read more

Read less

Q:

"I have been torn about which die cut to order. I almost ordered Silhouette Die Cut 2 ONLY because of cost. I am a Card Designer...so I pretty much want create cards, table #'s anything that's associated with Events. So my dilemma was WHICH ONE!!? Cricut or Cameo Silhouette? Love to hear others experience. I wish I had read more reviews... I THINK I WOULD HAVE ORDERED. PRICE WAS GREAT!!"

A:

With the silhouette you have more freedom to do whatever you can think of. The crickets require cartridges to cut things so that limits what you can do. I have this silhouette and I really like it. It's easy to use.

A:

I have the Silhouette Cameo. I opened the box and set it up and was cutting in less than an hour. I do vinyl much more than paper but have also used it for cutting fabric because I do machine applicques as well. Easy and fun to use.

A:

Does this Cameo do Embossing? 2nd question does it print text?

A:

I chose the silhouette over the cricut because, while you can download designs, if you are buying this sort of machine, you are probably creative and handy enough to easily come up with you own designs. Cricut is limiting. I have not had my cameo long, but all my various projects have been my own designs... T-shirts, personalized waterbottle, vinyl labels for homemade balm. The cameo does not print, but the pens can offer something like it. It does not emboss, but with some clever thinking you might be able to use it to create a similar look.

Read more

Read less

Q:

"A friend of mine ordered this bundle last month and referred me to buy it here as well. My only concern is that ALL of the pictures shown of the vinyl bundle have the teal dust cover included, and I just noticed that it is NOT mentioned in ANY of the product/kit details (dust cover is located on the left side of all 3 bundle pictures). I purchased this kit due to the fact that all of the bundle pictures INCLUDE the dust cover as well. I don't want to open up the box and be disappointed, then have to buy a cover."

A:

Mine came with the teal cover as shown.

A:

When I ordered this bundle the dust cover was included. :)

A:

Mine came with a teal cover

A:

Mine came with the dust cover as well. It is teal.

A:

Mine came with a pink cover, but what matters most is that it has a cover.

A:

Mine also came with a pink cover.

A:

I ordered the same set and picked teal as well. Howevern mine came with pink. That's the only mistake made on their part but otherwise I love it.

Read more

Read less

Q:

"So I'm a little out of the loop here. My daughter buys a bunch of custom-designed decals/stickers from a lady in town that creates these on the side. I assume they're basically vinyl as far as the material they're made out of... she uses the stickers/decals to place on Yeti tumblers and all sorts of other things (notebooks she uses at school, canisters that store things in her room, etc). Is this machine what we'd need to create these sorts of crafts/decals/stickers? If so, I seem to think we would just about come out cheaper buying this machine and making the stickers/decals ourselves for what she's spending buying them from another person in town. Thanks for any info/advice anyone can offer. "

A:

Yes..... this is definitely the machine to use!!!

A:

Yes this is the machine to make the stickers/decals. The vinyl you want to used is the permanent vinyl for the Yeti's. There is a slight learning curve but one you get the hang of it you can save money. I also do decals for t-shirts using the heat transfer vinyl. It's a great machine. Hope I answered your question.

A:

I bought this machine for exactly that purpose, to create my own stickers and decals. i recommend watching the tutorials on YouTube. Also keep in mind you may need to buy different design templates online from the silhouette website. There are a bunch of accessories that you buy separately. I've only used this machine once due to time restraints but it is very versatile and you can make so many things.

A:

The answer is Yes!! You can search on Youtube or Pinterest on how to make them, but this is pretty much the machine that cuts them.

Read more

Read less

Q:

"Is this machine different than the cameo 2 "electronic" machine? They are both listed at on here at different prices but I can't tell. "

A:

The 2 is the older model.

A:

Here is the comparison chart: https://www.overstock.com/downloads/pdf/Silhouette_Machine_Comparisons.pdf

Read more

Read less

Q:

"If I get the the heat transfer kit can I use it to vinyl To if I buy vinyl sticker for it? Or is it set up just for heat transfer?"

A:

Sorry I don't know I bought this as a gift

A:

You can use either material for it. The kit is just letting you select some material that comes with it. You can do heat transfer or vinyl. Machine is set up for both on the software.

Read more

Read less

Q:

"OK I'm little confused. Does this bundle include USB cord?.. power cord?..software cd for download?...and pixscanmat"

A:

Yes it includes everything you need.

Q:

"Does basic software come with it"

A:

Yes the software comes with this

Q:

"Does this include the software needed for the computer?"

Q:

"is this a special/temporary price? If so, how long will it be this price?"

Q:

"Does this listing include the machine? Or is it just for the bundle?"

A:

Mind included the vinyl bundle and the machine. I think you can get the heat transfer bundle and machine as well.

Read more

Read less

Q:

"What's the difference between the starter kit and the heat transfer? I want to make shirts and also mugs decals and all that "

A:

You need the permanent vinyl for mugs and the heat transfer for shirts.

A:

Heat transfer vinyl is for t-shirt designs to iron on or use with a heat press. The starter kit has "regular" vinyl that you cannot iron on - it has a sticky back that sticks to other projects like plastic, glass, wood, etc. You can use permanent vinyl for mugs and other items that do not require heat transfer that will be exposed to the elements, such as water for washing a mug or addresses printed on a mailbox outside. However, if you are using your heat press attachment to do mugs then you will need heat transfer vinyl. Hope this helps!

A:

If the bundle includes "Silhouette" brand vinyl, then the bundle is nothing special. It's not a good vinyl. If it includes Oracal adhesive vinyl or Siser heat transfer vinyl, then you are getting a quality bundle.

Read more

Read less

Q:

"I'm ready to buy my first machine. Would the cameo 2 or 3 be easier for a beginner?"

A:

I have the 2 and I don't think it seems insanely different than the 3. I would say go with the 3 because it is the most up to date. But as far as being a beginner, it is the software you have to learn! The software is the same for the 2 and 3. Watch youtube videos! It helped me a lot.

A:

I have the 2, I would definitely get the 3...you will do just fine. There is a bit of a learning curve regardless...treat yourself to the newer machine!

A:

My first machine is a 3 and I'm so glad I bought it instead of a 2. Facebook has a great page that has a ton of people that have the machine and it is a go to thing for any and all questions. Happy crafting!

Read more

Read less

Q:

"I know you have to buy something to use it with a Viking Epic embroidery machine to use with appliqué. Do you know what it is?"

A:

We do not have information available regarding the Viking Epic embroidery machine.

Q:

"What is the difference between the heat transfer starter kit and the basic vinyl kit? I'm wanting to purchase one to do shirts for my family."

A:

If you are wanting to make shirts, choose the heat transfer vinyl. This is the type of vinyl to be used on fabric with heat application. The basic vinyl is adhesive vinyl that you would use as a sticker for mugs, car decals, walls, etc. depending on whether it is removable or permanent adhesive vinyl.

A:

HTV is heat transfer vinyl, which is for shirts & other "fabric" items. The other is vinyl for things like glass, plastic, metal, etc.

A:

Thank yall so much! Do either of you have this particular machine? And if so, would you recommend it?

A:

Ashley, I actually do have this machine and use it almost every day. I make a lot of t-shirts for my family and friends and decals as well. What I love about the Silhouette is the design program. Being an artist, I can take my art and transfer it to the design program and make almost anything I want. I love this machine! I hope this helps!

A:

Thank you so much! It does help!

Read more

Read less

Q:

"will this machine do embossing?"

A:

I have never tried but here is a link showing how ***

A:

Heat transfer is for making iron on decals 😊

Read more

Read less

Q:

"What exactly does the Cameo Vinyl Starter Bundle Include? Does it have the 2 blades and 2 cutting mats in addition to the vinyl basics starter kit shown in the picture?"

A:

Mine came with 1 cutting mat and 2 blades. It came with the hook to pull vinyl, straight cutting tools to cut vinyl, squeegee for smoothing, vinyl, cd for silhouette, $** gift card and a cover for the machine. Love mine!

A:

I haven't received mine as of yet. Should get it today. I will say this: ALL BUT ONE of the pictures of the "Vinyl Bundle" show the teal dust cover, however it is NOT listed in ANY of the products details. While comparing the list to all of the "vinyl bundle" pictures, this dust cover is the ONLY item not matching up. I find this to be FALSE ADVERTISING. If an item is NOT included in the bundle, it should NOT be pictured in the "Vinyl Bundle/Starter Kit" photos. I understand that it is not listed in the details, however, when there are 3 photos that include the cover- I am led to believe they might have left it out of the description (which has happened to me before on this site and I sent feedback for site updates). The cover is not cheap and I truly hope it comes with my order, as it is a gift.

Read more

Read less

Q:

"Does the one month membership to the store start as soon as you buy or can you activate it at your choosing. I was looking to purchase this for a Christmas gift."

A:

You activate it when you choose to.

Q:

"Is bluetooth included with this Cameo 3?"

A:

No...it connects with usb

A:

Cameo 3 has Bluetooth but the silhouette cameo 2 does not have blue tooth!

A:

As long as you buy the Cameo 3 it has Bluetooth! Cameo 2 does not.

Read more

Read less

Q:

"Does overstock have the cameo 3 in stock? "

A:

The available option is located in the drop down menu under Options.

A:

Yes they do it's located in the drop down menu.

Read more

Read less
Shopping Tips & Inspiration
FAQs about the Cricut Expression

FAQs about the Cricut Expression from Overstock.com. Our guides provide customers with answers to frequently asked questions about the Cricut Expression.

Top 5 Gifts for the Avid Scrapbooker

Top 5 Gifts for the Avid Scrapbooker from Overstock.com. Our guides provide customers with the top five gifts for the avid scrapbooker.
Shipping & Returns
Contact Information
Shipping Information:
Our standard shipping method is ground shipping. We also offer expedited shipping for most items. Your final shipping cost and estimated delivery timeframe will be available at checkout.
Standard shipping details
Expedited shipping details
This product is not yet released, and is expected to ship on
Oct. 31, 2014

.

This date is subject to change. In order to assure you receive Overstock.com's low price on this item, your credit card will be charged upon order placement. The item will ship immediately upon release.

Standard Return Policy:
Items must be returned in new or unused condition and contain all original materials included with the shipment. More Details
FINAL SALE EXCLUSION: Items marked as FINAL SALE are not returnable unless the problem you experience is the result of our error.
For your protection, all orders are screened for security purposes. If your order is selected for review, our Loss Prevention Team may contact you by phone or email. There may be a two business day delay to process your order.
** Most Oversize orders are delivered within 1-4 weeks. Some orders may take 6 weeks to be delivered.