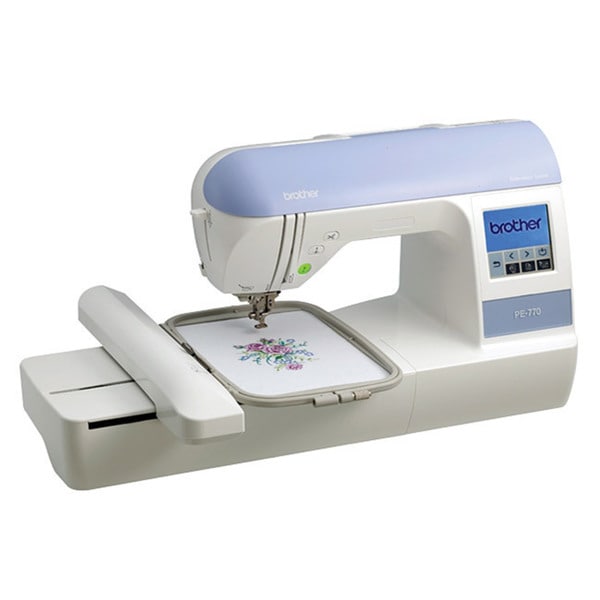 Having lots of fun learning how to use this machine. If you take classes at a sewing store, you will be amazed at what it cans do. This user was entered into a sweepstakes after submitting their honest review.
...
Details
ITEM#: 13111935
Embroider custom designs with high-tech features using this Brother embroidery machine. A built-in embroidery card slot gives you access to embroidery designs by Brother, or import your own designs from a USB memory stick. Edit your designs from the backlit LCD touch screen for easy corrections and modifications. A memory function lets you store your favorite designs for later use.

The automatic needle threader, quick-set bobbin system and F.A.S.T. bobbin winding system get you embroidering quickly. Follow the on-screen directions to embroider on a five-inch by seven-inch field. A speed of 650 stitches per minute gets you moving quickly, and the ability to rotate the embroidery in one-, 10- and 90-degree increments offers design flexibility.


Includes 136 built-in embroidery patterns, six built-in embroidery fonts, 10 built-in frame shapes and 12 built-in border shapes for design flexibility
Backlit LCD touch screen offers simple design editing and onscreen directions for easy use
Saves designs with the memory function
Embroiders at a speed of 650 stitches per minute on a 5" x 7" area
Option to rotate embroidery one, 10 or 90 degrees
USB port allows access to USB memory sticks for custom embroidery designs
Embroidery card slot allows access to thousands of Brother designs
Automatic needle threader, quick-set bobbin system and F.A.S.T. bobbin winding system get you embroidering quickly
Non-embroidery basting option for versatile use
Option to trace embroidery designs
Measures 21.2" L x 16.9" D x 17.3" H
White design
Weighs 27.2 lbs
Feet
Blind hem and embroidery foot
Includes
One (1) seam ripper
Multiple bobbins
One (1) needle set
One (1) twin needle
One (1) cleaning brush
One (1) screwdriver
One (1) pair of scissors
One (1) embroidery hoop and spool net
Specs
Features

Material
Metal, Plastic
Type
Computerized, Electronic, Embroidery, Portable
Color
White
Condition
New
Product Features
Automatic Bobbin Winding System, Automatic Needle Threader, Blind Hem Foot, LCD Screen, Top Load Bobbin, USB Port
Set Includes
1 Piece
| | |
| --- | --- |
| Dimensions | 21.2 in. L x 16.9 in. D x 17.3 in. H |
| Warranty | 25 year Limited Manufacturer |
| Model Number | PE770 |
| Country of Origin | China |
Having lots of fun learning how to use this machine. If you take classes at a sewing store, you will be amazed at what it cans do.

Read More

This user was entered into a sweepstakes after submitting their honest review.

Worked perfectly. Have used it with such efficiency. Great for first time user. Directions are easy to read, and you will be able to monogram without any problem at all.

Read More

I haven't use my embroidery machine yet...I will update my review as soon as I use it for the first time

Read More

Nice for embroidery bigginer, didn't like that you can't embroid several words at the same time very limited for advance embroidery.

Read More

FOR THE MOST PART I ABSOLUTELY LOVE THIS MACHINE..I HAVE ONLY HAD IT FOR A FEW WEEKS AND AM STILL IN THE "LEARNING "PROCESS..SO HAVNT GOT INTO THE TRASFERING PATTERS OFF THE INTERNET ..YET.(.im in the middle of a family crises right now) so havnt had much " sewing time" lately..it seems like a good machine so far..i did have an issue with it breaking needles at first( LOTS OF NEEDLES)??? Still havnt figured that one out!? MOST LIKELY A ("USER ERROR)..AND AT FIRST THE NEEDLE THREADER WORKED GREAT..HOWEVER CANT GET IT TO WORK NOW!?( ALSO COULD BE USER ERROR)..I CHANGED NEEDLE HOPEING THAT WOULD HELP..DID NOT HELP!? I DID NOT. WANT TO RETURN IT BECAUSE OF THIS SMALL PROBLEMS..IVE BEEN SEWING FOR MANY YEARS AND REALIZE I STILL HAVE LOTS TO LEARN ABOUT THESE SEWING OR EMBROIDERY IVE HAD MACHINES! IVE HAD SEVERAL SEWING MACHINES FOR MANY YEARS AND LOVE THEM! I HOPE THIS IS HELPFUL !

Read More

Love this machine. I bit hard to learn how to use but now that I do, I enjoy using it. Threader works most of the time. Remember to use stabilizer for best results.

Read More

Love this machine!!! Been waiting for a sale and overstock didn't fail me!! Soooo happy. Quick shop and rewards dollars!!! Loveeee it!!!!!!!

Read More

Great embroidery machine. I upgraded from the se400. I've made tennis towels, baby gifts, and monogrammed dresses for my grand baby. Personalized gifts are so special.

Read More

Great machine for the money

I purchased this machine after searching for more expensive machines. The PE 770 has a lot of features that some of the other high end machines don't even have, such as a thread cutter. The 770 stitches out evenly and efficiently each time I use it. It is a great machine for the beginner looking to start machine embroidery. I have used it to make applique tshirts for my little girls. My only complaint is that the instruction manual does not really explain how to hoop anything other than a flat piece of fabric. I had to do an online search and found out how to hoop different materials such as a tshirt and a towel. (don't hoop the item, use a sticky back stabilizer, hoop that, and then attach tshirt to the sticky stabilizer outside of the hoop.) (towels need 3 layers of stabilizer, sticky back in the hoop, an iron on light tack stabilizer attached to the towel that you place on the sticky stabilizer in the hoop so that the sticky back doesn't pull the loops out of the towel when you remove it, and a water soluble stabilizer on top of the towel so that the stitches don't get caught in the loops of the towel.) phew. I am very happy with this machine so far and highly recommend it. I have found that I would like a little bit more creative control in the designs and am looking into purchasing compatible software to manipulate designs myself. Happy Sewing!

Read More

AWESOME MACHINE

This machine is AMAZING! I love it! I was looking for a nice embroidery machine, I compared this one to some of the Babylock and other brands and this one is far more afordable and does all of the same things. My Stepmom has a babylock ellure plus which cost almost THREE times the cost of this one and they do the same things with the exception that this one is not also a regular sewing machine as well. But to tell the truth I prefer it this way. I can work on regular sewing while this machine is embroidering away! It is SO easy to use, the first day I got it I was able to get some embroideries going and they looked great! Stitching is beautiful and directions are simple. I'm sure there are a million other things this machine does that I haven't figured out yet, but so far its great! I LOVE the USB feature, I have embroidered so many free designs it pays for itself not having to but the cards! If you want a good machine at a reasonable price this is it! It's great!!!

Read More

Brother PE 770 Embroidery

I cannot even begin to explain how pleased I am with this machine. I have been shopping around for a LONG time and searching what seemed like a million different forums and blogs about embroidery machines. I am so happy that I chose this machine. You get your money's worth with this machine and the stitches are impeccable! Just tried applique for the first time (first time using the machine all together) and it came out so stinkin cute! I own a own small business making baby items and would DEFINITELY recommend to someone else looking for a simple, affordable machine that has a great performance!

Read More

Absolutely the Best!

This is my third brother machine and I am definitely a fan of their products. This machine replaces my Innovis 900D for embroidery. I wanted an embroidery only machine so I wouldn't have to switch back and forth from embroidery to sewing. This machine also has the 5x7 hoop which I will use often too. My Innovis 900D uses a cable and USB port, while this one uses a flash drive, but I had no trouble learning to use the flash drive. Since all my Brother machines are basically the same, I had no trouble learning to use it, and was doing a sample embroidery very quickly. My only complaint is that the supplied 5x7 hoop is hard to use. I have much better luck with the Elipse brand with 4 sizes of hoops that I purchased elsewhere. They are very easy to put in place. I highly recommend this machine--it is definitely worth the money.

Read More

Excellent Value!

First, Overstock.com has the best price out there (I checked a lot of online and brick & mortar locations), especially if you use a discount coupon or have Club Rewards. The machine is brand new in the manufacturer's packaging. Second, I got this to have a second embroidery machine so I could sew on my Viking while still being able to do embroidery (instead of always having to keep switching back in forth on the Viking while working on a project). I am totally impressed by this Brother PE770. It produces excellent embroidery designs that look great! You do not need to have any embroidery software, although useful, it is not required. You can buy designs on Brother embroidery cards that insert into the machine or CDs/Internet and simply copy and paste onto a flash drive/thumb drive. They open very easily when you put the thumb drive into the USB port on the machine. As another reviewer mentioned, you can see some great videos on YouTube by Vince J Arcuri (search for Brother PE770 & you'll see several videos for the PE770...click on his name in one of the videos & it will take you to all of his Brother videos). There are also videos from other sources that are useful. Out of the box I was able to stich out an embroidery design that I converted from a different format into a PES format. The design stitched out perfectly. I couldn't tell if it was done on my expensive Viking or the Brother. It's that good. Honestly. Lastly, the PE770 is not only a great second embroidery machine for experienced users, but an affordable option for those who are interested in getting into machine embroidery but not ready or able to invest a lot of money. It's really easy to use and the needle threader works great! It works better than the needle threader on my Viking (no joke). This is a solid 5 star positive review...a "no-brainer" in my book! :o)

Read More

Great Price on a Great Product! Packaged well!

I am just learning to use this embroidery machine, but it is doing a beautiful job! I found out from calling ******* customer service that the PE-770 works best with 90 wt. bobbin thread and 40 or 50 weight top thread. I am glad to know this because I think some of the tangling etc... problems may be eliminated if the correct thread is used. Also any good sewing machine needle may be used. This may be elementary, but I have never used an embroidery machine before, and the manual isn't as detailed as I would like it to be. I was able to download some embroidery patterns, put them on a thumb drive, and ...voila... they were on the machine! I haven't stitched one of them yet, but at least I got that far. I have been doing regular sewing for over 50 years, but this is very different. There are some helpful videos on you tube that may help beginners. Happy Embroidering!

Read More

Love my machine!

I love my Brother machine. It is very easy to use and I have had no trouble with it. The one thing that I wish I had known ahead of time is this: you do not need additional software to buy and import regular embroidery designs, but you do need to buy additional software in order to use outside monogramming designs. If you don't buy the additional software, you can only use one letter at a time rather than spelling names and words. There are many software options available, depending on what your needs are. I love the finished product that the machine creates. It looks completely professional.

Read More

Easy to use

I had purchased another name brand and had to return it twice to a different company. I was upset because I really wanted a good embroidery machine for making gifts for family members. I took a chance on this since I had read a lot of great reviews and a few not so great. The biggest difference between this machine and a leading competitor's machine and this one is more user friendly for the lay person. I had been a seamstress for many years....but had never embroidered with a machine before. The competitor's machine beeped continually and the second one kept giving off an odor like plastic was burning. I have not had any problems with this machine....and....it was cheaper than it's competitor! I had also read a lot about what threads are good or bad. The competitor's machine is very finicky about what thread can be used or it will mess up the bobbin etc. But, to be honest, with the bad luck that I had with the other machine, I was afraid to invest in a lot of thread until I knew that this machine would work. So, I went to my local Walmart and bought small spools of their embroidery thread to practice with and it worked great....so even the cheaper thread worked well with this machine! I am so impressed and happy. I know that I will be making lots of Christmas gifts using the PE 770.

Read More

Great for home embroidery or very small business

I purchased this machine after having a babylock for 6 years. I debated on the Singer Futura, Janome, and this Brother model. I just found that the price point for what you get with the Brother was well worth it. I'm not saying anything against the others because I am sure they are fine machines but for about half the cost, the Brother has pretty much the same features. I have been using my machine for almost 6 months and have almost 2 million stitches used on it. If you are looking for something to run a full time business, this is not necessarily the machine you would want to use long term but to get started in a monogram/embroidery business, personal monogramming, or for a back-up to a commercial machine, this is what you want. This machine has worked quite well so far. My business really grew so I have since purchased a commercial machine but still use this as back-up. It's easy to use and requires little to actually get started. I have had an issue with thread breaking but only when I have used cheap, inferior thread. If you stay with a good quality thread, you should not have this problem. The most difficult part was getting the frame to clamp into the arm. You have to put it in just right or you will struggle trying to get it to click in place. Make sure to put the back on first. If you know very little about monogramming or embroidery, it is important to know that you can't use those cute fonts you buy online unless you have the software which allows you to do this. You can do the basic letters that are installed in the machine and you can do appliques but you will have to spend an extra few hundred dollars to get the program you need to create names, merge designs, etc.

Read More

Great Machine

I had an older model, different brand embroidery machine. I needed to upgrade and I did a lot of research before buying. I didn't want to spend a whole lot of money but I wanted good value for my money. I think this machine fits the bill. I really like it and it is easy to use and does a good job. I love the usb port. I used to have trouble downloading designs with my other machine, but the usb port makes it a breeze.

Read More
Q:

"Does this come with a case?"

A:

It comes with a fabric dust cover, but not a hard case.

Q:

"Can I do regular sewing and quilting with this machine?"

A:

This machine only does embroidery.

Q:

"I'm confused about this product. A few people in the reviews said that it was necessary to purchase software. Why? If it includes built-in patterns, why do I need to purchase software? What else is needed to actually use this machine once I get it out of the box???"

A:

When My Mother got me my 1st brother embroidery machine I went out and bought a Dakota embroidery disc and I couldn't get it to work from the computer to the machine when I called Dakota and asked why it wouldn't work. I was told didn't anyone tell you needed software, you have to have software in order for your machine to transfer the items to the machine. I use cards works for mine and the software packages, I also have letter works there all part of baby lock/singer. Just a few suggestions. A really nice place to find other things to do on the embroidery machine I use Embroidery Garden. I Hope this helps!

A:

Thank you for your answer. I'm still not sure WHY software wouldn't come with the machines, but at least I know I need to get it.

A:

Embroidery software is necessary if you want to alter a purchased pattern or if you want to make names or words. You can use free software available on the internet, or use a free trial of several different software options. I've had an embroidery machine for 6 months and haven't purchased any software.

Read more

Read less

Q:

"What size hoop included with this machine?"

Q:

"the foot pedal was lost in a flood. What would a new one cost ?"

A:

embroidery only machines do have a foot pedal you control the machine using the buttons on the machine head if you have user manual it will show where this buttons are located

Q:

"Is this machine Mac compatible?"

A:

No, this is not mac compatible.

A:

Oh YES it is !!!! That's all I have is MAC products! I use my MacBook Air with it

A:

The machine does not directly connect to the computer. You transfer images via USB drive, so as long as you can transfer files to a USB thumb drive it doesn't matter mac or pc.

Read more

Read less

Q:

"I am looking for a machine to embroidery on t shirts, hats, purses and maybe inside of boots as I have seen others do. I need a machine that does this because I am doing these to sell. Does this machine do this? If not what do I need?thanks Georgia Peters"

A:

This machine Can do T-shirts ( Note This:Some Fabric will not work) / No Hats or Boots .

A:

not sure, haven't used my machine that much yet.

A:

Yes, except I'm not sure of the boots, I can't see this quite, perhaps someone else will answer this question, I wish you the best

Read more

Read less
Shopping Tips & Inspiration
Shipping & Returns
Contact Information
Shipping:
Usually leaves our warehouse in 1-2 business days. *
Shipping Information:
Our standard shipping method is ground shipping. We also offer expedited shipping for most items. Your final shipping cost and estimated delivery timeframe will be available at checkout.
Standard shipping details
Expedited shipping details
Standard Return Policy:
Items must be returned in new or unused condition and contain all original materials included with the shipment. For the return policy on a Marketplace item, please refer to the Seller's individual policy, located on the product page by clicking on the Seller name. More Details
FINAL SALE EXCLUSION: Items marked as FINAL SALE are not returnable unless the problem you experience is the result of our error.
For your protection, all orders are screened for security purposes. If your order is selected for review, our Loss Prevention Team may contact you by phone or email. There may be a two business day delay to process your order.
** Most Oversize orders are delivered within 1-4 weeks. Some orders may take 6 weeks to be delivered.