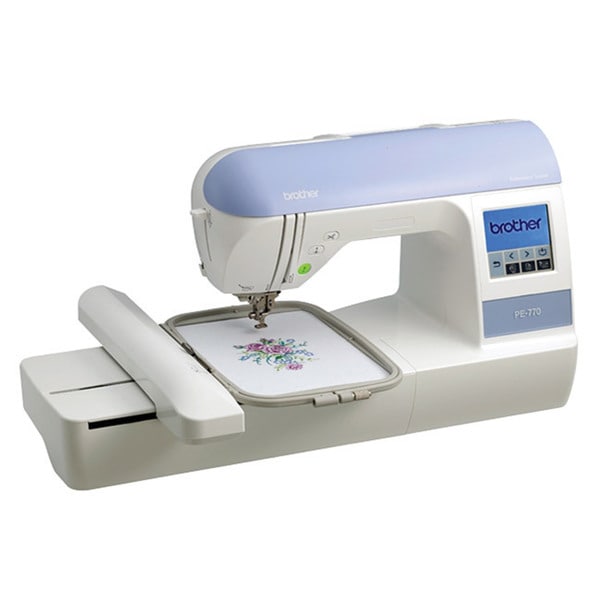 In love with this machine! Pretty good price pint
...
Brother PE770 Embroidery Machine
by Brother
Details
ITEM#: 13111935
Embroider custom designs with high-tech features using this Brother embroidery machine. A built-in embroidery card slot gives you access to embroidery designs by Brother, or import your own designs from a USB memory stick. Edit your designs from the backlit LCD touch screen for easy corrections and modifications. A memory function lets you store your favorite designs for later use.

The automatic needle threader, quick-set bobbin system and F.A.S.T. bobbin winding system get you embroidering quickly. Follow the on-screen directions to embroider on a five-inch by seven-inch field. A speed of 650 stitches per minute gets you moving quickly, and the ability to rotate the embroidery in one-, 10- and 90-degree increments offers design flexibility.


Includes 136 built-in embroidery patterns, six built-in embroidery fonts, 10 built-in frame shapes and 12 built-in border shapes for design flexibility
Backlit LCD touch screen offers simple design editing and onscreen directions for easy use
Saves designs with the memory function
Embroiders at a speed of 650 stitches per minute on a 5" x 7" area
Option to rotate embroidery one, 10 or 90 degrees
USB port allows access to USB memory sticks for custom embroidery designs
Embroidery card slot allows access to thousands of Brother designs
Automatic needle threader, quick-set bobbin system and F.A.S.T. bobbin winding system get you embroidering quickly
Non-embroidery basting option for versatile use
Option to trace embroidery designs
Measures 21.2" L x 16.9" D x 17.3" H
White design
Weighs 27.2 lbs
Feet
Blind hem and embroidery foot
Includes
One (1) seam ripper
Multiple bobbins
One (1) needle set
One (1) twin needle
One (1) cleaning brush
One (1) screwdriver
One (1) pair of scissors
One (1) embroidery hoop and spool net
Specs
Features
Material
Metal, Plastic
Type
Computerized, Electronic, Embroidery, Portable
Color
White
Product Features
Automatic Bobbin Winding System, Automatic Needle Threader, Blind Hem Foot, LCD Screen, Top Load Bobbin, USB Port
| | |
| --- | --- |
| Dimensions | 21.2 in. L x 16.9 in. D x 17.3 in. H |
| Warranty | 25 year Limited Manufacturer |
| Model Number | PE770 |
| Country of Origin | China |

Most Recent

In love with this machine! Pretty good price pint

Read More

Best thing I've EVER bought

Reviewed at http://www.brother-usa.com/

I have wanted an embroidery machine for about 5 years...i looked at different embroidery machine and ask friends and my Moms which ones was the best for me....pe770 they would say.....i love it....thank you very much for a dream come true... it is amazing...embroiders so pretty.

Read More

Reviewed at http://www.brother-usa.com/

I didn't know I wanted an embroidery machine, but decided to try it because I occasionally need things like labels for quilts. I've had the PE770 for about one month and have been doing all sorts of things: monogramming towels, putting designs on napkins, placemats, t-shirts, onesies, bags, etc., and adding personal touches to store-bought gift items as well as making attractive quilt labels. This was my first experience with machine embroidery, and I found the machine very simple and straightforward to learn. I have been sewing for more than 50 years, and also I know my way around a computer, including being able to locate video demos and other helpful stuff. Someone with less experience might benefit from lessons, but this is not difficult to get into from the manual and website. I find that I had a few problems with thread hanging up, in spite of the sleeve (one BAD spool!), but after two needle breaks I solved that by putting it upright in a heavy mug and using a thread stand to guide it straight up and across to the machine. No more hang-ups after that.

Read More

Reviewed at http://www.brother-usa.com/

I have ad the machine for over a year and I have only had the chance to do 5 different projects. They machine has done what I think it is supposed to. I am a graphic designer and want to do custom designs so I am trying to figure out how to convert my vector file over correctly. That is the problem not the machine.

Read More

Reviewed at http://www.brother-usa.com/

This is the first time I am using an embroidery machine and the PE770 is fantastic. I have been doing several projects for my grand babies and nieces. So far it is easy thread and import the patterns I've downloaded from the PC/Internet. I am still learning and have made mistakes but it's because I was rushing and not paying attention. If you just stick to the proper use of the machine and instructions and layout of your material all will be fine.

Read More
Most Helpful

A good embroidery machine

Reviewed at http://www.brother-usa.com/

I am a newbie to embroidery and am enjoying it. I first purchased a Brothers 270 embroidery and sewing machine on eBay and that got me hooked but within a month I knew I wanted something more where I had a bigger area to work with and that I could download other designs. The PE770 was my best option, reasonable priced and a good machine. Only thing I don't like about it is when I download sayings or anything big you can't really see what it is on the machine screen. So you have to keep a log of what you saved to your machine and only put one thing at a time on your thumb drive or you may embroider the wrong thing. Had some problem with bobbin tension but got that fixed. So unless you want to pay thousands of dollars this is a good machine for the price.

Read More

Reviewed at http://www.brother-usa.com/

I love my PE-770. I had a Bernina 880, and had so much trouble with it that I didn't want to sew or embroider anymore. Finally sold it and bought a Baby Lock Soprano and the 770. Together they cost about 1/3 of what I had paid for the Bernina. The PE-770 just does what you tell it. No attitude, no errors, just beautiful results. My only issue is the way the hoop attaches to the machine. I have trouble getting it on and off sometimes. Kind of wish it had the slide-in type of hoop that the higher-end models have. That isn't enough of an issue to make me trade up yet, though. Really happy I got this machine

Read More

Reviewed at http://www.brother-usa.com/

I have been using my machine for several months and it is working great. No problems with downloading designs, with thread breaking or bird nesting or any other feature. The 5 x7 hoop is a step up for me as I have had the SE400 for a couple of years and wanted a larger area for embroidery. I would recommend this machine.

Read More

Totally brilliant - fabulous

Reviewed at http://www.brother-usa.com/

I am the proud owner of three Brother sewing machines (FS130QC, Innovis NV55 and Innovis NV1300) and the Brother 1034D serger and now this wonderful embroidery machine. Fantastic range of built in designs and lettering, but the range of designs available by using the USB is awesome. I have built up a massive design library. The machine is very easy to use and with the benefit of a well written instruction book you cannot go wrong. I use 90 bobbin thread and 90/14 needles and find that this machine causes no problem. The standard of this machine in producing marvellous embroidery work is first class and in my opinion is the best machine on the market today.

Read More

A great first embroidery machine

Reviewed at http://www.brother-usa.com/

I can see this machine is reviewed greatly and I can tell it's a work horse. I wish so many things were different but that's because my first experience with embroidery was on the Dream Machine 2 at a show/survey and so knowing what that machine is capable of I'm a little disappointed tho there is nothing wrong with the pe770 I expected more from the screen. I had a hard time figuring out when to change thread based on the little pictures so I found I have to keep the computer open with the sequence pattern of colors in order to know when to change. I'm sure a lot of it is just my learning curve as I've only sewn in the past. All that said I couldn't be more thankful as this was a gift from a dear friend and she gave me my first order to work on. This is a great machine gets great reviews and everyone speaks volumes about the fact that this is a real workhorse

Read More
Q:

"the foot pedal was lost in a flood. What would a new one cost ?"

A:

embroidery only machines do have a foot pedal you control the machine using the buttons on the machine head if you have user manual it will show where this buttons are located

Q:

"Is this machine Mac compatible?"

A:

No, this is not mac compatible.

A:

Oh YES it is !!!! That's all I have is MAC products! I use my MacBook Air with it

A:

The machine does not directly connect to the computer. You transfer images via USB drive, so as long as you can transfer files to a USB thumb drive it doesn't matter mac or pc.

Read more Read less

Q:

"I am looking for a machine to embroidery on t shirts, hats, purses and maybe inside of boots as I have seen others do. I need a machine that does this because I am doing these to sell. Does this machine do this? If not what do I need?thanks Georgia Peters"

A:

This machine Can do T-shirts ( Note This:Some Fabric will not work) / No Hats or Boots .

A:

not sure, haven't used my machine that much yet.

A:

Yes, except I'm not sure of the boots, I can't see this quite, perhaps someone else will answer this question, I wish you the best

Read more Read less

Q:

"Can you PLEASE get this machine in with the accessory packages?!?!"

A:

Unfortunately at this time we only have this option which includes One (1) seam ripper, Multiple bobbins, One (1) needle set, One (1) twin needle, One (1) cleaning brush, One (1) screwdriver, One (1) pair of scissors, One (1) embroidery hoop and spool net.

Q:

"I've never used an embroider machine before so can this machine use a bigger embroidery hoop if needed?"

A:

This item can be used with hoops up to 5 inches x 12 inches.

A:

What size hoop comes with this machine?

Read more Read less

Q:

"Can you make quilts on this machine?"

A:

Hello moneymiller8, no, this is used for embroidering it cannot be used to make quilts. Thank you for shopping with Overstock!

A:

You could make individual squares that could be sewn together to make the quilt. It is not a quilting machine.

Read more Read less

Q:

"Morning, Im very interested in the brotherpe770 machine, does it come with allthe accessories so that I can start sewing/embroidering straight awayor do I have to buy them separately.thanks"

A:

Hello sewinggrandma, this includes one seam ripper, multiple bobbins, one needle set, one twin needle, one cleaning brush, one screwdriver, one pair of scissors, and one embroidery hoop and spool net. Thanks for shopping with us!

Q:

"I looked at this machine earlier in the day. It was offered with an accessory package. I came back on to order the machine and it is now $** more and the accessory bundle is not offered with it. Did I miss something?"

A:

Hello ssh, we do apologize, we do not currently offer this model with an accessory bundle. Thank you for shopping with us.

Q:

"why did the price go up? I was going to purchase earlier this week, but it went out of stock the day I went to buy. Now it's back a few days later at a higher price?"

A:

Hello zoogirlie, unlike many retailers, we don't have a "mark down plan" that begins by offering products at higher prices and then reducing them over time. Instead, we offer our products at the lowest price that we can as soon as we put them in our online store. However, when the occasion arises that we do mark down a price, we also realize the need to be sensitive to previous purchases. Therefore, we can offer you a store credit of the difference in price for your next purchase when prices are reduced within 5 days of your order. Thank you for shopping with us.

Q:

"Can you use a 4x4 hoop on pe700"

A:

Hello jersey123, this is compatible with a 4x4 hoop. Thanks for shopping with us!

Q:

"If I purchase this for uk use. Do you provide an adapter if not what will I need to use it here thanks"

A:

Hello Rita June, we do apologize, we do not provide an adapter for this item. Thank you for shopping with us.

Q:

"Where can I buy only the hoop."

A:

Hello Carol, we don't have accessories but the manufacturer would. Thank you for shopping with us.

Q:

"Could you please clarify, can this machine sew regular stitches and embroider?"

A:

Hello rlg522, this item is designed for only embroidering. Thank you for shopping with us.

Q:

"What Disney characters are available to embroider with the 770? PJ"

A:

Hello PJ, it looks like you can embroider any design. I googled "ibroidery" and it shows you all the designs available for download that can be used on your brother machine. Have a great day!

A:

You can not embroider embroidery designs on a machine that doesn't specifically say you can. They usually have a letter D after the machine number.

A:

You can not embroider Disney designs on this machine. The only machines you can use for Disney designs have a letter D after the machine number.

Read more Read less

Q:

"Do I need an adapter for the brother pe770 because I live in United Kingdom also will there be any extra charges for postage"

A:

Hello Anna, this will not run on your current without an adaptor. The international help at the bottom of the page will give you all your fees. Thank you for shopping with us.

Q:

"My only experience with machine embroidery was in the 70s freehand on an old Bernina. This machine sounds interesting and may rekindle my interest. Question: Can one "type" out a phrase and then have the machine interpret it onto fabric?"

A:

Hello 4elmo, yes you would make your design on the computer and then use the memory stick to import it to your machine. Have a great day!

Q:

"Does Brother make this machine that also is a sewing machine?"

A:

Hello Ckent, you are correct, this is a Brother machine. Thank you for shopping with us.

A:

In the extended item description it lists what accessories are included with this machine. It is both an embroidery and sewing machine. It would not include the blind hemming foot and would not do a regular zigzag stitch if it were an embroidery only machine.

Read more Read less

Q:

"Will this machine do applique?"

A:

Hello sbreckenridge, this item is able to do applique as well. Thank you for shopping with us.

Q:

"Instead of using a usb thumb drive can you connect it to a computer with a usb cable?"

A:

Hello dansherm, yes you can connect this to your computer also. Have a great day!

Q:

"Is this sewing machine brand new in it's original retail packaging?"

A:

Hello jawjuhjoker, yes this is a brand new and unopened item. Please let us know if you have any further questions.
Shopping Tips & Inspiration
Shipping & Returns
Contact Information
Shipping:
3-5 Business Days *
Shipping Information:
Our standard shipping method is ground shipping. We also offer expedited shipping for most items. Your final shipping cost and estimated delivery timeframe will be available at checkout.
Standard shipping details
Expedited shipping details
Standard Return Policy:
Items must be returned in new or unused condition and contain all original materials included with the shipment. More Details
FINAL SALE EXCLUSION: Items marked as FINAL SALE are not returnable unless the problem you experience is the result of our error.
For your protection, all orders are screened for security purposes. If your order is selected for review, our Loss Prevention Team may contact you by phone or email. There may be a two business day delay to process your order.
** Most Oversize orders are delivered within 1-4 weeks. Some orders may take 6 weeks to be delivered.