Coffee Talk
Posted at Sep. 17, 2012 at 1:20 PM

"Our culture runs on coffee and gasoline, the first often tasting like the second." --Edward Abbey.
Sounds like Mr. Abbey didn't take enough time to brew himself a good cup of joe. His quote rings true, though; coffee is the most popular beverage in the world. Here, it's almost a necessity of life, powering our sleep-deprived schedules and fast-paced workdays.
Truth be told, I could live on coffee alone. I like it in all its forms, from a rich pull of espresso to a sugary-sweet pumpkin spice latte in autumn. And with so many ways to brew a great cup, there's no reason to settle for watered-down gas station coffee -- unless that's your thing.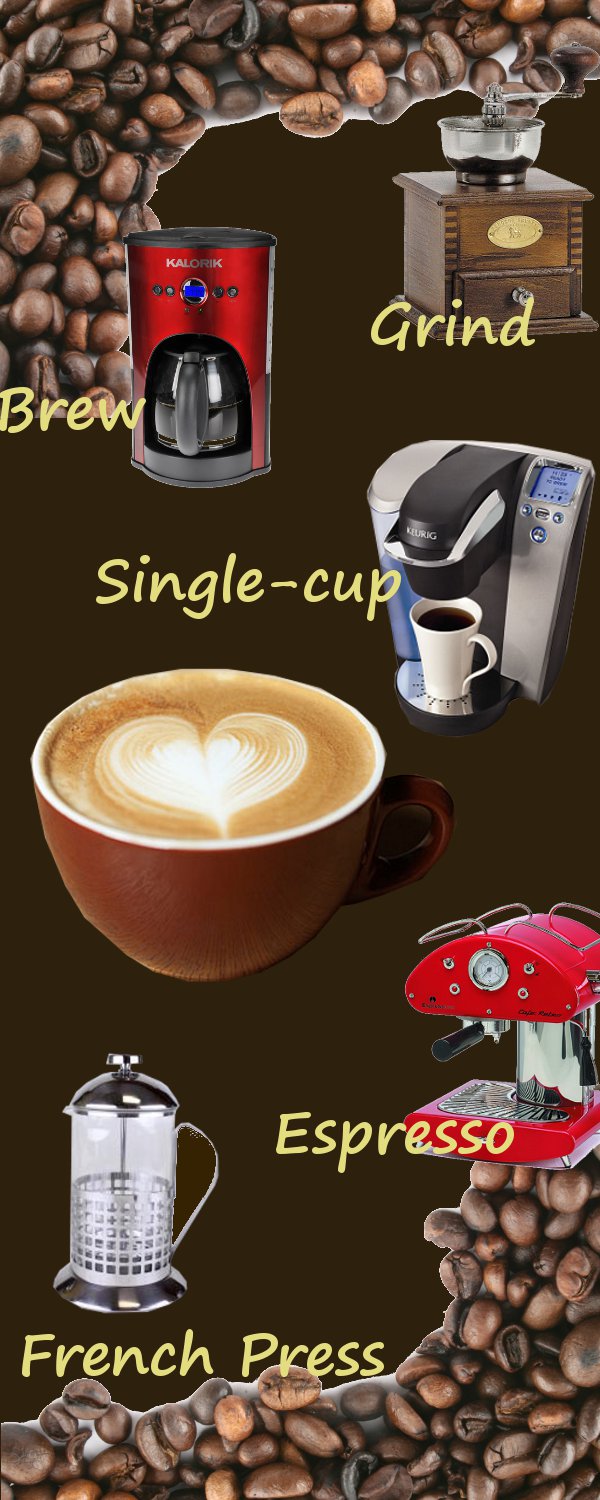 I prefer to slow it down and take some time to savor my favorite beans. Any cup of coffee made from freshly ground beans is sure to taste better and, if you have the time, I suggest using a coffee mill or grinder to prepare your favorite roast and brew it slowly over the stove in a percolator. The slow-brew gives the beans time to reach their full flavor and the taste is incomparable.
A French press coffee maker is another great way to get the full flavor out of your beans. There's something so sophisticated about sitting down with a freshly brewed pot of coffee, served out of a stainless steel and glass carafe. Preparation is easy -- simply use the fine strainer to slowly push the grounds through hot water and bring the full pot to your desk for quick and easy refills.
The most common way to brew your morning jolt is with a traditional automatic drip coffeemaker. This Kalorik 12-cup machine allows you to set your coffee to brew at a pre-programmed time each morning. Fill the filter with your favorite grounds the night before, set the timer, and wake up to fresh coffee in the morning. I can't think of a better way to wake up.
While I could certainly drink an entire pot in one sitting, some prefer their coffee in single, customized servings. Capsule machines like Keurig and Dolce Gusto, which use pre-measured capsules for a perfect brew, one cup at a time, are becoming more popular and are particularly prevalent at the workplace. No more fending off your co-workers for the last cup of burned coffee!
or some, a daily latte from the corner coffee shop is a necessary luxury, but the $4 to $5 daily price tag can definitely take its toll. An up-front investment in a quality espresso machine, however, could save you some money and time spent in line. Bring the coffee shop experience home with this stylish retro Espressione espresso machine, equipped with everything you need to become your own barista.
How do you take your coffee?
Posted by Jen Gustavson