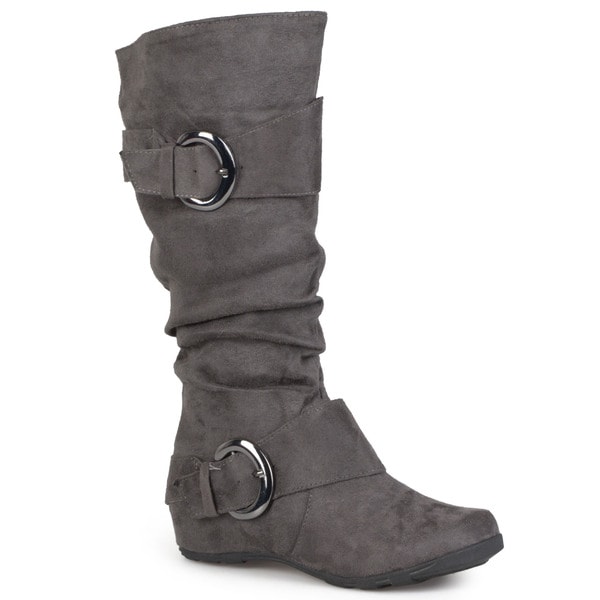 Nice boot looks better in person, nice casual boot cytosine pretty accurate I would recommend waterproofing them if you're going to use them out in the winter time at
...
Details
ITEM#: 11541186
Designed with casual flair and charm, these slouch buckle boots from Journee Collection provide an upbeat charm to any outfit they are paired with. The boots feature large buckle accents, thick straps near the ankles and tops, and a bulky excess of fabric near the shin. For fast and easy removal, the boots also feature a zipper on their inner sides. To help you find the pair that is perfect for you, the boots are available in a wide variety of colors and sizes.

Features:
2 faux wraps at ankle and near top

Large buckle accents

Stylish slouched design around shin

Durable textured rubber sole for all-weather grip

Round toe

Slightly padded footbed

Full-length inner side zipper

Fashionable mid-calf height

Faux suede upper/man-made outsole
Available in black, brown, camel, or grey
Specifications:
0.25-inch high sole
Shaft is 13 inches high
16-inch circumference
All measurements are approximate and were taken using a size 7. Please note measurements may vary slightly by size. Wide calf size available.


Please note: Some options listed or pictured may be currently out of stock. All in-stock options are listed near the "Add to Cart" button.

Measurement Guide
Women's Shoe Sizing Guide
All measurements are approximate and may vary by size.
Specs
Features

Style
Mid-calf
Material
Rubber
Boot Height
Mid-Calf Boots
Heel Height
Flat
Calf Width
Extra Wide, Medium, Wide
Color
Beige, Black, Brown, Grey, Orange, Tan
Shoe Width
Medium, Wide
| | |
| --- | --- |
| Dimensions | 12.0 In. X 8.0 In. X 8.0 In. |
| Model Number | JESTER-01 |
| Country of Origin | China |
Super Cute Stylish Boots!

Omg these are super cute boots! Ladies, these are NOT keep-your-feet-warm-in-freezing-weather/rain boots. There are other 3 letter Brand name boots for that purpose. These are COMFORTABLE and STYLISH boots to look cute in. :) These look very similar to my SODA boots that i bought at the mall but these are WAY more comfortable. More wiggle room. I'm a size 9 (have been all my adult life) and that's the size i ordered & fit perfectly. These go up to your calves (just below your knee) so there is always that "is it gonna be too tight" worry....but these boots have a SLIGHT stretchy band at the top, right next to the zipper! So IF you need that extra stretch it's there. Like i said, a nice, comfortable fit all around. They have a nice RUBBER bottom (not that fabric stuff that some boots have) so you don't slip and fall on a smooth floor. Oh, and most important, YOU CAN'T BEAT THE PRICE! Hope this info helps.... ENJOY!

worth it!

I have been waiting to get these in black..... luckily got one and let me just say - the number of compliments i got in one day of using it....really! Very comfortable.....feels like it rocks you to walk, skid resistant and fit is true to size. You just have to air it out a bit after you open the box coz it kinda smelled funky but after airing it out....all gone and still pretty! I'd say its worth it! Definitely! BTW, i tried it first for a couple of weeks before i wrote this review so i can definitely say that it will not break easily..... i made it go through so much.......poor boots!

The Journee Collection Women's Jester-01 Slouch Buckle Boot would have fit perfect but I ordered a larger size than normal so that was my fault not yours

Measurements off!

This boot says it fits up to an 18 inch calf! Well I'm not sure who's doing that measuring because I bought these boots and have a 15 inch calft and I can barely get them zipped up!! Also I wear a 7.5 womens shoe and read reviews that the sizing may be a little large so I ordered a 7 and they are still pretty big I should have went with a 6.5 or 6. The boot itself looks nice I like it, I just wish it fit my calves they way it should!

Pretty Good!

I don't usually buy shoes or boots without trying them on first but I couldn't resist these boots since they were so cute and already had good reviews. I took the advice of several of the reviewers under consideration - I bought HALF a size larger than I usually wear, instead of one size larger than they recommended. They fit just about right with thicker socks that way. They look best with your jeans tucked in and I have thicker calves and have a hard time getting boots taller than ankle height to fit. These fit if I tuck in the jeans around my ankle & calve and slouch the boots down to zip up the side then pull them up to their correct position. My correct size probably would have been too tight to do that. So if you have thicker calves or like to wear thicker socks for warmth (there is NO insulation in these boots) then definitely order 1/2 to 1 size larger than you usually wear. They do not have any major arch support but I havent' worn them all day to see if that' is a problem. Some inserts would probably take care of that problem if it was. They aren't winter boots but do seem to have a good tread on the bottom so you don't slip on any ice. All around, nice boots, good price, very cute!

Slouch boots with buckle

I Purchased the gray Bamboo by Journee Women's Slouch Boots with buckle. The boots are nicely made and comfortable to wear.

Comfy & Cute!

I read the reviews and was a little worried that the calf may be too small for me to be comfortable, but they fit! I am able to wear with tights or skinny jeans (barely wiggle room, but not tight). (Reference, I believe my calves are about 15.5 inches around, and I'm pants size 18). I ordered my regular shoe size, and I am able to wear my thick boot socks with these and they are quite comfy. I just received today (FEDEX took over a week to deliver to my home!), so I have only worn in my home and not out. They are fairly cheap materials and a few strings here and there, and they do have quite a strange smell, but for the price and the look, as long as I'm able to wear them this season I will be happy. I ordered the gray and they are darker than I expected, but I love the look, and the sole seems nice, better than other slouch boots I have seen since these actually have some tread. Overall I am happy with my purchase. Debating on other colors!

Exactly what I wanted

I bought a black pair over 5 years ago from a store in the mall. The only name on the boot was Jester. No brand name. With a search online I found these exact match from Journee and in Grey! I was worried about sizing. My current pair were 6.5 so I decided to stick with that size and they fit great. I love that they are wide enough to fit pants inside( mainly skinny leg), square toe that's roomy, and low heel! Most boots out there hat were flats were pointed toes and no cute buckles. They do make a little clinking noise when walking due to the buckles but it doesn't bother me any. I hope these last as long as my first pair! Now to get all the colors!

Seriously the boots rock

These boots couldn't be better for $xxx. They fit perfectly over my calves. I have big calves so its good they fit. I am 5'6'' 145-155. They look great with leggings and skinny jeans. No complaints so far.

Love these boots!

I love these boots. They are nice looking, very flexible and easy to put on, which now that I have a bit more of a paunch it isn't always easy to bend over! They are not exactly flat soled, which I love. They have a slight heel, which makes them a lot more comfortable than they would otherwise have been. Just 2 things, I bought a size larger (a 9 rather than my usual 8) as I wanted to be able to wear arch supports and thicker socks but there is really not too much room anyway, just right for an 8. The largest part of my calf is 15 inches diameter, and I would not recommend these boots if yours are larger. My daughter is smaller than me, but her calf is larger and she couldn't get them zipped up. Jeans fit tucked in very comfortably and these boots make me feel great and they look so wonderful with jeans. The ones I bought are black and they are very black. Overall, I can't believe I ordered shoes online and love them so much!! If I could afford it I'd buy me 2 more pair!!

worth it!

I have been waiting to get these in black..... luckily got one and let me just say - the number of compliments i got in one day of using it....really! Very comfortable.....feels like it rocks you to walk, skid resistant and fit is true to size. You just have to air it out a bit after you open the box coz it kinda smelled funky but after airing it out....all gone and still pretty! I'd say its worth it! Definitely! BTW, i tried it first for a couple of weeks before i wrote this review so i can definitely say that it will not break easily..... i made it go through so much.......poor boots!

Dissapointment

These boots are the quality of typical imported products. I'm not sure there's any leather on them, although it says suede uppers. They feel like cardboard covered with a layer of some material i cant describe. Very thin soles, I think they will fall apart with very few wearings, and rain.. They run large enough to wear 2 pair of socks. Cute style but thats it. I'm returning them, not worth the price.

Super Cute Stylish Boots!

Omg these are super cute boots! Ladies, these are NOT keep-your-feet-warm-in-freezing-weather/rain boots. There are other 3 letter Brand name boots for that purpose. These are COMFORTABLE and STYLISH boots to look cute in. :) These look very similar to my SODA boots that i bought at the mall but these are WAY more comfortable. More wiggle room. I'm a size 9 (have been all my adult life) and that's the size i ordered & fit perfectly. These go up to your calves (just below your knee) so there is always that "is it gonna be too tight" worry....but these boots have a SLIGHT stretchy band at the top, right next to the zipper! So IF you need that extra stretch it's there. Like i said, a nice, comfortable fit all around. They have a nice RUBBER bottom (not that fabric stuff that some boots have) so you don't slip and fall on a smooth floor. Oh, and most important, YOU CAN'T BEAT THE PRICE! Hope this info helps.... ENJOY!

Seriously the boots rock

These boots couldn't be better for $xxx. They fit perfectly over my calves. I have big calves so its good they fit. I am 5'6'' 145-155. They look great with leggings and skinny jeans. No complaints so far.

You get what you pay for

These boots are fine for $****, but the material is cheap. Don't plan to wear them a long time and certainly not in bad weather. That being said, they're a nice fall pairing with skinny jeans.

Sylin4winter

I love them..I have gotten so many compliments when I wear them and everyone thinks they cost me a fortune!

Better than hoped

I am very happy with this boot. I have calves approx 17" around and the 8.5W boot felt a bit snug when zipped but is actually very comfortable to wear. The foot is very roomy but I could wear thicker socks for warmth so I like that. The zipper goes all the way down to the base of the boot making it easy to put on. This pair of boots was of better quality than I expected, for the price.

Great Fashion Boots

Great Boots! Nice Style! Very Comfortable! I have wide feet so the round wide toe area is great. With narrow toe shoes/boots I usually have to order a size larger. There's enough room in the boot to wear thick socks. The grey is slightly darker than expected. These boots are meant for fashion. I wouldn't dare wear them in the rain or snow. I don't think the material will hold up in those condition. Luckily I live in Georgia and we don't see much snow. The sole of the boot looks sturdy. Great fashion for the price!!!

Cute boot

The boot is cute and is exactly as pictured. The only problem is that the calve opening is too big for my tiny leg but I still decided to keep them. I like the fact that it is a jet black boot not faded in anyway. I do feel like the material could be more thick. I have another pair that I've owned for three years, they were $10 cheaper but much thicker. Anyway, out of the boots I've seen in person, I like these the best. Plus they are super comfortable. I ordered them in my usual boot size of 7.5 and they fit fine. A 1/2 size bigger would be better for those who wear thicker socks. One other comment is that I wore them in the rain and snow this weekend and they still look brand new. That was without waterproofing them which I have done now. I would definitely recommend them.

This boot has a hidden 2.5in heal

I was so excited to get this pair of boots. When they arrived, they looked great. Exactly what I expected until I put them on and realized they had a 2.5 in heal. The heal is hidden int he picture because it's inside the boot. I was looking for a flat boot for everyday use.

Nice boot looks better in person, nice casual boot cytosine pretty accurate I would recommend waterproofing them if you're going to use them out in the winter time at

The price was right, but look cheaper than I thought they would. Donated them.

I bought these boots probably about 4 years ago( I am one to be very hard on my feet and have always stored them properly. I still have them and they still look brand new.....meaning GREAT BUILD,GREAT MATERIAL!!! they arrived before the arrival date! fit true to size! and are exactly what I had wanted and still wear!!!! loveeee these boots. they are so comfortable a couple of my friends asked me where I got them and I recommended OVERSTOCK as this is where I purchased them anyway!!!!

Just like I wanted it to be for much less.

Very comfortable and true to size

These boots are very comfortable and look great with skirts and dresses

Love the fit. And the shape of the toe area. Comfortable. Definitely for wearing to dress up not for snow

The Journee Collection Women's Jester-01 Slouch Buckle Boot would have fit perfect but I ordered a larger size than normal so that was my fault not yours

Love these totally comfy boots. It's like wearing slippers. Cozy and warm.I get a lot of compliments on them. Love the silver buckles.

very baggy, get you some big calves