Chic Feast: Thanksgiving Dinner Fashion
Posted at Nov. 15, 2012 at 1:08 PM

Thanksgiving is one week from today. While you're busy planning seating arrangements and side dishes, now may be the time to start planning your wardrobe, too. Thanksgiving dinner is possibly the most important meal you'll eat all year, and one of the biggest. It may be tempting to wear something with an elastic waistband (and really, I'm right there with you), but if you're looking for something a little dressier for the holiday, these looks can help you be effortlessly chic, even if you did just spend the entire morning basting, stuffing, and baking.
Thanksgiving calls for a warm, snuggly wardrobe. It's the perfect time of year to rock a sweater dress. They're dressy enough for formal feasts, but can be dressed down a little for more casual gatherings. Either way, you'll look great! I absolutely love this chic cowl-neck sweater dress, and it comes in several colors! Wear it with a pair of boots, tights, and these bronze freshwater pearl earrings, and that's all you need.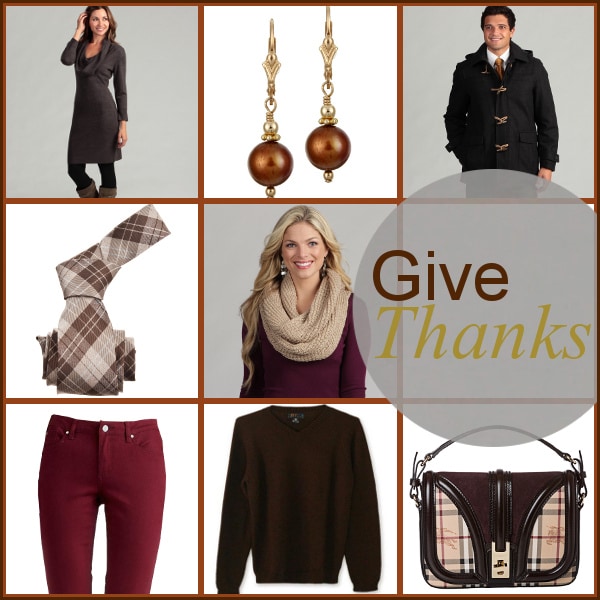 A Thanksgiving color palette is all about the hues of the season. Nestled right between autumn and winter, Thanksgiving shades come in a tad darker than the bright oranges and golds of early autumn. More subdued browns; deep rusts; and this year's hot autumn hue, oxblood (or cranberry, if you're feeling festive), are all perfect for sitting down to turkey dinner. For women, donning a pair of cranberry skinny jeans and an oatmeal infinity scarf is a fun way to wear some current trends on Turkey Day. For men, a deep brown alpaca wool sweater and this plaid tie are more subtle, masculine choices from the fall color family.
A cute dinner outfit won't be the only thing you'll need to wear on Turkey Day. You may want to grab a couple new workout pieces for your morning game of flag football, an apron for cooking in the kitchen, and sure, you can have a pair of stretchy pants to lounge around in after dinner's done.
What are your plans for Thanksgiving dinner? Are you hosting guests or going to a family member's house? What is your favorite Thanksgiving tradition?
Posted by Andrea Sparks