Celebrating Celebrity Birthdays
Posted at Sep. 5, 2012 at 2:04 PM

As it turns out, today is a pretty big day birthday-wise in Hollywood and popular culture. And as we all know, I can't resist a reason to celebrate, especially when it means I get to eat great food, watch fantastic movies, listen to some classic rock, and maybe even learn a thing or two.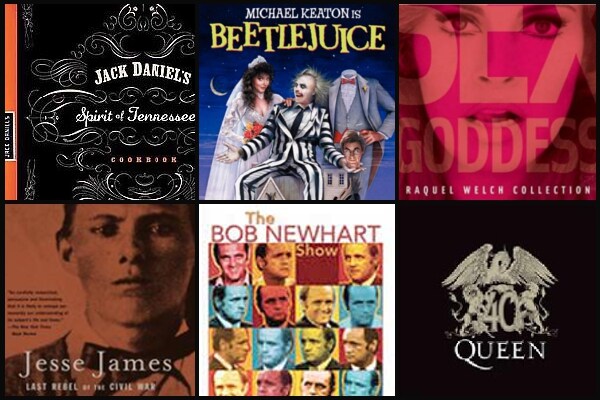 Jack Daniel: The American distiller founded the Jack Daniel's Tennessee Whiskey Distillery sometime between 1866 and 1875. Like the year in which he licensed his distillery, Jack Daniel's exact birthdate is unknown. But it is believed that Jack would have turned 166 today. What better way to celebrate this man's birthday than with a drink of the whiskey that bears his name? You could also make a night of it; the Jack Daniel's Spirit of Tennessee Cookbook includes more than 350 recipes, all perfect for a celebration.
Jesse James: Today, this Wild West outlaw would have turned 165. Mostly portrayed as a Robin Hood-type character, a lot of mystery still surrounds James's life, including whether or not he was actually killed by Robert Ford on April 3, 1882. Read his biography by TJ Stiles and decide for yourself. Was Jesse a hero or a criminal vigilante?
Bob Newhart: Known for his deadpan delivery and satirical comedy, Mr. Newhart turns 83 today. He has acted in numerous sitcoms and movies (one of my personal favorites being "Elf," where he plays Papa Elf) and hosted the Tonight Show no fewer than 87 times. He has also been ranked #14 on Comedy Central's Top 100 comedians of all time. If you want to see him as he began his career, check out the Bob Newhart Show, season 1.
Raquel Welch: Perhaps best known as the woman in the animal print bikini in "One Million Years BC," Raquel Welch is turning 72 today. If you aren't familiar with her work, you should see why she is considered a sex symbol with the Raquel Welch Collection.
Freddie Mercury: When I was younger, I found a Queen album tucked away in my parents' CD collection. Intrigued, I put it on and fell in love with the music. Even now I get excited when I hear the first few notes of "Don't Stop Me Now" or, of course, "Bohemian Rhapsody." Today, the flamboyant frontman, Freddie Mercury, would have turned 66. To celebrate, I would recommend this Queen Box Set. Make sure you turn up the volume.
Michael Keaton: This comedic actor turns 61 today. Born Michael Douglas, he took the stage name Keaton after one of his favorite Hollywood stars, Buster Keaton. In honor of his birthday, I'm definitely going to watch "Beetlejuice," which just so happens to be one of my favorite movies.
Are you a fan of any of these birthday celebrities? Or do you share a birthday with someone not on the list? What do you love most about them?
Posted by Emily Harrison