Celebrate the Summer Solstice
Posted at Jun. 20, 2012 at 4:10 PM

Summer is here! According to the Old Farmer's Almanac, summer begins at 7:09 EDT tonight, the time of the summer solstice. Occurring about June 21 in the northern hemisphere, the summer solstice marks the longest day of sunshine for the year. You might lament the shortening days to follow (all the way to December 21), but you could also greet the solstice with a celebration. It's a great excuse to have a party.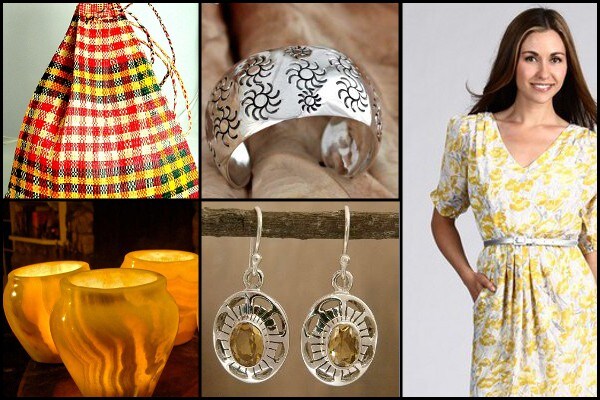 A summer solstice party, or midsummer party if you want to follow the European tradition, doesn't have to be elaborate. It can be an impromptu gathering of friends. But it does have to take place outside so you can savor every moment of sunlight, celebrate nature, and then take in the eventual sunset. A park, garden, beach, or other natural setting will create the right ambiance. Midsummer celebrations often include large bonfires, which you may not be able to have, but you can create a warm glow with plenty of candles and twinkle lights. Use a patio fire pit to warm the chilly night air after the sun finally sets.
I'm lucky enough to live in a place where summer usually brings three months of bright, sunny days. I also happen to love sunshine colors -- yellow, orange, coral -- and the solstice is the perfect time to add them to your look. This yellow floral dress features a touch of grey in the pattern and a slim silver belt that keeps the yellows from overwhelming you; wear it to an evening party on a balcony or patio. Choose accessories that celebrate the sun, like these silver and citrine earrings or this sterling silver cuff bracelet, both from our Worldstock Fair Trade store, to complete your outfit. If you prefer your solstice outfit to be less literal, try other summery looks, such as soft pink florals or bright ocean blues. For a pool party, a natural raffia bag in a bold print will add some color to your outfit while holding your sunblock and sunglasses.
How do you plan to honor the longest day of the year? And what makes the perfect summer party for you?
Posted by Shawna Edwards