Celebrate Our Birthday Like It's 1999
Posted at Oct. 7, 2011 at 9:16 AM

Remember 1999? We do! O.co opened for business in October 1999 as Overstock.com and started bringing you great savings and incredible deals on the best brand-name products -- from trendy handbags to top-name electronics. We love reminiscing for our yearly birthday bash, so we're celebrating 1999 with a $19.99 sale. You'll find great products on our 1999 sale page during the entire month of October. And they're all priced at $19.99 or less. Be sure to visit the O.co birthday page to find all the great offers we have to thank you for 12 amazing years.
Among the deals, we have a few new movie releases on sale for $19.99, and it made me start thinking about the different movies we are watching now than we were in 1999. Some of the music we listened to and the TV shows we watched back then seem so outdated now, but some of them were just as exciting as the entertainment coming out today.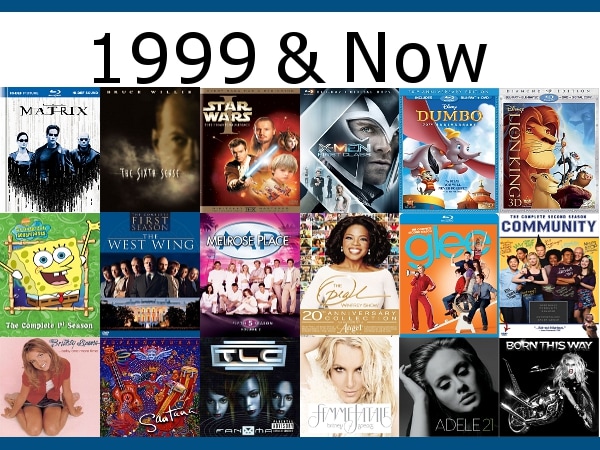 In the movie theaters of 1999, we were drawn into the darkness of The Matrix, the mystery of The Sixth Sense and the back story of Star Wars Episode I: The Phantom Menace. Today, we have some more back story to catch up, this time with X-Men: First Class. We're also welcoming the DVD and Blu-ray re-releases of classics Dumbo: 70th Anniversary Edition and The Lion King: Diamond Edition.
On television in 1999, SpongeBob SquarePants and The West Wing started their first seasons, while Melrose Place aired its dramatic last episode. This year, we saw the last episode of Oprah, which was dramatic in its own way. New TV shows are still getting settled into their time slots, while millions of viewers are tuning in to the very popular Glee as well as the innovative Community, both in their third seasons now.
Britney Spears released her debut album, Baby One More Time, in 1999; it and the title track were big hits. Popular singles for October 1999 included "Smooth" from Carlos Santana's album Supernatural and "Unpretty" from TLC's album Fanmail. Some things never change, as Britney is back on the charts this fall, with the song "I Wanna Go" from her album Femme Fatale. Adele's album 21 is producing hit after hit, and right now you can hear "Someone Like You" whenever you turn on the radio, unless they are playing "You and I" from Lady Gaga's album Born this Way.
"Baby One More Time" is stuck in my head now. So, what is your most memorable movie, song or TV show from 1999?
Posted by Shawna Edwards