Celebrate Grandparents' Day
Posted at Sep. 5, 2013 at 3:36 PM

This Sunday, September 8th, is National Grandparents' Day, the day to officially celebrate the people who always have a full candy jar, stories to tell, and a shoulder to cry on. It became an official holiday in 1978 and has been celebrated the first Sunday after Labor Day ever since. It was created as a way to recognize the role grandparents play in children's lives, unite generations, and, well, do something grand.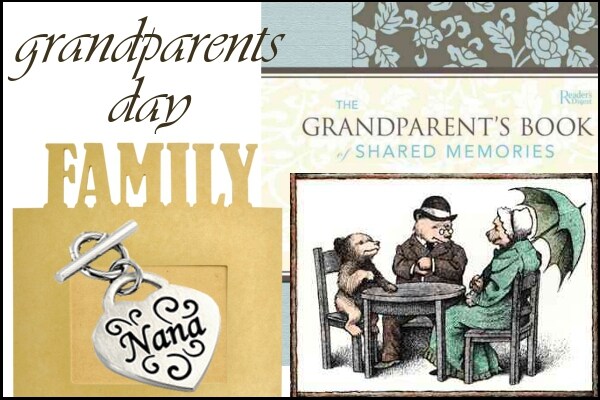 Of course, the best way to celebrate the holiday is to spend time with Grandma and Grandpa. If your children are still young, this Little Bear's Visit book is a great way to introduce them to Grandparents' Day. You can read the book then go to ice cream or on a picnic.
If you're looking for the perfect Grandparents' Day gift, this Grandparent's Book of Shared Memories is your answer. It gives grandparents the opportunity to write their memories, family trees, and other precious moments for future generations. If your family likes to read, Chicken Soup for the Grandparent's Soul is a great idea. Pair it with a gift basket full of cookies or other goodies, and you have a great Grandparents' Day present. For something more personal, place a photo of your family in a picture frame to give to Grandma and Grandpa.
Does Grandpa like to grill? If so, he will love receiving this King of the Grill gift set. Not only does it include a fun apron he will love to wear while at the barbeque, but it also includes grilling tools and three barbeque sauces. My grandpa loves old westerns, so I'm thinking of getting him this movie set with films from legends like John Wayne and Gene Autry.
And since the forget-me-not flower is the official flower of Grandparents' Day, this necklace is the perfect trinket for Grandma to receive. If she is more of a bracelet lover, this engraved charm bracelet is ideal, perfect for her to wear every day of the year.
Are you planning on celebrating Grandparents' Day this year? What is your favorite thing to do with your grandparents?
Posted by Emily Harrison