Canada Day 2013
Posted at Jul. 1, 2013 at 12:05 PM

Happy Canada Day! Bonne fête du Canada! It was on this day, 146 years ago, that the colonies making up Canada were joined together to become one kingdom. And it was almost five years ago that we started shipping to Canada, and they officially became part of the Overstock.com family. I'll take any excuse to celebrate, especially during the summer, so I'm glad to participate in our neighbor-to-the-north's birthday. Let's get Canadian!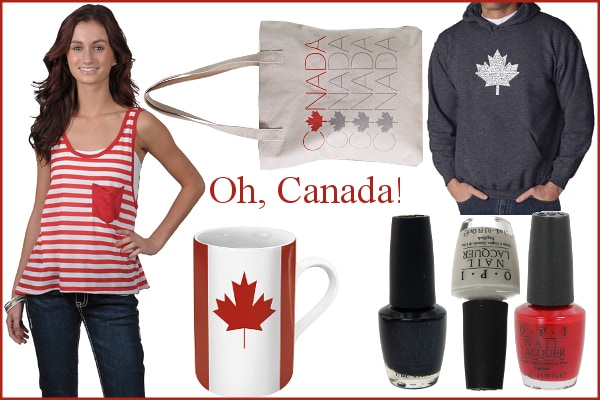 Just like we do in the States, you can take inspiration from the flag when you want to dress up for the celebration. The red and white Maple Leaf (known as l'Unifolié in French) gives you a lot of options, like this striped scoop-neck tee or this red-and-white tank top. If you're feeling creative, you could attempt this Canada Day manicure with some red, white, and black nail polishes. If you want to skip the colors, try this hooded sweatshirt with a maple leaf made of the lyrics to the Canadian national anthem, "O Canada."
If you're already into all things Canadian, you might like sipping your Tim Hortons coffee from one of these maple leaf coffee mugs. This printed tote bag will let you celebrate Canada whenever you buy groceries. If you have kids in your life who you want to share your love of Canada with, try the book Canada in Colours, which showcases the beauty of the whole nation in a way that little ones will appreciate. If you want to eat a favorite food of Canadians, today is the day to try making poutine, a favorite dish that is basically French fries with gravy and cheese curds.
There's a lot more to Canada than maple leaves and cheese curds, though. It's a huge country made up of immigrants, and that means it's incredibly diverse. If Canada Day has inspired you to learn more, then you may be surprised once you see how much entertainment comes from Canada. Even though I haven't ever been there, I realized Canadian culture is part of my life more than I would have guessed. My favorite band is from Montreal, my favorite TV series is set in Nova Scotia, and the author of my favorite book is from Vancouver.
Have you been to Canada? Are you Canadian? What do you like about the Great White North?
Posted by Stephanie Petersen