Callooh! Callay! It's Lewis Carroll's Birthday!
Posted at Jan. 27, 2012 at 12:52 PM

Today, Charles Lutwidge Dodgson, better known as Lewis Carroll, would have turned 114. His best-known works, Alice's Adventures in Wonderland and Through the Looking Glass, have been enjoyed for generations and will surely be enjoyed for many more. What better way to mark this frabjous day than to celebrate in the same whimsical fashion in which he wrote.
For those who haven't read about Alice's curious exploits, or for those of us who can't get enough of them, check out this fanciful hardcover version of Alice's Adventures in Wonderland and Through the Looking-Glass. If you want to take your Alice reading further, Annotated Alice provides a deeper look into the wordplay and allusions Dodgson employed throughout the texts.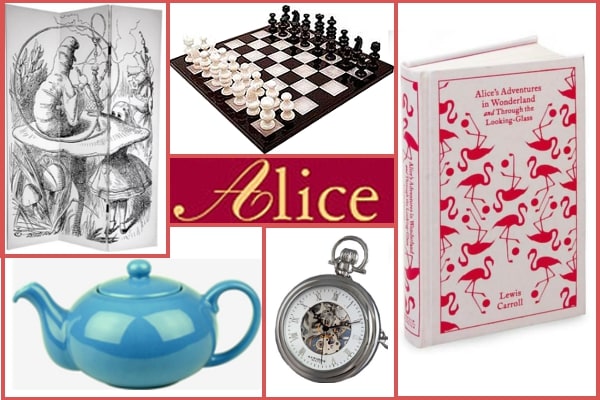 Of course, with any celebration, you need to look the part. Add a hint of Wonderland to your day with this silvertone card suit necklace. Want to make a bigger statement? This double-sided room divider features both the Cheshire Cat and the hookah-loving Caterpillar. Time may be malleable through the looking glass, but not here. Make sure you are never late for any date (very important or otherwise) with this skeleton pocket watch.
Speaking of time, there is always time for tea in Wonderland. Use this adorable ceramic teapot (in Alice's color, of course) to throw a tea party for all your mad friends. These silicone mold/baking pans make it easy to have little un-birthday cakes for everyone.
Then there's the entertainment portion: games. Alice's Adventures in Wonderland uses a card suit theme, and Through the Looking Glass has a chess game motif. See if you can follow along, or create your own stories with this onyx-and-marble chess set or a deck of playing cards. Or why not take part in the Queen of Heart's favorite game? I think we can all agree that croquet is much easier (and quite a bit more fun) when played with a croquet set that includes the proper mallets and croquet balls rather than flamingos and hedgehogs.
Lastly, one of the best ways to celebrate today is with a viewing of the iconic Disney's "Alice in Wonderland" movie or the Tim Burton 3D version … or both. Anything is possible!
What is your favorite "Alice in Wonderland" moment? And why IS a raven like a writing desk?
Posted by Emily Harrison