C is for Cupcake
Posted at Feb. 16, 2011 at 1:40 PM

I have a serious love affair going with cupcakes. They're delicious and small enough that I can sample several flavors in a single sitting. I also like muffins, but since I love them for many of the same reasons, I started to wonder: what's the difference between a muffin and a cupcake?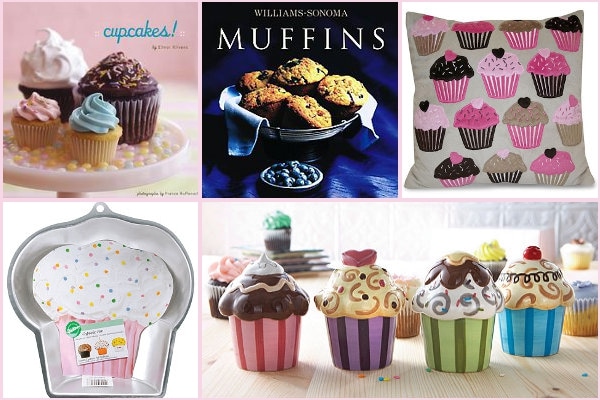 The obvious answer is that cupcakes are more cakelike than muffins, literally cakes in a cup. But I think the relationship between cupcakes and muffins is more complex than that; chocolate muffins have obviously crossed the line into cupcake territory, and carrot cake cupcakes have a distinctly muffin-like feel, especially if eaten without frosting.
To get to the bottom of the cupcake/muffin mystery, I decided I'd better do some taste testing. And that means baking. After much experimentation (and a little research, though that part wasn't nearly as tasty), I've reached some superficial conclusions:
It's true that muffins and cupcakes share a common shape; there is some debate among connoisseurs about whether muffins are by definition bigger than cupcakes, but in daily life, they are the same.
Cupcakes and muffins can both be baked and served in cute liners. Some people claim that only cupcakes come in liners, but I feel it's a matter of preference.
Only cupcakes are frosted. Muffins can get away with a glaze, but true frosting belongs only on cupcakes.
The actual significant difference between muffins and cupcakes is in the batter. Cupcakes, as the name implies, are baked from cake batter. The cupcake batter is made using the creaming method (just like cake batter). Cupcakes are cupcakes because of their shape, but if the batter was baked in a cake pan, the result would be the same. (This raises the question, of course, "If I bake a cake in a giant cupcake pan, is it a cake or a cupcake?") Muffins are essentially a quick bread (meaning no yeast is necessary). Baking muffin batter in a cake pan won't result in cake, but baking it in a loaf pan will give you bread.
Clearly, I'll be doing more cupcake "research" in the future. Anyone have a favorite flavor they suggest I try? Or a frosting recipe that I can't live without?
Posted by Jessica Gezon