Breakfast for Mardi Gras
Posted at Feb. 21, 2012 at 10:39 AM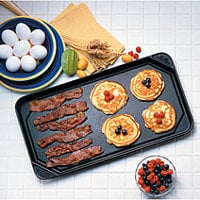 Today is Mardi Gras! All over the world, people are celebrating the last day before the Lenten season. Some people make the celebration pretty big (I'm looking at you, New Orleans) but even if you're not ready for something that huge, you can still get in on the party. Last year, Jessica blogged about some of the traditions of Mardi Gras, so I thought I'd look into a few more. I didn't have to search too hard to find one that appealed to my desire to eat breakfast for every meal.
Mardi Gras is also known as "Fat Tuesday" because of the fattening foods everyone eats, like king's cake. Some people claim that they eat up all the fattening stuff from their pantries to use it before Lent begins, but I like to think of it as "crammin' before the famine." Six weeks of penitence should always be preceded with at least one full day of indulgence.
So where does breakfast come in? In addition to the traditional king's cake, pancakes are another food eaten on Fat Tuesday. If you need to use up the flour, sugar, eggs, and milk that should be consumed before fasting during Lent, this is a good way to do it. If you have kids, this is a fun way to teach them about Mardi Gras traditions, and I doubt you'll have trouble convincing them to eat more pancakes.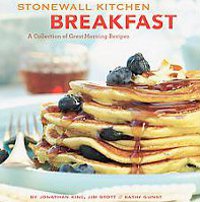 Pick up a breakfast cookbook for a few ideas on some interesting pancakes to make. I'm a big fan of cinnamon apple pancakes, but I don't think you can go wrong with blueberry or sourdough. If you don't have the ingredients that you need to use up already, try using a pancake mix, and then add a gourmet touch by cooking a pint of fresh berries (such as blueberries, strawberries, or raspberries) with a few tablespoons of sugar and a teaspoon of cornstarch. Cook the mixture on the stove until thick, stir in a tablespoon of butter, and serve hot over your pancakes.
I like cooking pancakes on a griddle pan; a double-burner model will give you lots of room to make them for the whole family. I've also seen pancake makers that are free-standing appliances, like waffle makers without the divots. If you make pancakes often, this is the appliance for you.
And since it's Mardi Gras, how about serving the pancakes on some festive dinnerware in the official colors? I love the idea of stacking a purple plate on a green charger, and then using gold-trimmed water goblets. It would make a meal made of pancakes very festive.
Are you celebrating Mardi Gras today? Do you also love having breakfast for dinner? How do you like to indulge yourself?
Posted by Stephanie Petersen