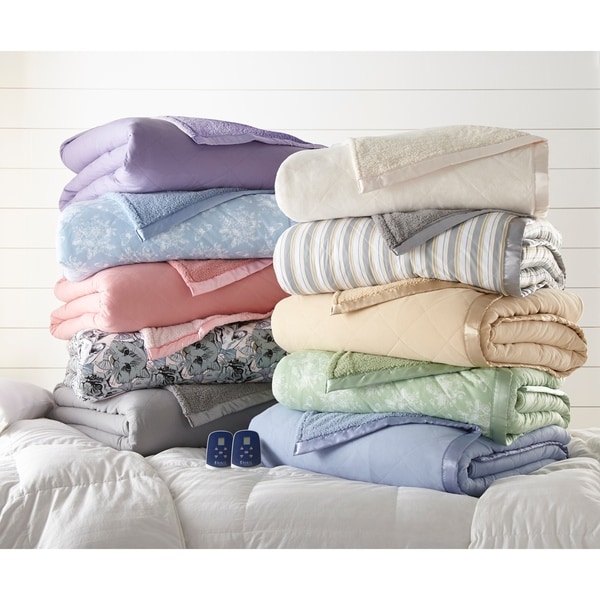 Soft, yet very durable Love it !!!
...
Shavel Quilted Micro Flannel to Sherpa 6-Layer Heated Electric Blanket
Details
ITEM#: 19079962
Add the cozy warmth and comfort you need to your bedding with this Shavel Quilted heated electric blanket. The cuddly blanket features a quilted polyester micro flannel surface, two layers of insulation, a down-alternative fiber fill, lightweight flexible wiring to evenly distribute warmth, and a sherpa reverse for an extra comfortable feel. The blanket is available in a variety of sizes and colors, and features two easy to use controllers with eight secure heat settings and a safe, 10-hour shut off.

Features:
Heated electric blanket
Down-alternative fiber interior fill
Flexible wire heating technology
2 insulating layers
Quilted polyester micro flannel surface
Plush sherpa underside in coordinated color
2 backlit 'Easy to Read and Easy to Use' controllers
8 different heat settings
Sleep timer and 10-hour auto shut-off functions
16-foot long cord (192 inches) included
ETL Tested
Easy machine wash and dry care
5-year warranty included
Twin, full, queen, and king sizes
Available in frosted rose, ivory, chino, grey, and wedgewood
Dimensions:
Twin: 62 inches wide x 84 inches long
Full: 72 inches wide x 84 inches long
Queen: 84 inches wide x 90 inches long
King: 101 inches wide 90 inches long
Cord: 16 feet long
The digital images we display have the most accurate color possible. However, due to differences in computer monitors, we cannot be responsible for variations in color between the actual product and your screen.
Specs
Features

Care Instruction
Machine Wash
Color
Blue, Brown, Green, Grey, Off-White, Pink, Purple
| | |
| --- | --- |
| Dimensions | 13.0 In. X 13.0 In. X 12.0 In. |
| Warranty | 5 year Manufacturer |
| Model Number | EBSHB |
| Country of Origin | China |
Best Electric Blanket Ever!!!!

I am always cold in the fall & winter and was looking for an Electric Blanket. Purchased this one based on other reviews and I am so happy that I made the purchase. The sherpa side is so soft and I can use it minus the heat in the Spring & Summer. It has a sleep timer, which I love. And, it has the highest temperature that I have seen or experienced on any previous Electric Blanket. I usually set it on "2" and sleep comfortably during the night. All warm & toasty. This is not like the old traditional electric blanket's where you feel the heavy wires. On this one, you can't feel the wires in the blanket at all. You can also wash it, if needed. The price was more than I wanted to spend...However, after using it during the cold winter months, it was all worth it! Best Electric Blanket Ever!!!!!!

Beautiful

Beautiful quilted micro flannel and sherpa heated electric blanket at a great price.

We love this electric blanket, especially the Sherpa softness. It's the first electric blanket that we've owned that actually is a good fit for our king size bed. Ithasabout an 8 inch overhang on the width of the bed rather than just barely covering the mattress top. We have a sleep number bed with a pillow top and most sheets and blankets are not wide enough. It's perfect. The controls are awesome and easy to use and when we preheat it before going into bed, we actually can feel the warmth. It's well made, very thick and soft. Cannot feel any wires. Onlything I wish was that the controls stayed lit at night so you could change temp or turn off or on during the night. Recommend to all looking for a high quality electric blanket.

Wonderfully warm blanket by itself

I love this blanket. It is very warm without using the heated part. So I only used the heating on it a handful of times when it stopped working. I get an error code. I googled this code and people said it was because one of the pins and gone in. I do not see any of the pins uneven in mine, so I don't know what the solution is. I am very disappointed. This is the third electric blanket I have purchased that only worked for about 2 weeks. I thought buying this one -- which was quite a bit more money than my previous two -- would guarantee me a working electric blanket. No such luck!

Purrrfect Addition For Chilly Nights; Cat Approved

After having horrible experiences with Canon electric blankets (longest lasting one was 9 days old before dying & no, ge3tting new controllers did nothing to help!), my husband & pets were so happy with the electric blankets that I bought this 1 & a Sunbeam on the same day. Now, I LOVE me a good Sunbeam electric blanket & had 1 last 12 years but I have to say that I & my kitties prefer this blanket to the Sunbeam as the heat is more evenly distributed & the feel of the blanket is really lovely. I want to forewarn others about laundering electric blankets; try not to do it often! I recommend using a duvet over them to keep them cleaner longer but when you go to wash them take these tips to heart: 1.) Seal off the "pins"/connection where you plug it into the controller. I use a heaping amount of duct tape for this & old controller connectors, cut from their cords & taped as well, to keep those pins from being expose to water & detergents. 2.) Only use cold or warm water when washing. 3.) I have had better results from using my top loader vs. front loader as front loaders gentle cycles aren't as gentle as top loaders as they go a bazillion miles an hour to spin out/rinse. 3.) Only use the shortest gentle cycle!!! Your electric blanket doesn't need to be washed like a pair of your favorite jeans or a jacket worn to play rugby in. While they all claim to be "machine safe," I'm telling you from experience that the less laundering you give the blanket, the longer it will live & work properly. 4.) Line dry!!! I know some folks think line drying anything is tacky & "is for poor people" but it's best for your blanket. You can tumble dry/no heat, but I'm still of the mind that the less these blankets get thrown into a machine driven mosh pit, with or without the pyrotechnics, the better it is for the heated cord & the connection(s) as the metal being heated up is a definite no-no. While this blanket was more expensive than the Sunbeam & others being sold, I really love the feel of it & it's blessedly easy to care for without having to run it through the washer for occasional spots. When it's not covered in the flannel duvet, I keep the "velvet" side facing out & if anything gets on it, I use a sponge & wipe it away. I also like to spray Downy mixed with water to freshen it up between washings. I'm hoping this lasts more than the 2 seasons I had gotten from our former Sunbeam (I don't know what they did differently that those they made circa 1999, but they definitely cheaped out...) & brings us, the clowder of cats (plus a now two month old kitten, squeeeee!), & our big, goofy, white German Shepherd a great supply of "the warms." While the dog is dopey & unchoosey, we've noticed the cats really dig the Shavel! I may be back for a bigger one before the Winter ends. :)

Love this blanket!!

After purchasing this blanket for our King size bed I bought two additional (queens) for our other two bedrooms. The blanket is really soft and you cannot feel the wires much at all. Although my husband uses the heat feature from time to time I've never used the blanket as an electric blanket since it is extremely warm without using the heating function.

Flannel Reverse to Sherpa Electric Blanket

So far, this is the very best electric blanket I have ever purchased, and I have purchased quite a few. It is very soft and cozy and heavier than any I have had before. Very warm even when not turned on. I haven't had it that long so do not know how long it will last. But I am very satisfied so far! I would definitely recommend it to a friend.

Beautiful High Quality

This blanket is actually thick like a regular blanket and has the added bonus of being an electric blanket. It is really plush and thick and you cannot feel the wires at all. it is warm even without the electric component. I am using it as a regular blanket right now and will turn on the electric heat when the weather gets colder.The Wedgewood color is a beautiful blue. I am very happy to have bought this blanket. Update: The control on one side of the queen size blanket stopped working after I had the blanket for six weeks!!! I will be contacting the manufacturer to see what can be done because as of now only one side of the blanket is working. I had loved the blanket but now--not so much! Second Update: I contacted Shavel customer service and they were very responsive. They will be mailing me a replacement control and I am very happy!!

The unicorn of electric blankets AND it's in the perfect shade of light rose! I searched everywhere for a pink electric blanket and this is literally the only one available in a high quality and in this color-a true light/dusty rose. (note: There is one other out there that has polka dots). The blanket is super soft flannel-ish on one side and a yummy thick, soft Sherpa on the other with a lovely thick satin trim. The queen & king have easy to see/use in the dark dual digital controls that heat up quickly. I've even machine washed and dried it multiple times per instructions & it just got softer. ***** LOVE it!!

So nice

I haven't had this very long, but so far does what it's supposed to do. It is very soft and pretty. The chino is actually a very pale soft yellow color. This is the warmest blanket I have ever owned, very warm even without the heat on but not real heavy. It's a nice weight. It's the only blanket I need on my bed. Now the only thing I would really change are the controls. 2 controls is nice, they are pretty big but they have to stay on the floor because the cord is not real long, I am able to set it up how they suggest but the cord for the control is not real long. Also, the auto shut off feature is nice. I usually turn it on high before I get in bed for an hour or so, then turn it down to around 4 or 5 and it's plenty warm sleeping through the night. I would love to see this blanket in a throw size.

Best Electric Blanket Ever!!!!

I am always cold in the fall & winter and was looking for an Electric Blanket. Purchased this one based on other reviews and I am so happy that I made the purchase. The sherpa side is so soft and I can use it minus the heat in the Spring & Summer. It has a sleep timer, which I love. And, it has the highest temperature that I have seen or experienced on any previous Electric Blanket. I usually set it on "2" and sleep comfortably during the night. All warm & toasty. This is not like the old traditional electric blanket's where you feel the heavy wires. On this one, you can't feel the wires in the blanket at all. You can also wash it, if needed. The price was more than I wanted to spend...However, after using it during the cold winter months, it was all worth it! Best Electric Blanket Ever!!!!!!

Wonderfully warm blanket by itself

I love this blanket. It is very warm without using the heated part. So I only used the heating on it a handful of times when it stopped working. I get an error code. I googled this code and people said it was because one of the pins and gone in. I do not see any of the pins uneven in mine, so I don't know what the solution is. I am very disappointed. This is the third electric blanket I have purchased that only worked for about 2 weeks. I thought buying this one -- which was quite a bit more money than my previous two -- would guarantee me a working electric blanket. No such luck!

Flannel Reverse to Sherpa Electric Blanket

So far, this is the very best electric blanket I have ever purchased, and I have purchased quite a few. It is very soft and cozy and heavier than any I have had before. Very warm even when not turned on. I haven't had it that long so do not know how long it will last. But I am very satisfied so far! I would definitely recommend it to a friend.

Warmth Galore

This has to be the ultimate blanket for warmth. We value and appreciate the dual controls. Soft and plush. Terrific blanket

Lush

This blanket is absolutely beautiful but more than that it really keeps you warm. My husband loves this.

My absolute, #1 favorite heating blanket of all time! I sleep under one all year round as I'm always cold, and the quality and durability of this blanket are unparalleled. I've gone through half a dozen 'store' blankets, and this is the only heating blanket I'll ever buy again! Highly recommend!

Beautiful

Beautiful quilted micro flannel and sherpa heated electric blanket at a great price.

Beautiful High Quality

This blanket is actually thick like a regular blanket and has the added bonus of being an electric blanket. It is really plush and thick and you cannot feel the wires at all. it is warm even without the electric component. I am using it as a regular blanket right now and will turn on the electric heat when the weather gets colder.The Wedgewood color is a beautiful blue. I am very happy to have bought this blanket. Update: The control on one side of the queen size blanket stopped working after I had the blanket for six weeks!!! I will be contacting the manufacturer to see what can be done because as of now only one side of the blanket is working. I had loved the blanket but now--not so much! Second Update: I contacted Shavel customer service and they were very responsive. They will be mailing me a replacement control and I am very happy!!

toasty warm

Ive had many electric blankets but this one is the best, i love this blanket, even if you dont turn it on its so warm, made well i would highly recommend this one.

Soft, yet very durable Love it !!!

Soft, yet very durable Love it !!!

This blanket is heavy! It will surely keep you warm on cold dark winter nights. The electric blanket heats up quickly and stays warm all night. We are very please with purchase.!

Very colorful and comfortable

Husband LOVES this blanket!

Omg love this electric blanket so warm even before turning it on. You don't feel wires. All you feel is soft and warm. Very durable even with pets on top of it.

this item was returned because it was not what was ordered.

This set of sheets were not only comfortable but also inexpensive. This set is so comfy I would recommend this purchase to anyone looking for this kind of sheet.

Expected quality, would recommend.

I have never seen such a thick electric blanket. The Sherpa lining is amazing. Just received it, haven't actually turn on the blanket yet. This blanket will be great for dead of winter. Color is true throughout the entire blanket.

This electric blanket is very comfortable whether the heat is on or not. It's lightweight but you can't feel the wires. The Sherpa plush has a very luxurious feel
Q:

"what is the wattage on the twin size blanket?"

Q:

"Anyone know the overall weight of the king sized blanket? Some have commented that it is heavy. Thanks"

A:

I don't feel it is heavy. The wires seem to be lightweight as you aren't aware of them at all. I've had numerous electric blankets over the years and this is my favorite. The control is a bit unwieldy, but you only use it once a day, so not an issue. I absolutely love the very soft and cozy Sherpa fleece. Mine is a king and I have no complaints.

A:

Never used it. It's stored away.

A:

It is not heavy. Very comfortable.

Read more

Read less

Q:

"Is the power remote or wireless?"

A:

Plugged in & has cord(s) that plugs into blanket. Never heard of a wireless heated/electric blanket.

Q:

"I love this blanket very warm, dose anyone know if you can sleep on top of this blanket."

A:

I dont know why you would not be able to sleep on an electric heated blanket other than 3 reasons: fire hazard/durability, comfort, health reasons/intended use I cannot guarantee sleeping on top of thw blanket would not break the heatung wires inside it or pose a fire hazard or risk of electrocution. If you have a health problem and should not use a heating oad or blanket IE diabetes, neuropathy etc, don't lay under the blanket or on it. it is intended to be used as a blanket. BUT: I lay on my blanket and actually like laying on it rather than under it. you barely feel the wires inside it. it is plush and soft. it's 6 layers and it is lofty and high quality. the heat spreads evenly thriugh thebwires and blanket, even when I lay on it. it's cozy and feels almost like a heating pad fir aches and pains.

A:

You might consider purchasing a heated mattress pad if you want the heat under you. My husband and I have one on our queen size bed and we love it. It makes the bed toasty warm as you climb in it - I love that part. If you get too hot, you can reach over and turn it off. I prefer having the heat under me, but am looking for an electric blanket to use in our guest room at our lake house for an 18" inflatable mattress. I was afraid the heated mattress pad would be too hot for it.

Read more

Read less

Q:

"We have a dog who likes to sleep on the bed. Will that cause a problem?"

A:

Not unless your pet chews power cords that lead to plug in blanket. This blanket is soft and flexible. You really don't feel the wires inside. My pets sleep with me and try to curl up in my blanket during the night. It's s blanket battle!

A:

I've read all the materials that came with my blanket and saw nothing about setting things on top of blanket or how that might affect its' performance. I'd contact the manufacturer on whether or not your dog sleeping on the blanket would cause any issues -- I wouldn't think so, unless he chews on it, but I'd check just to be on the safe side.

Read more

Read less

Q:

"Is the Blakey material cotton flannel or a polyester blend?"

A:

The label says "100% polyester"

Q:

"I bought this a while back. I do like it. But do the controls stay lit while on. Both my controls once on do not stay lit. Can't see control to change in middle of night. "

A:

My controls also turn off and don't stay lit. To me this is a minor flaw. I just feel for the middle of the control blindly in the dark :-)

A:

No The controls do not stay lit. That is my only complaint.

A:

No, they do not stay lit. Just press one of the buttons, and it will light up again. We usually turn it off when we get into bed or set the timer to shut it off in 15 minutes or so.

Read more

Read less
Shopping Tips & Inspiration