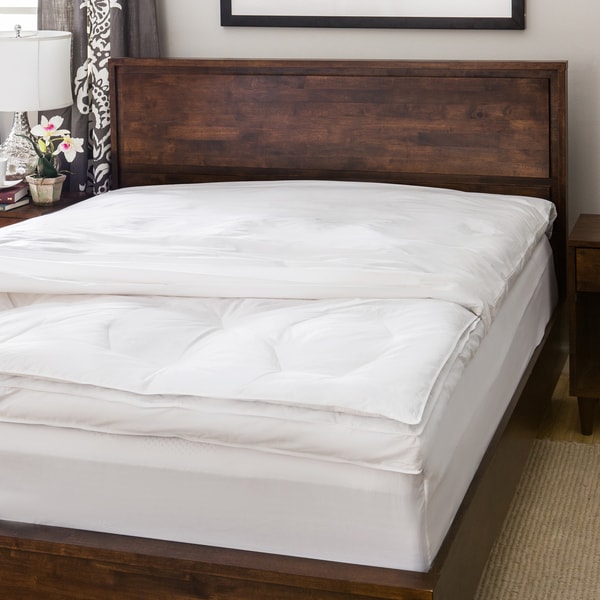 I wish I could have found this featherbed for my new king size bed. It made my queen size bed the best bed I've ever slept in. Now that that bed is in our guest room, it's hard to wake people up. It's that good.
...
Details
ITEM#: 10878605
This luxurious down-on-top featherbed by National Sleep Products features a removable 230 thread count cotton cover, providing an optimal layer of comfort to any mattress. The all-natural down pillow top features a 525 fill-power and cushions your entire body.
Removable cotton cover for easy cleaning
All-natural down pillow top features a 525 fill-power
230-thread-count cotton cover
100 percent cotton fabric cover increases softness
Dimensions
Twin: 39 inches wide x 75 inches long with 6 pounds of feathers and 10 ounces of down
Full: 54 inches wide x 75 inches long with 9 pounds of feathers and 13 ounces of down
Queen: 60 inches wide x 80 inches long with 10.5 pounds of feathers and 16 ounces of down
King: 76 inches wide x 80 inches long with 12 pounds of feathers and 19 ounces of down
Cal King: 72 inches wide x 84 inches long with 12 pounds of feathers and 19 ounces of down
Down and feather-filled products are packaged tightly duringshipping. Upon receipt, remove this item from its packaging, fluffgently, and allow several hours for full loft recovery. Inaddition, products sealed in plastic packaging sometimes have adisagreeable scent because of concentrated natural fibers. A fewhours of airing typically removes the odor.
Specs
Features
Material
Cotton
Type
Featherbed
Color
Black, Pink, White
Fill Type
Down, Feather
Size
California King, Full, King, Queen, Twin
| | |
| --- | --- |
| Dimensions | See Product Description |
| Model Number | 44360-3 |
| Country of Origin | United States |

Most Recent

I wish I could have found this featherbed for my new king size bed. It made my queen size bed the best bed I've ever slept in. Now that that bed is in our guest room, it's hard to wake people up. It's that good.

Read More

I don't know in what world this fits a queen bed. I could see if it was just the feathers getting bunched up, but the actual fabric does not stretch across the whole length of the bed. It is far too narrow. Aside from having only half of my body on it at night it's pretty good. I would look elsewhere though.

Read More

I just love my new featherbed! The down on top of the feathers makes it super nice. Its just needs to be fluffed up every once in a while, which is normal. Nothing better than climbing in bed with all the coziness of this feather/down bed...

Read More

Use on guest bed for a more luxurious feel. Adult kids vie for space in the guest room where this is used.

Read More

Love this extra layer it's warm and very cimfortable

Read More
Most Helpful

I am a back sleeper and had a 2 inch memory foam mattress topper on my bed (which I also got from Overstock). My bed was very comfortable for me but my boyfriend is a side sleeper and he was waking up with his shoulders and hips feeling sore. I decided to try the feather bed to make the bed more cushion-y for him (I was also looking for an excuse to get a feather bed anyway).The bed is great. Very thick and full. It gets a little flat throughout the week but I just fluff it up when I change the sheets each week. I don't know why other reviewers on this site say that it has no cushion or that the feathers would move. It is a baffle box construction - they can't move! The one odd thing about it is that the bed comes with a cover (which is definitely an added value) BUT the bed is made like a mattress pad in that it has the elasticized "stuff" to keep it secure to the bed (like a bottom sheet). Well, that meant that I could EITHER secure it to the bed OR use the cover, not both. I ended up opting for the cover. My bed is mattress, memory foam pad, mattress cover (protection and to hold the memory foam in place because that does move), feather bed with cover & THEN the bottom sheet. I don't think the feather bed moves that much. Oh yeah, and my boyfriend sleeps well with no more aches in the morning! Overall, we are very happy with this feather bed. :)

Read More

I did a lot of research before I purchased this featherbed. This particular one is excellent quality and comfort. A previous review stated that they runs small. I bought a king size and the size was right. It does not hang over the edges of the bed but is the same size as the surface top of the bed. When you lay on the topper it pulls in a little from the sides. The topper also comes with a built in elastic mattress cover. It keeps it in place like a fitted sheet. The comfort is great. Not many feather beds come with a down topper on the top of the featherbed as this one does. It helps keep the feathers from coming thorugh. The bed is not too hot or too cold. This product is worth the price.

Read More

I had a feather bed before and loved it. That one finially fell apart, the seams came unstitched after 12 years of being in use. So I bought this one to replace it. I've had it about a month now and it is everyting that you want in a feather bed and this one is actually a bit better than the one it replaced (because of its dual layers with the down layer on top), and for less money. I did not experience any of the problems others complained about. Fluffing is a normal chore for any feather bed and I do it once a week or whenever the sheets are changed. I rarely give anything a five star rating but this product is excellent in every catagory.

Read More

purchased this feather bed for my mother...her new mattress was a bit too firm for her....she suffers from osteoporosis and needed something a bit softer but with support...this did the trick.. very well constructed...comes with a washable cover..a big plus.....it is very heavy...doesn't shift on the bed.... mom was very pleased!!!!!....well worth the $'s is very thick so makes the bed quite high...also be sure too have deep pocket sheets...you'll need them highly recommended product...

Read More

Love! Love! My Featherbed!

I had bought a Posturepedic mattress that my Chiropractor had suggested without a pillow top and from the first night, I had trouble with it being to firm. I woke up in bad pain. I got a very expensive memory foam and plush alternative down topper to use on my mattress, but straight out of the box, I could not use it due to the odor....so had to return it. I thought about returning the bed and a friend suggested maybe I try a feather bed topper. I found this one at Overstock and the price seemed right to give it a try. I called and spoke to a representative about what to do if I hated it for some reason. She told me "no worries".....just return it....all I had to do was pay return shipping...unless it was a defective product or had an odor....in which case.....they would pay for the return shipping. I couldn't argue with that. This bed has absolutely NO ODOR!! YEAH!! I LOVE LOVE LOVE THIS TOPPER!!! It softened my bed up just the right amount. I have slept on this for a couple weeks now. It is hard to get up in the mornings cause I am so comfy and cozy! I do have to fluff up the topper at least every couple of nights, however, after learning that you should place this topper on top of the bed with only a fitted sheet tucked around it (I use a mattress pad and another fitted sheet to protect my mattress), it is not hard at all. I just pull down the top covers and lift it up and give it a few good shakes. It is well worth the sleep I am getting. By the way, this feather topper does seem to stay in place on my mattress and doesn't shift on me. I would call this topper only partially baffled. The feathers do move around from one side to the other. Since I have to fluff it up anyway, this doesn't seem to be a problem, but I do think the description should be better. Oh....NO feather poking me! YEAH! I hope this review helps someone. If you are on the fence about getting this.....JUST ORDER IT! You will LOVE it too, I am sure. The only negative I have to say is not about the topper, but about how it was packaged for shipping. (OH, by the way, give it a couple hours after several good shakings to fluff all the way up.) It just had a plastic bag around it...and shipped in a flimsy box that was broken down by the time I got it. Very poor packaging for such a nice product. It had a small blemish on it, but not bad enough to return.

Read More
Q:

"How thick is this featherbed?"

A:

Not sure on exact answer but it is definitely a large feather bed, full of quality feathers and down, and it is definitely a comfortable and cozy one for sure. Great buy, especially on Overstock, for the price they are offering it at. You cannot go wrong with this featherbed.

A:

Hello, It's difficult to say, but the first time I used it I felt it was about 6 inches deep. I unfortunately can't shake the bed to rearrange the feathers which tend to bunch up in various places once in a while. Next time I buy a feather bed the is baffled. It really makes a difference on my fold out couch, I don't feel like I"m sleeping on rebar any longer. Next time I will also order a King size as Queen barely gets to the edge of the mattress. Also, if you purchase this there is one side that is just down, put that up as feathers sticking in your body is very uncomfortable;-)

A:

21/2 -3" is about right. You need to give it a shake and refluff weekly for best loft. Very fluffy and enveloping. Will definitely need deeper corner fitted sheet. While the queen sz does barely come to edges it is fine. A king would be overkill. Another reader states she feels the feathers poking. Down side up!

A:

I got it for my daughter's dorm room single, and she hated it because it slid around on the single matress. I took it back from her and put it on my queen bed, and been using it. I think it's divine! It's thick/comfortable enough!

Read more Read less

Q:

"What are the measurements when packaged?"

A:

Katie, Sorry, I didn't know Overstockdid this. The featherbed isn't quite queen, but then again I have it encased in lots of waterproof covering. Next time I'm getting King sized. Maureen

Q:

"Is this machine washable?"

A:

Yes, this is machine washable.

A:

The zippered cover which is included is machine washable. But the featherbed itself may be machine washable but I wouldn't recommend doing it at home unless you have a heavy duty large capacity washer. At that I would only chance washing a full size anything larger is just too big and too heavy and could break your machine. I'm just looking at it with common sense since it is heavy dry yet alone wet. As long as you keep the cover on it and keep that clean there should be no need to wash the actual featherbed. Also if you want to freshen up the featherbed I would suggest spraying it all over with Febreze fabric refresher, it is the best and works great.

Read more Read less

Q:

"Is this featherbed filled with white goose feathers and down?"

A:

It has one side filled with feathers and the other side has down. It does not specify whether it is white goose down if that is you question.

Q:

"Is there anyway to get another mattress cover? I love this mattress and cover, but would like to order another zippered cover."

A:

Do a Google search or check bed bath and beyond they carry some. Good buy if you have 20 percent coupon.Good Luck hunting. J.Holguin

Q:

"Does this feather mattress topper have a fitted sheet bottom that secures itto the underlying mattress? If so, do you have another product that is similar that does not have that feature?"

A:

One of the photos above almost looks that way. Check out the other photos. There is a cover but it zips are the feather topper and does not extend down to the mattress below.

Q:

"How deep should the sheet pocket be to fit this full size Luxury Natural Down on Top Featherbed with Cotton Cover Set? It's going on top of a futon bed"

A:

Futons are not very thick and so I would think a sheet of regular depth would be fine. I have a very fat queen mattress which has two covers on it. So basically, I put the sheet on the featherbed and it works out great. The featherbed has a bit of room to stay fluffy that way.

A:

Regular deep pocket sheets fit both my pillow top mattress and this topper.

Read more Read less

Q:

"I am looking for the bed frame in this picture, is it available on this site or where can I find it?"

A:

We currently do not have that item for sale.

Q:

"Hi! some featherbeds specifiy the height - 5inches, 3 inches etc. I don't see height in the dimensions. Please tell me the height :-) thank you"

A:

Based on customer reviews, this featherbed set is approximately 3 inches when puffed and is compressed to approximately 1.5 inches after use. It can easily be re-fluffed, as needed.

Q:

"Some reviewers are saying that you should order a King Size to fit a Queen Size bed. These reviews say that the queen size topper is too small... What are the actual dimensions?"

A:

The queen is approximately 60 in W x 80 in L. If you have any issues with your purchase, please reach out to customer care who can further assist you.

A:

That answer doesn't help unfortunately. per previous reviews the topper can be as much as 5 inches too short... ie approx 60 inches means it could be 55 inches?

Read more Read less

Q:

"I know the top is down, my question is the bottom just feathers or feathers and down?"

A:

All of the chambers of this featherbed are filled with a blend of feathers and down.

A:

The product description says it has a down pillow top with a fill power of 525 but Sharleene949 answered a question stating that all chambers are a blend of feather and down. Which is correct? Thank you.

Read more Read less

Q:

"is this one hot or cool"

A:

Reviews have stated that this is neither hot nor cool.

Q:

"Could you please tell me what is the fill power weight of the queen goose down top featherbed with cotton cover? :) Thank you."

A:

The fill power is approximately 525.

Q:

"is item 10878605 featherbed made in USA?"

A:

This item is made in the USA.

Q:

"How thick is the gusset?"

A:

The gusset is approximately 3 inches thick.

Q:

"Are the feathers used in this particular item from one type of bird, and if so, are the feathers plucked from dead fowl, or living?"

A:

The feathers are grey duck feathers and the duck was not alive.

Q:

"Hello, I recently asked how many pounds or ounces does this King size Featherbed contain. The answer ws only 19 ounces. I think I may have been misunderstood. The Queen has 10.5 LBS of Feather & 16 oz of Down, so I assume the 19 oz may have possibly pertained to the Down only. Specifically, can you tell me how many pounds of Feathers & how many ounces of Down does the King size Featherbed contain? Thanks so much!!"

A:

The king size has approximately 19 oz of down and 12 lbs of feathers.

Q:

"Hi what is the california king measurent? Also, is this a baffle box deSign ie it keeps the feathers in each box?"

A:

Te California King is approximately 72 inches wide x 84 inches long and has a baffle box design.

Q:

"Why did you choose this product?"

A:

The reviews were good and the sale price was also convincing.

A:

The reviews I read were good so I thought this might work for me.

A:

I chose it because is looked like a very high quality product for the price. And it came with it's own cover.

A:

The price point seemed to be fair. Additionally, I was looking for a combination of both down and feathers.

A:

This product had the set of features I wanted at the best price, and customer reviews were positive for the most part.

A:

I bought one of these several years ago, and love it. It is time to replace it, as the feathers and down no longer "fluff up" after many years. It is not only a luxury, but very helpful to arthritic and osteoporotic people, aiding in a comfortable night's sleep.

A:

Because my mother weights 98 pounds and does not make a dent in her memory foam mattress. She says it is as hard as a rock! I ordered one for the bed in the guest bedroom as well, because that mattress doesn't feel very comfortable either.

A:

Reviews satisfied my questions and concerns.

A:

After reading many reviews on similar (Natural Down, Down Alternative and Memory Foam) I chose this to soften my memory foam mattress. Looking forward to receiving it and reviewing.

A:

My wife has been wanting down feather topper for some time so I decided to surprise her.

A:

Price and reviews were good. I always purchased based on reviews.

A:

Recommendation from family member that as happy with product

A:

I own one and my daughter loved it when she visited. It is a great product.

A:

I have one in a full size and love it. I now have a queen bed and want that size.

A:

The reviews, the washable covers, and the price point.

A:

My Dad's mattress is too firm-- hoping this solves the problem!

Read more Read less

Q:

"Is the cover to this item zippered or buttoned."

A:

This featherbed fits over your mattress similar to a fitted sheet.
Shopping Tips & Inspiration
Shipping & Returns
Contact Information
Shipping:
Leaves our warehouse in 1-5 business days. * *
Shipping Information:
Our standard shipping method is ground shipping. We also offer expedited shipping for most items. Your final shipping cost and estimated delivery timeframe will be available at checkout.
Standard shipping details
Expedited shipping details
Standard Return Policy:
Items must be returned in new or unused condition and contain all original materials included with the shipment. More Details
FINAL SALE EXCLUSION: Items marked as FINAL SALE are not returnable unless the problem you experience is the result of our error.
For your protection, all orders are screened for security purposes. If your order is selected for review, our Loss Prevention Team may contact you by phone or email. There may be a two business day delay to process your order.
** Most Oversize orders are delivered within 1-4 weeks. Some orders may take 6 weeks to be delivered.