Beach Style Made Easy
Posted at Aug. 23, 2013 at 1:59 PM

Summer may be almost over (boo!) but it's not too late for a trip to the beach. I just returned from a week of luxuriating in Venice Beach, California, and over that week, I worked on perfecting my tricks for effortless beach style. I did it with my two-year-old in tow, so by necessity, it couldn't be complicated. Here's what I learned from my summer vacation.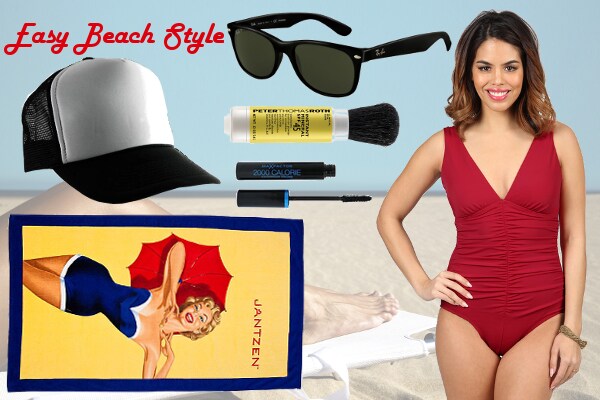 Feeling comfortable in your swimsuit is an important part of beauty on the beach. I love this fire-engine red shirred one piece. The color and the neckline say "bombshell," and the shirring in the front is perfect for a mom like me who hasn't been very good about doing crunches. If you're thinking more about a two-piece swimsuit, check out the "True Love" bikini, which is sexy and sweet.
Since I was on vacation for a whole week, I mixed and matched swimwear pieces, so I didn't feel like I was repeating. Bikini bottoms and a tank top made an outfit suitable for a day of digging in the sand with my son. A triangle top with a pair of contrasting high-waisted bottoms worked well for a day of watching him splash in the water with Mr. Stephanie.
I had a two-minute walk from the apartment where I stayed to the beach itself, so I needed something to throw on over my swimsuit. Most days, I just tied a skull-print scarf around my waist like a sarong. Another good option: This open-weave cover-up that's light enough for a hot day but has just enough coverage for a walk over to the smoothie shop for a midday break.
Keeping yourself protected from the sun is even more essential than a flattering swimsuit. You'll want a body sunscreen that's easy to reapply, like the Banana Boat spray sunscreen, and another you can use on your face. With the Peter Thomas Roth translucent powder and waterproof mascara, you'd have all the makeup and sun protection for your face that you need. I like to also bring a sunscreen stick, perfect for getting ears, noses, and the part in your hair. They're pretty handy for swiping over a toddler who wants nothing to do with sunscreen, too. The California Baby sunscreen set is good to have when you can get a kid to hold still for a full application; it's organic and safe for newborns.
A few other accessories I had to have each day: an oversized beach towel and a lightweight beach chair. (A few people had tent cabanas, and I would totally take one of those when I go again next year.) A hat and a pair of sunglasses are also essential. My preferred style is the sporty trucker hat/wayfarers combo, but I also like the ladylike straw fedora/aviator look.
With all this stuff, some sandcastle-building supplies, a few snacks, and some cash for those smoothies, I was set for a week at the beach with my kid. Is there anything you can't go to the beach without? Do you have any end-of-summer trips planned?
Posted by Stephanie Petersen