Battle Cry: Driving through U.S. History
Posted at Jun. 22, 2011 at 4:27 PM

This year the United States commemorates the sesquicentennial of the start of the Civil War. The first shots were fired over Fort Sumter in Charleston, South Carolina, on April 12, 1861, and the war continued until April of 1865. Now, 150 years later, We the People have four years of memorials and re-enactments to attend. Although thousands of Americans visit the old battlegrounds every year, many will be making their first pilgrimages to the historic sites this summer (or at least by 2015).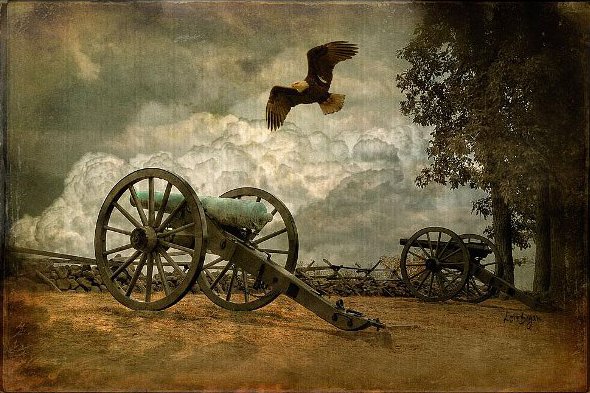 Lois Bryan "Gettysburg" canvas art
Some folks will take a several weeks to drive from site to site, from Vicksburg to Gettysburg. I prefer shorter trips and a mix of old and new, such as a trek to Virginia sites combined with a weekend exploring modern-day Richmond. No matter how long the trip is, it always has more meaning if I prepare with some pre-vacation reading. Even novels can set the mood for an educational road trip. These suggestions will enhance the Civil War grand tour for both the casual traveler and the dedicated re-enactor.
The Complete Civil War Road Trip Guide by Michael Weeks: This book offers itineraries for road trips to major campaign sites and includes listings of minor sites, too, a good guide for both weekend and extended trips.
The Civil War by Shelby Foote: This three-volume series is considered to be one of the best histories of the conflict.
Battle Cry of Freedom by James M. McPherson: From the Oxford History of the United States series, this book tells the story of the war in one volume.
The Red Badge of Courage by Stephen Crane: Many war novels focus on generals, presidents and other high-ranking decision makers. Crane's story focuses on Henry Fleming, an ordinary soldier. Share the book with pre-teens and teenagers.
The Civil War Trilogy by Michael Shaara and Jeff Shaara: Michael Shaara's Pulitzer Prize-winning novel, The Killer Angels, describes the Battle of Gettysburg. Jeff Shaara continued his father's story in Gods and Generals and The Last Full Measure.
Civil War Discovery Kit: This kit for young kids includes coloring books, paper dolls and a novel to help younger family members relate to the trip.
Posted by Shawna Edwards