Back to School: Moving to the Dorms
Posted at Aug. 3, 2012 at 4:05 PM

It's that time of year again; children of all ages are excitedly stocking up on new pens and pencils, choosing backpacks, and picking out their all-important back-to-school wardrobes. But for college-age students, there is a bit more preparation: Going back to school can also mean moving into the dorms. Dorm life may be some students' first time away from home, so moving to campus can be as daunting as it is exciting. But don't worry; I've picked out some items that will turn any dorm room into a dream room.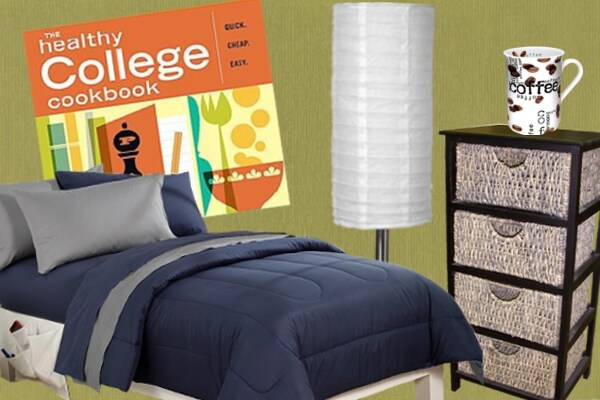 The best place to start is this dorm room superset. It includes all the bedding and bath linens you'll need, plus some extras like a soap dish, shower organizer, and a bedside buddy to keep your books and phone stored close at hand. I also suggest this memory foam topper; there is nothing better than a comfortable sleep after a long night of, um, studying with your friends. And don't forget this eye-catching white haru lamp. It looks great in any room, and it's the perfect size to keep on a table next to your bed for late-night reading. Then add the final touch of softness with this lime green wool rug. The lime green is a great pop of color for any room, and the wool construction is the perfect hint of luxury.
From clothes to toiletries to study materials, you're going to have a lot to store and organize. This wicker basket storage shelf is the perfect way to keep everything in its place. I also love this vinyl decal chalkboard. Use it to keep track of important deadlines or to leave a note for your roommate. Really, the options are endless.
Of course, getting ready for college dorm life is about more than just furnishing your room. For those who are away from home the first time, this cookbook may be invaluable. (Trust me; you don't want to live off of microwave burritos during your college years.) This cookbook is full of healthy recipes for college students, which means that the dishes are cheap, easy to make, and tasty. Then, possibly one of your most important purchases, this coffee mug set. It includes one mug and one to-go cup, so you're covered whether you are studying late or running to an early-morning final.
For your school items, you are bound to find this Merriam-Webster school dictionary handy no matter your major. Along with the regular dictionary definitions, this book includes word history and example synonyms; your papers (and professors) will thank you for it. And since you're going to be trekking back and forth across campus, it's important to find a good, sturdy bag to carry your books. I love this backpack from Olympia. It's both stylish and ergonomically designed for comfortable use throughout the semesters.
Have you lived in the dorms? If so, do you have any advice for the incoming class? And if you are getting ready to leave for college, what are you most excited about?
Posted by Emily Harrison