Around the World: Patio Inspiration
Posted at Jun. 20, 2011 at 12:45 PM

Outdoor living is really heating up the trend scene, and I am right there with it, coveting all the perfectly furnished and decorated outdoor spaces. A basic picnic table and lounge chair duo isn't going to make the cut anymore; outdoor fashion is all about expanding your living space and transforming backyards into outdoor clones of your most comfortable indoor spaces. This season, I'm digging patio inspiration from across the globe. What better way to get away without actually getting away than to bring in some inspiration from the world's exotic locales? Here are four outdoor looks I've put together to help you turn a basic backyard into a summertime escape.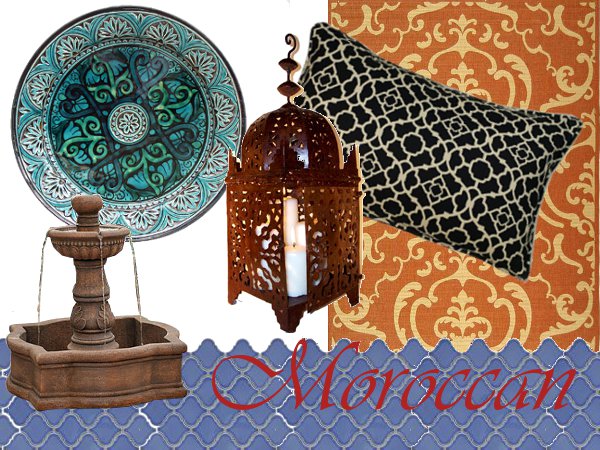 Get the look: old-world fountain, blue mosaic tiles, outdoor pillow, outdoor rug, Marrakech hurricane lantern, hand-painted Moroccan plate
Moroccan design is cropping up everywhere in home decor, indoors and out. Mariah Carey even named one of her twins Moroccan after her favorite room in her house. While you may not be ready to name a child after your living room, you can bring a touch of this captivating trend to your own backyard with a few bazaar-inspired designs. Go for elegant and highlight a fountain with these beautiful Moroccan mosaic tiles from Somertile on a patio wall or floor, or capture the magic of Marrakech itself with decorative pieces handmade in Morocco, like this hurricane lantern and beautiful painted plate.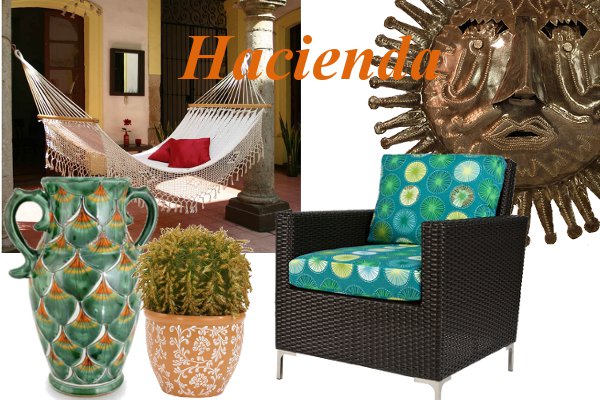 Get the look: wicker arm chair, handmade hammock, silk cactus, hand-painted Mexican vase, recycled metal sun wall art
I'm itching for a little south-of-the-border style lately. Luckily, it's not too hard to capture the feel Mexico's sun-baked climes and beaches to turn your backyard patio into a hacienda hideaway. Don't you just want to sip margaritas and listen to a little mariachi music in this wicker chair from angelo: HOME? How about an afternoon siesta break under the sun in this beautiful hammock, handmade in Mexico?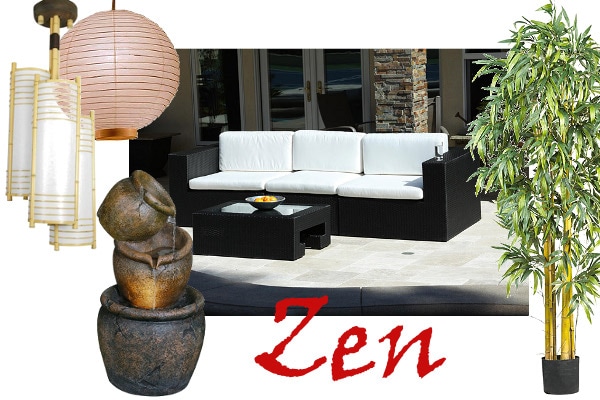 Get the look: Japanese lantern, bamboo chandelier, Zen fountain, wicker furniture set, silk bamboo plant
Nothing says relaxation like a calming Zen garden. I'd love to turn my backyard into outdoor sanctuary with some Eastern inspiration and relax to the soothing sounds of this water-pot fountain. The clean lines of this wicker outdoor furniture set emulates the simplicity of a Zen garden, and some Japanese-inspired lighting would look great hanging from a covered patio or gazebo.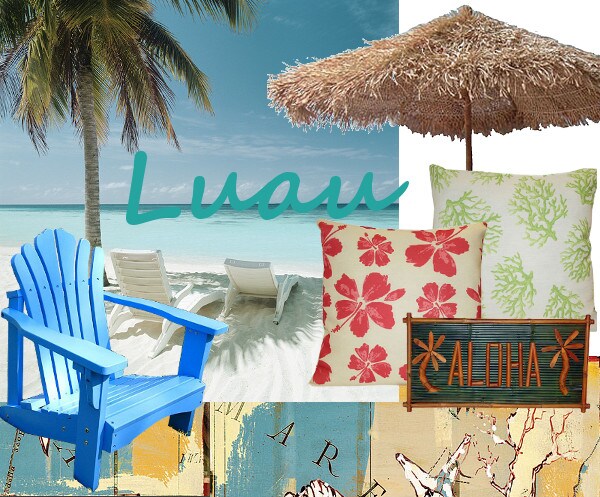 Get the look: Adirondack chair, seashell painting, tiki aloha sign, hibiscus outdoor pillow, green coral outdoor pillow, thatched umbrella
These beachy designs already have me ready for the sun and waves. If I can't satisfy my island fever with a quick jet to the Hawaiian isles, I'll have to settle with my very own back yard tiki bar. Kick off the luau with some fun, tropical printed pillows, and get a little island inspiration from a thatched umbrella. Add a pina colada and a CD of ocean waves, and I may just forget I'm not actually in Hawaii.
Is it time to start sprucing up your own yard? If you're like me, you're ready to spend every evening all summer long out on the patio. What are some of your outdoor decor aspirations?
Posted by Andrea Sparks