April Showers Bring a Fresh Look
Posted at Apr. 10, 2012 at 3:24 PM

You know the saying: April showers bring May flowers. It's not just a saying, though. For many parts of the United States, April is the wettest month of the year, and no matter where you live, you're likely to see a shower or two.
Stormy weather may not be your favorite, but that doesn't mean you have to stay cooped up on rainy days. Here are a few ways to learn to love spring rain showers: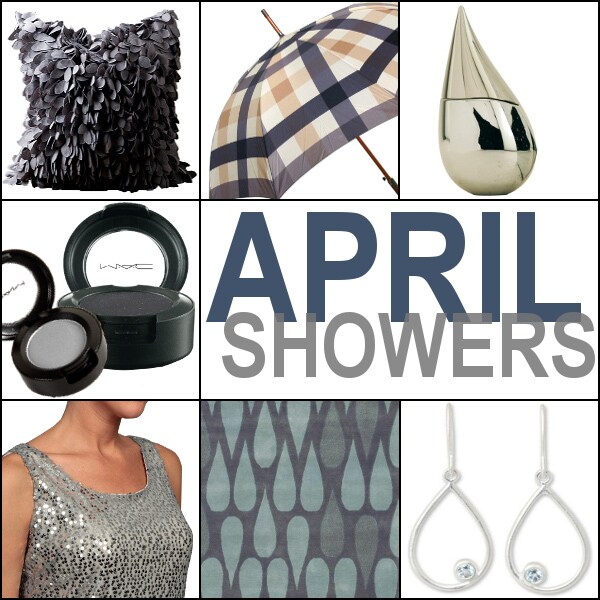 It goes without saying that you're going to need an umbrella before you venture into the rain, but that doesn't mean you have to settle for bland black. Take advantage of a little spring shower and turn your outing into a fashion statement with a cute checkered umbrella from Laura Ashley. Some plaid galoshes from Burberry couldn't hurt either, but let's be honest; when isn't it appropriate to wear Burberry?
Embracing spring's penchant for showers isn't just about fending off falling raindrops. Go for a little April appreciation in your decor this month. This wool rug is patterned with beautiful raindrops, and this adorably shaggy pillow just looks like it's covered with droplets ready to drip right off. I absolutely love the fresh, clean, simple look of the basic blues and greys for spring.
Of course, a little spring precipitation can go a long way in your wardrobe inspirations, too. Rain makes everything sparkle, especially at night, and this pretty sequined dress is dripping with shiny little drops of silver. Pair it with these blue topaz raindrop earrings and a splash of Silver Rain by La Prairie for a look (and smell) as fresh as spring rain.
As for me, April showers are just another reason for me to indulge my eye shadow obsession. Aptly named Cumulus and Cloudburst, both by MAC, are soft, matte greys you can mix and match to create rainy day and stormy night looks all month long.
What do you prefer? April showers or May flowers? How do you like to spend a rainy day?
Posted by Andrea Sparks