Administrative Professionals Day
Posted at Apr. 24, 2013 at 1:25 PM

Today is Administrative Professionals Day -- a day we recognize all the behind-the-scenes work administrative assistants do. They are the ones who schedule meetings, organize correspondence, and ensure that workplaces are running smoothly day in and day out. They truly are the masters of multitasking.
There are over 4.1 million administrative assistants in the United States, and today is the time to tell them all thank you. Don't have a gift yet? Don't worry. We here at Overstock.com have the perfect gift for every administrative professional.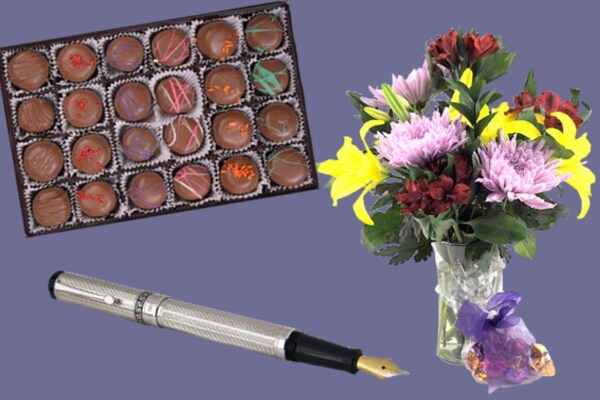 Traditionally, employers have given their administrative assistants gifts of flowers, candy, or time off. If you're looking for gifts in this vein, this bouquet features a beautiful mix of flowers anyone would love, and it includes a small bag of chocolates to satisfy one's sweet tooth. For the less florally inclined, this plant comes in a beautiful black planter to create a chic accent in any decor. Or, if your assistant is like me and always appreciates a treat, this one-pound box of truffles is the perfect thank-you gift.
If you're looking to break out of the mold, think of giving something a little more personal. This limited-edition pen is layered in pure platinum and has an 18-karat gold nib. Pair it with this handcrafted leather journal, and you have a gift that will please any administrative assistant. If they're a coffee or tea drinker, they will definitely appreciate a bag of their favorite roast or blend. If they prefer loose teas, they will definitely appreciate a new tea infuser. But don't be afraid to have a little fun with the day. Perhaps they will enjoy this T Rex tea infuser or a TARDIS mug.
If you are still at a loss, you can never go wrong with a gift card. Overstock.com has e-gift cards that never expire and that ship free in a gift envelope. It's a great way to give a gift you know they will love.
What are you planning for this Administrative Professionals Day? What is the best gift you given or received for the holiday?
Posted by Emily Harrison