Academy Winners and Losers Watch List
Posted at Feb. 22, 2011 at 1:44 PM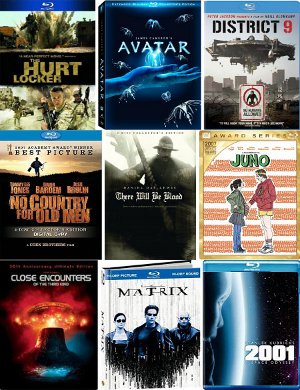 Every year, when the Oscars® roll around, we're reminded of the sheer number of films that Hollywood puts out annually. Maybe some of your favorite movies have been nominated, or maybe the Academy gave them the shaft. Either way, watching the Academy Awards® is a great way to fill up your movie watch list.
The last couple of years have seen some great movies. I was personally gratified that "The Hurt Locker" beat out "Avatar" for Best Motion Picture. It was an intense film, with great actors who gave me a better appreciation for the mental toll taken on people at war. The special effects in "Avatar" definitely blew me away, though. My other favorite nominee in 2009 was "District 9", which had insane special effects and just as crazy storyline about aliens in South Africa in a kind of apartheid divided society. It probably wasn't the best picture that year, but it was definitely one of my favorite sci-fi movies ever.
A couple years earlier saw some darker nominees. Javier Bardem is forever burned into my brain as a creepy psychopath in "No Country for Old Men", which won Best Picture in 2007. For my money, it was a close race between that movie and "There Will Be Blood", about a ruthless oil tycoon in the oil rush of California around the turn of the 20th century. That year was lightened up a bit by "Juno", a quirky comedy about a teen pregnancy that was both hilarious and sweet.
Of course, you can always go a bit further back in Academy Awards® history to find films that still hold up, like "Rocky", which may have single-handedly made the music montage a staple for any underdog movie. I still think it's Stallone's best role. Jack Nicholson really shines in both "One Flew over the Cuckoo's Nest" and Chinatown. And "The Godfather" is a film I can watch over and over again; it's just that good.
You'll miss a lot of great films if you stick to just Best Motion Picture nominees, though. The Best Visual Effects category will lead you to amazing films, like "Close Encounters of the Third Kind" and "The Empire Strikes Back" (in case you've been living under a rock). You won't want to miss "The Matrix" or "2001: A Space Odyssey", either -- two of my favorites. The whole "Lord of the Rings Trilogy" was nominated and won this award. Don't pass over the "Alien" series either; they're some of the last great films to use traditional special effects rather than computer generated images.
Those are the two awards I really watch to fill my movie watch list. I'm sure to have left off some classic films that cinephiles would be irate about. What are some of your favorite Oscar® nominees and winners?
Posted by Paul Sanders