A Valentine's Date Night In
Posted at Feb. 14, 2013 at 9:59 AM

Today is the day! Hopefully you have your Valentine's gifts wrapped, your flowers being delivered, and your chocolates picked out. But what if you didn't get dinner reservations at your favorite restaurant? All is not lost. There are plenty of other, perhaps even more romantic, things to do tonight.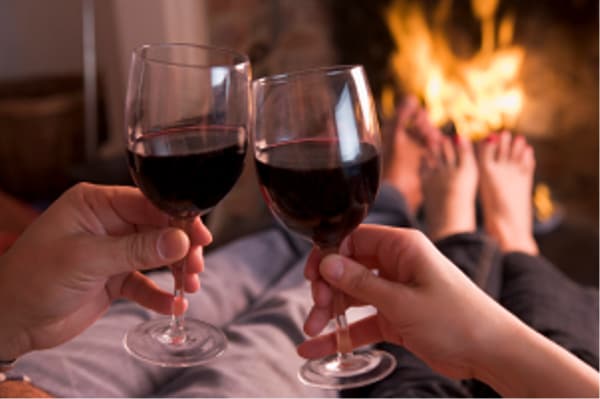 Staying in on Valentine's Day night is a great way to indulge in your favorites while you spend a romantic night with your sweetie. Rather than going out and fighting the crowds and waiting in line for a table, why not have your own candlelit dinner at home? Get some takeout and use your favorite formal dinnerware set for a romantic touch. Toast to another year together with a new set of wine glasses. For dessert, enjoy some delicious chocolate fondue. This heart-shaped fondue set is more than perfect for the evening. And if you're looking for a drink to indulge in while celebrating the holiday, you're in luck. I've come across a few delicious-sounding drinks that are a great way to end, or begin, your night.
Raspberry Honey Bellini:
Thaw one bag of frozen raspberries. Strain raspberries into a bowl and add one tablespoon of honey to the juice. (Use more or less honey depending on how sweet you want the mixture.) Spoon mixture into a rocks glass; then fill with champagne.
Pink Vodka Cocktail:
Combine equal parts triple sec and vodka into clear glasses. Slowly pour one teaspoon of grenadine into each glass until it sinks to the bottom. Serve immediately.
Chocolate Bourbon Cherry Float:
Place a scoop of dark chocolate ice cream into a glass. Add one to two shots of bourbon, and then fill glass with cherry soda. Omit bourbon for an alcohol-free option.
Strawberry Sweethearts Cocoa:
Over medium-high heat, whisk together 4 tablespoons butter, 1/2 cup sugar, and one pint strawberry ice cream. Whisk in 4 cups of water, one cup at a time, until you achieve your desired texture and flavor. Keep mixture over heat until steaming. Pour into mugs and add a dollop of whipping cream and chocolate sprinkles. If desired, dip the top of the mugs into melted chocolate beforehand, allowing the chocolate to harden while you make the cocoa.
After dinner, maybe the two of you could enjoy your favorite video game or an adult board game. Or you can cuddle up with your Valentine and watch a classic movie or two. A romantic comedy would, of course, be the traditional choice. Or maybe you would rather watch something more suspenseful … to give you an excuse to stay snuggled up.
What are your plans for Valentine's night? Would you rather go out or stay in?
Posted by Emily Harrison