A May Day Celebration
Posted at May. 1, 2013 at 10:54 AM

The traditional spring holiday is here! May 1st, or May Day, is the day we celebrate warmer weather, the return of blossoming flowers, and springtime fertility. Traditionally, this holiday has been celebrated with outdoor festivities -- dancing around the maypole, crowning the Queen of May, and enjoying getting together with friends and family while enjoying the springtime beauty. This May Day, why not take a page out of tradition's book and have your own outdoor celebration?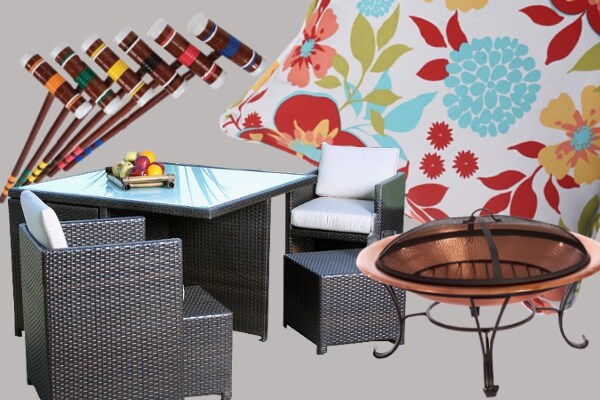 Here in Utah, we are just now getting out of the April shower phase, and I would love to start May off with a barbeque in the backyard so I can finally start enjoying the warm (and dry) weather. Of course, no garden party is complete without a cozy dining set, and this 9-piece outdoor set definitely fits the bill. It's the perfect patio seating for any outdoor gathering, large or small, and looks good enough to keep in any backyard space.
Since we're celebrating the return of spring and color into our lives, we will need to add some bright hues to the party. I'd recommend hanging some string lights outside or, if that isn't quite your style, tossing these throw pillows onto your patio furniture. They have a lively floral pattern perfect for this time of year, and everyone welcomes an extra touch of softness and comfort when it comes to lounging outside.
If at some point during your party you want to dance around the maypole, I'm not going to stop you. But I will probably settle for a nice game of croquet. As far as I'm concerned, it's the perfect outdoor sport: laidback enough to let you converse with friends while you play, but competitive enough to be fun. Then, once the sun goes down, it's time to light up your fire pit to keep the party going while everyone finishes their drinks.
How are you planning to celebrate May Day? Do you have any other springtime festivities?
Posted by Emily Harrison